The match on Easter Sunday between Manchester United and Brighton & Hove Albion was indeed an impressive one from the Manchester United team.
It was indeed a vital victory because the match actually helped them to move to sixty (60) points all thanks to the two second-half strikes from Marcus Rashford and Mason Greenwood.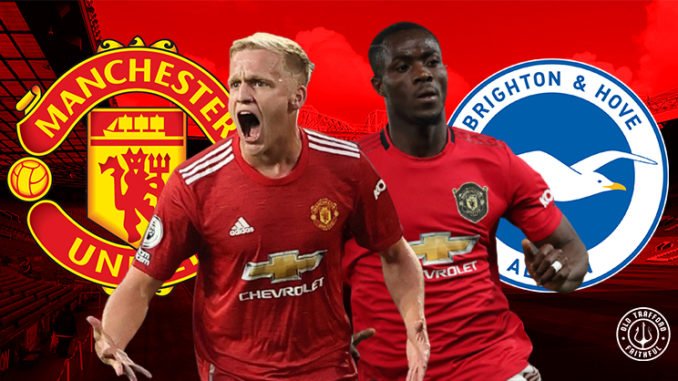 Image Source
Now Manchester United are currently fourteen (14) points below Manchester City and four (4) points above Leicester City, eight (8) points above West Ham and nine (9) points above Chelsea team which is a good and encouraging one from them as there is quite a lot of gap between them and the other teams club so seating in the second position for a long while is going to be possible.
Good for them that all the teams who aimed to be among the top-four place in the Premier League table all failed; Leicester City, Chelsea, and Tottenham Hotspur because they failed to win this weekend, Ole Gunnar Solskjaer's men moved to 60 points with a swift after two cool finishes from Rashford and Greenwood.
It would have been a big shame for them if the visitors would have won them in their own home but that two second-half strike overturned the opening goal from Danny Welbeck who was once a United striker but now a former United striker.

They were quite good on the field that Sunday as they reminded me of the Manchester United I have always known them for. It was indeed a nice match to behold as I really wanted them to win the match. Greenwood goal resolved Brighton's one goal from Danny Welbeck in the seven minutes remaining.
I am sure the result is indeed a relief to Ole Gunnar Solskjaer, because Manchester City still need 11 more points to be confirmed as champions in the Premier League match while his side stays second with 60 points.
Brighton team actually do not have much even though they did a great job in that match but they currently stay in the 16th position with, six points clear of the relegation zone.
So far so good, United had won five successive meetings with the Seagulls but that was as good as it got for Ole Gunnar Solskjaer's men in the first half.
As Brighton began to assert themselves in the first half which gave them an edge in the front four minutes later. Yesterday's win from Danny Welbeck marked him the first player to score three Premier League goals against United since he left the club for Brighton.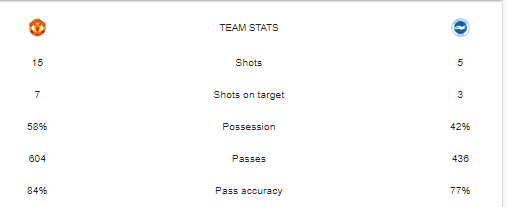 I am actually impressed at Brighton as they performed wonderfully that night and it surprises me that they still remain below the relegation zone although I am sure, they are trying to step up their game and for the first time, United failed in a Premier League game at their old Trafford to have a shot on target in the first half.
They were so lost in the spirit of jubilation as they were fortunate to win in the first half that they forgot to double their lead.
A pity that Anthony Martial the United forward missed Sunday's match because he unfortunately sprained his knee in their match against France. It is going to be painful that Manchester United will be losing Anthony for the rest of the season if the injury seems bad.
Manchester United did awesome well and they really need to continue performing well if they have any mind of been confirmed as Champions in the Premier League.