The FA Cup match between Manchester United and Liecester City on Sunday at the King Power Stadium was an unexpected event for many and a pain to Manchester United team assess as they can't progress to the next round of the FA Cup because they were kicked out of the competition after loosing to Leicester City that very day.
It was an unexpected turn out of event as many of us never expected what we saw, even though we are aware of Manchester United inconsistency in football and lack of taking most matches serious, we expected them to have gone home with the victory but unfortunately, there form wasn't strong enough to beat the Liecester City in their quarter-finals for them to be able to progress to the next round of the FA Cup.

Image Source
I guess the team themselves never saw that coming, as it really been a long while they fallen a victim of loosing until that day they were faced with a doom of no return. Funny enough, they do not have a second leg to bounce back like in the Premier League match so unfortunately for them, that day ended their game in the FA Cup match as they painfully hit the end of the road in that competition.
I am actually concerned to wonder why they missed such a important match, could it be that the team's previous wins have gotten into their head or perhaps their coach's head because it was obvious from their lineup that the team wasn't really after getting the victory in that match.
Or should I say the team is still suffering from the stress of the week travelling to and fro Italy because I just can't get a grasp of what actually is the reason they lost the match because we could see them play head strong and brilliantly in the Uefa Europa League against AC Milan team even though those guys gave them tough time in securing the round of eight they still defeated them and got the victory.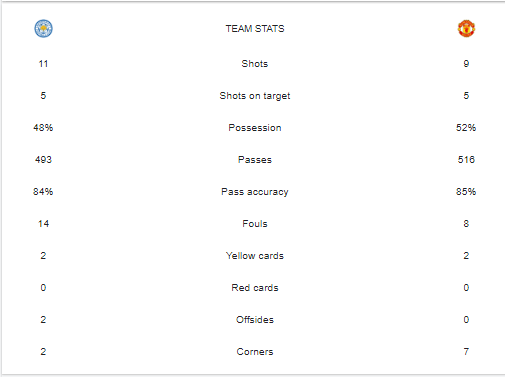 Image Source
So, what could be the big deal in their match against Leicester City, although I have known Liecester City to be a great team and yeah, they performed wonderfully in thatt match as they played energy and great force, they were determined, focused and put all their effort like their life depended on that match.
So, I would say they deserve the win and they got it because the effort they put in that match paid off well for them as they scored a whooping three (3) goals against one (1) goal while Manchester United on the other hand had a bad one coming up for them as I think, they underestimated the Liecester City team to have three of their players who just recovered from their injury state and were in that match while Bruno Fernandez was left out of the starting lineup and I would say that was one of the things that affected their performance.
Bruno Fernandez has been on his best since his arrival at the club, as I would call him one of the brain behind Manchester United success even though we have other players there, he been one of the players who is driving the United team to success and have the teams success to heart. All is aims for is the success of the team and such a players shouldn't have been left out in the starting lineup as it would have helped the team a lot in their first-half
So, I would say that a poor decision affected the team performance and gave Liecester City the opportunity to qualify for the next round of the competition and also to take the victory after a long while of not getting such a big win against the United team.
I just hope the coach learns his lesson from this because it is obvious they are down in the FA Cup now and it will be a big disappointment if they let this happen in the other competitions.
Kelechi Iheanacho did great one on the field once again as he has been able to end knock out Manchester United out of the FA Cup with his great performance. The guys is now at the top of the game because of his great performance always on the field.
It was a great team performance for the Liecester City has they showed much courage against Manchester United. I hope they keep it up as they will be facing Southampton in the FA Cup semifinals.
It is just so painful that Manchester United do not have a second chance to prove themselves in the FA Cup again as they have been whipped after a long while by Leicester City team.
Shamefully Liecester City dumped Manchester United.