Like I said yesterday that I would be bring back the full gist of how the match between Manchester United vs West Ham, Liecester City vs Sheffield United went and which between Manchester United and Liecester City sat at the second table.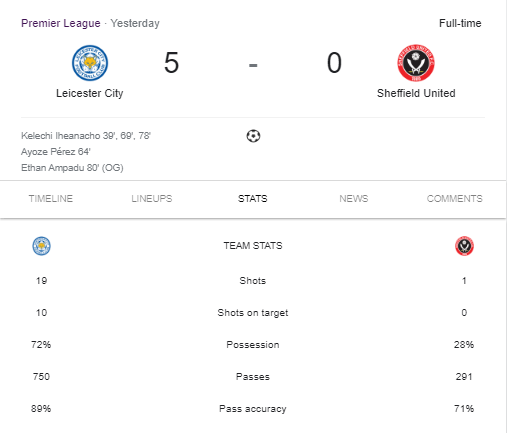 Image Source
Sheffield United have indeed been pulled to the extreme by Liecester United and yesterday was a bad day for them as well because they were whipped hard by those guys. Liecester United left the King Power Staduim with a five (5) goal against Shefffield United. This is actually shocking because I never expected so many goals from Liecester guys even though I knew they would win Sheffield United.
Indeed, the game yesterday showed how Sheffield United guys are actually flat and have got low capacity of passing while on the other hand, it was good to see Liecester City back on track with their great passes after a while. It was exciting to watch their match indeed.
Their spirit were high and indeed, they knew what they were aiming for in that match and that was to climb up to the second position in the Premier League table.
I must actually commend Kelechi Iheanacho for his excellent performances yesterday and to see that that guy has been doing awesomely well ever since he arrived from manchester City team. So far so good, this is the best run in the Leicester Side since his return.
The supportive, confident and team work of the Leicester City guys yesterday on the pitch was amazing has they gave the Sheffeild United guys no breathing space to linger around the ball for too long.
Thanks also to Verdy who provided Keelchi with balls in his wins and it is good to know that the striker is back on the pitch with great performance,passing and alertness better than before after his return from injury. Yesterday, Verdy played his best and it was actually outstanding. It is actually unheard of in the Premier league match this season for one player to create four big chances in one match but Jamie Vardy did that yesterday in their match against Sheffield United.
Sheffield United were not just prepared and this season, they are just too below and not been their best. While Liecester City has proved themselves once more this week to be the best team for the second position.
While on the other hand, Manchetsre United at the Old Trafford home against West Ham at the end of the game won a goal aginst them.
I just couldn't help but wonder what would have happened to Manchester United if the match had ended with a goalless score. They would have stepped down to the third position whie Leicester City would have steped up to the second position.
That would have been a big mess for them because it would have been hard for them to get back the second position from the Leicester guys.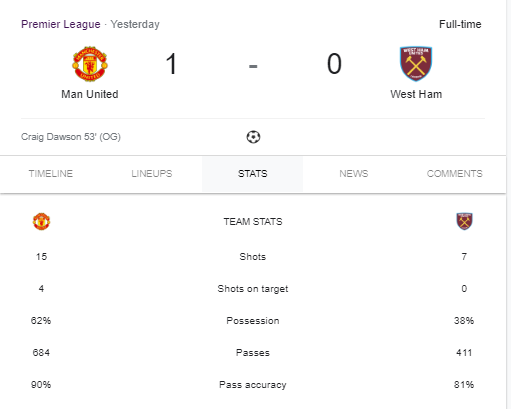 Image Source
All thanks to thier central defender Craig Dawson who scored the own goal in the second-half. That magnificent gaol from their central defender retained them in their second points with 57 points from 29 games, while Leicester City remains in the third position with 56 points from 29 games as well with just one (1) points beneath Manchester United.
While West Ham remains in the fifth position with 48 points from 28 matches they are three poinst beneath Chelsea who are currently sitting in the fourth position with 51 points in 29 matches. Sheffield United on the other hand are in the twentieth position with 14 points in their 29 matches. This guys are really poor.
The Manchester United match were without their strikers Anthony Martial and Edinson Cavani and Paul Pogba who is on a long-term casualty but notwithstanding, I expected more goals from the team but it was obvious the three missing in the match were the ones holding up Manchester United all this while.
It is obvious with the Manchester united score that the match was a tough game as we've always known West Ham team to be hard, challenging and a tough team to be played against and so far so good, it isn't a secret any more that West Ham guys are fighting to get in the top four in the League table.
Although I feel Manchester United did not perform their best to have scored just a goal in a match but I am still happy they were able to sit in their second positon with a goal after all, it is preferable than a goalless match for the United.