As the days go by and the Premier League match draws closer to the end, we are witnessing more and more interesting play from the team players. Yesterday was no exception as Tottenham Hotspur once again made an alarming goal in their match against Sheffield United.

Image Source
Let's just say we all expected Tottenham Hotspurs to get the victory in yesterday's match because they are quite a strong team but gaining a victory of 4 against Sheffield United 0 is what we never anticipated.
Although Sheffield United are in the relegation zone in the Premier League table, like they sitting in the number twenty (20) position with just seventeen (17) points in the table but they are not quite a bad team because they've tried once in a while to overcome some teams but I guess luck isn't on their part this season as there best so far so good have not been seen or noticed in their points.
We actually knew Tottenham will take this opportunity to move up the table but we never thought it will be this much. Like they gun down the West Ham team to the sixth (6th) position and they are currently above them with one (1) point and two (2) points above Liverpool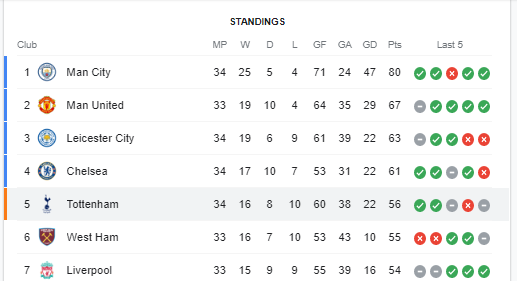 Image Source
It's not like Tottenham Hotspurs have been doing bad sha but for a long time now, they've been down, and too below that, I felt it would be hard for them to rise again but lucky enough they did an awesome work yesterday beyond my imagination.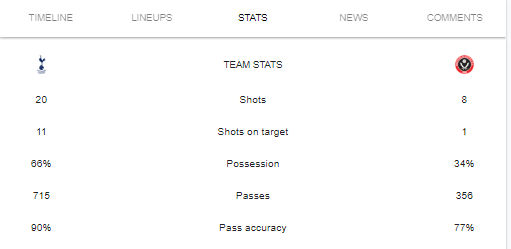 Image Source
Good enough, the game was in their own home and Gareth Bale was up and ready for them at the 36 minutes after the game began, he just couldn't wait as he scored the first game in the match and in the 61st and 69th minutes he did an awesome play, then Son took over in the 77th minutes of the match.
Yesterday was indeed Tottenham come back days winning style with a 4-0 win over Sheffield United and that goal sealed their victory which helped them move to the fifth position with ease.
Although it is a match against the already relegated team, yesterday was quite impressive coming from the Tottenham team as they looked more deliberate, full of energy, and liberated.
Bale's performance was an incredible and awesome one as he was tagged the man of the match. He performed brilliantly and deserves an accolade for that. Tottenham Hotspur had five excellent finishes although one was disallowed because of a marginal offside but notwithstanding, it was an awesome match yesterday and shows the old Tottenham Hotspurs who was always hot and vibrant on the field.
I hope they keep it up because West Ham will fight to get back their position. Not only was the West Ham team moved from the fifth position by Tottenham Hotspurs but they were also moved from the fourth position by the Chelsea team and so, they will be up against the two teams to make sure they get back the position.
That in all makes the Premier League take another level which makes it more interesting.