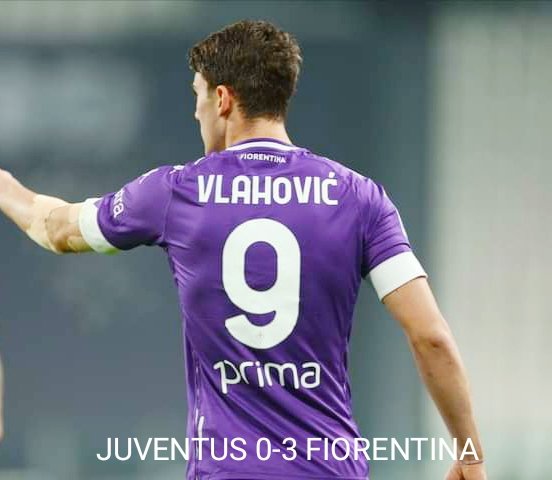 I Bianconeri Scored Bad Results Against La Viola.
Juventus recorded the worst record against Fiorentina at Allianz Stadium, Wednesday, 23/12/2020, La Vecchia Signora was destroyed by La Viola three goals without reply in the Italian Serie A League continued.
The worst record was made by them after the 0-3 defeat to Fiorentina, this is the first time Juventus have lost at their new home with three goals. The defeat occurred since the new stadium was used nine years ago.
Fiorentina took the lead in the 3rd minute through Dusan Vlahovic's goal, the La Viola striker was able to outwit goalkeeper Wojciech Szczesny, after receiving a pass from Frank Ribery. Disaster came for the Bianconeri after Juan Cuadrado was shown a red card in the 18th minute of the first half.
Behind one goal, making Juventus increase attacks, several opportunities owned by Cristiano Ronaldo, Alvaro Morata, Federico Chiesa, and Aaron Ramsey failed to produce a goal, the meeting of Fiorentina's defense made several Juventus opportunities in vain. Score 0-1 lasted until the first half ended.
Entering the second half, Juventus, who were one goal behind, immediately responded by launching an attack, but the opportunities they had failed to produce a goal. Bad luck for Juventus after Alex Sandro scored an own goal in the 76th minute, the Juventus defender failed to anticipate the cross that was shot by Cristiano Biraghi.
Winning 0-2 made Fiorentina even more confident in dismantling the Juventus defense, Leonardo Bonucci made a mistake in the 81st minute which resulted in Juventus' third goal. This error made Fiorentina attack through C. Biraghi who was able to supply the ball to Martin Caceres, the former Juventus player calmly increased Fiorentina's lead to 0-3. This score will be the last after the match.
The defeat of Juventus was caused by a weak defense and several mistakes made by the captain Leonardo Bonucci, but after the match Bonucci apologized for the result of this match.
Juventus' poor performance in this match made them worse off, they were further behind AC Milan, who led the top of the Italian Serie A League standings.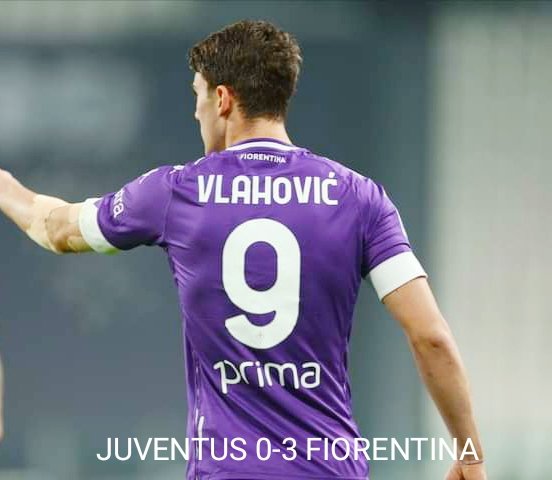 I Bianconeri Torehkan Hasil Buruk Saat Hadapi La Viola.
Juventus mencatat rekor terburuk saat menghadapi Fiorentina di Allianz Stadium, Rabu, 23/12/2020, La Vecchia Signora dihancurkan La Viola tiga gol tanpa balas dalam lanjutan Liga Seri A Italia.
Catatan terburuk tersebut dibuat mereka setelah kekalahan 0-3 dari Fiorentina, ini merupakan kekalahan pertama kalinya Juventus dikandang baru mereka dengan angka tiga gol. Kekalahan tersebut terjadi sejak stadion baru tersebut digunakan sembilan tahun silam.
Fiorentina unggul cepat di menit ke 3 lewat gol Dusan Vlahovic, penyerang La Viola tersebut mampu memperdayai kiper Wojciech Szczesny, setelah menerima umpan dari Frank Ribery. Petaka datang bagi I Bianconeri setelah Juan Cuadrado terkena kartu merah pada menit ke 18 babak pertama.
Tertinggal satu gol, membuat Juventus meningkatkan serangan, beberapa peluang yang dimiliki Cristiano Ronaldo, Alvaro Morata, Federico Chiesa, dan Aaron Ramsey gagal menghasilkan gol, rapatnya barisan pertahanan Fiorentina membuat beberapa peluang Juventus menjadi sia-sia. Skor 0-1 bertahan hingga babak pertama usai.
Memasuki babak kedua, Juventus yang tertinggal satu gol langsung merespon dengan melancarkan serangan, namun peluang yang mereka miliki gagal menghasilkan gol. Naas bagi Juventus setelah Alex Sandro melakukan gol bunuh diri pada menit 76, bek Juventus tersebut gagal mengantisipasi umpan silang yang dilesatkan oleh Cristiano Biraghi.
Unggul 0-2 membuat Fiorentina semakin percaya diri untuk membongkar pertahanan Juventus, Leonardo Bonucci melakukan kesalahan dimenit 81 sehingga berujung gol ketiga bagi Juventus. Kesalahan tersebut membuat Fiorentina melakukan serangan melalui C. Biraghi yang mampu menyuplai bola kepada Martin Caceres, mantan pemain Juventus tersebut dengan tenang menambah keunggulan Fiorentina menjadi 0-3. Skor tersebut menjadi yang terakhir usai laga.
Kekalahan Juventus diakibatkan oleh lemahnya barisan pertahanan serta beberapa kesalahan yang dilakukan oleh sang kapten Leonardo Bonucci, namun usai pertandingan Bonucci meminta maaf atas hasil pertandingan ini.
Penampilan buruk Juventus pada pertandingan ini membuat mereka semakin terpuruk, mereka semakin tertinggal dari AC Milan yang memimpin puncak klasemen Liga Seri A Italia.