Es imposible permanecer impasible, ante la cantidad de personalidades del béisbol de las Grandes ligas que se han ido a jugar al cielo últimamente. Tiene que ver con cierta manía adquirida en la madurez por los escritores y su pasado. Y sí, entrañable lector, si usted es de los que escribe o no, todo ser humano pasa por esa etapa de evocación del pasado en algún momento de su vida. Y más en estos instantes donde las emociones provocadas por el encierro pandémico se encuentran a flor de piel.
It's impossible to remain unmoved by the number of Major League Baseball personalities who have gone to heaven lately. It has to do with a certain mania acquired at maturity by writers and their past. And yes, dear reader, whether you are a writer or not, every human being goes through that stage of evocation of the past at some point in his life. And even more so in these moments when the emotions provoked by the pandemic confinement are on the surface.
     A Tom Lasorda lo vimos al frente de una época gloriosa para los Dodgers de Los Ángeles, con ribetes épicos ganó la serie mundial del año 1.981 y su salida corriendo desde el Dugout hacia el morrito, ha sido una de las imágenes que han pasado a engrosar el imaginario campeonil de cualquier equipo que quiera coronarse. Tommy, como era llamado, fue un lanzador en su carrera de activo como pelotero pero, digamos, fue uno más del montón.
We saw Tom Lasorda at the head of a glorious era for the Los Angeles Dodgers, with his epic style he won the World Series in 1981 and his running from the Dugout to the pitching box was one of the images that have come to swell the imagination of the champion of any team that wants to be crowned. Tommy, as he was called, was a pitcher in his active career as a baseball player but, let's say, he was one of the many.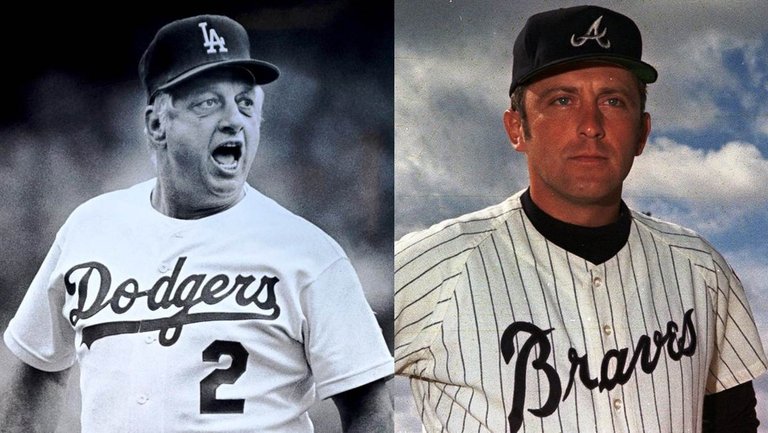 Composición fotográfica de imágenes en Power Point: Tom Lasorda y Phil Niekro

     Además, el campeonato del año 1.981 ayudó a cimentar su leyenda como mánager, fueron 21 temporadas con el equipo. Pero lo que más se recuerda de él, era su manera de reclamar a los umpires cuando creía que el equipo había salido perjudicado por una decisión. Era un show por sí solo, entre otras cosas, verlo echar tierra con sus spikes sobre el home recién limpiado por el principal, como manera de protesta o empujar con el pecho al arbitró cuando discutía. A veces solo eso pagaba el ticket del juego.
In addition, the 1981 championship helped cement his legend as a manager, 21 seasons with the team. But what is most remembered about him was his way of complaining to the umpires when he thought the team had been hurt by a call. It was a show in itself, among other things, to see him throw dirt with his spikes on the home plate just cleaned by the principal, as a way of protesting or pushing with his chest the principal umpire when he was arguing. Sometimes that alone paid for the ticket to the game.
     Phil Niekro fue un lanzador de bola de nudillos muy especial, de hecho fue elevado al salón de la fama de Cooperstown, NY. Lo vimos hacia el final de su carrera y lo característico de él, era el terror que causaba a los bateadores cuando veían venir un lanzamiento de su brazo. Principalmente, por lo errático de su trayectoria más que por su velocidad. La característica principal de ese pitcheo es la manera como se comporta en el aire mientra viaja hacia el plato.
Phil Niekro was a very special knuckleball pitcher, in fact he was elevated to the Cooperstown, NY, Hall of Fame. We saw him towards the end of his career and what was characteristic of him was, the terror that a pitch from his arm caused batters to come. Mainly because of his erratic trajectory rather than his speed. The main characteristic of that pitch is the way he behaves in the air as he travels towards the home plate.
     El lanzamiento de nudillos es un pitcheo difícil de dominar, por ello los nudillistas son tan escasos. Lo bueno es que el brazo de lanzar dura más porque es un lanzamiento mucho más natural que el resto del repertorio de pitcheos quebrados. Y Phil lo demostró al ganar 121 juegos de sus más de 300 victorias, después de los 40 años de edad, un registro que vemos difícil de superar. Junto a Joe, fueron la pareja de hermanos pitchers más ganadora de todos los tiempos.
Knuckle throwing is a difficult to master, which is why knuckle throwers are so scarce. The good thing is that the throwing arm lasts longer because it is a much more natural throw than the rest of the broken pitching repertoire. And Phil proved it by winning 121 games of his 300+ wins, after the age of 40, a record we find hard to beat. Along with Joe, they were the most winning pair of pitching brothers of all time.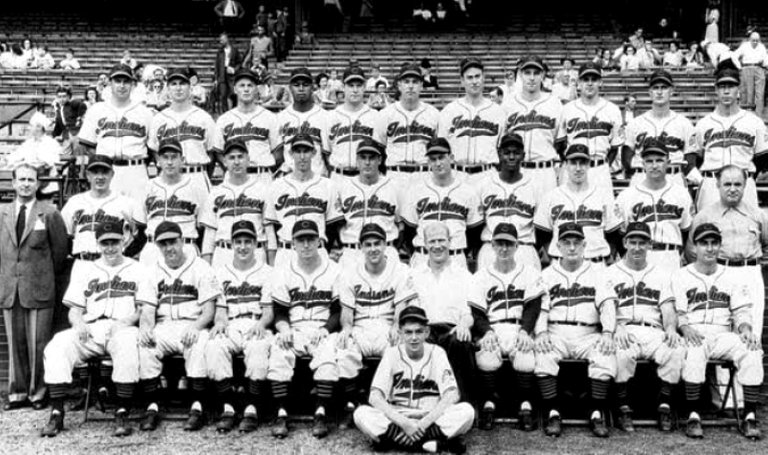 Dado que corren nuevos tiempos en Estados Unidos y existe sensibilidad en torno al tema racista, los Indios de Cleveland anunciaron el cambio de nombre para la temporada 2022. Ya habían dejado de usar la caricatura de un indio piel roja en la gorra y la camiseta desde 2019. Todo se ajusta a la nueva ola que se cierne sobre los equipos profesionales estadounidenses, con el fin de eliminar de su imagen deportiva, cualquier resquicio que se interprete como racismo.
Given the new times in America and the sensitivity around the racist issue, the Cleveland Indians announced the name change for the 2022 season. They had already stopped wearing the caricature of a redskin Indian on their cap and shirt since 2019. Everything is in line with the new wave that is hovering over the American professional teams, in order to eliminate from their sports image, any loophole that could be interpreted as racism.
     Y, a menos que ganen la serie mundial este año 2021, desaparecerán con dos títulos en las alforjas el último de los cuales ganó en 1948. Y al parecer por los movimientos hechos en el receso invernal, donde cambiaron al pitcher venezolano Carlos Carrasco y al campocorto puertorriqueño Francisco Lindor hacia los Mets, estos Indios decidieron reestructurar y renunciar a ganar el título del 2021. La ciudad de Cleveland se titulará en el futuro con otro nombre.
And, unless they win the world series this year 2021, they will disappear with two titles in the saddlebags, the last of which they won in 1948. And apparently because of the moves made during the winter break, where they switched the Venezuelan pitcher Carlos Carrasco and the Puerto Rican shortstop Francisco Lindor to the Mets, these Indians decided to restructure and give up winning the 2021 title. Coty of Cleveland will be renamed in the future.
P.S. English is not my native language, apologize for that. I used a web translator
for english text (DeepL), the fonts are embedded in the images
     ¡Gracias por leer..! // Thanks for read..!
Las fuentes están incrustadas en las imágenes

¿Quieres tener tu propio blog y la libertad financiera que significa
el mundo cripto? ¡Haz clic en la firma!
---
My social networks