Uno de los mejores viajes que he realizado en mi vida, fue para conocer la costa oeste de los Estados Unidos. La fuerte presencia inmigrante mexicana, ha hecho de aquella parte de la unión americana, un lugar amigable para el extranjero turista. Nunca sentí mayor aceptación en aquel país, como cuando realizamos aquel viaje. Y la curiosidad principal, entre otras, era ver de primera mano el efecto causado por Félix Hernández en aquella ciudad, donde era apodado King Félix.
One of the best trips I have ever made in my life was to see the West Coast of the United States. The strong Mexican immigrant presence, has made that part of the American union, a friendly place for the foreign tourist. I never felt more accepted in that country, as when we made that trip. And the main curiosity, among others, was to see first hand the effect caused by Felix Hernandez in that city, where he was nicknamed King Felix.
     Para quienes no están familiarizados con el béisbol, Félix Hernández es un lanzador derecho venezolano, que reinó -literalmente- en aquellas tierras dentro de los deportistas de élite, en una larga carrera de 15 temporadas en las Grandes ligas, con el equipo Marineros de Seattle. Entre otros logros: 7 veces MVP del equipo, 6 veces All Star con la liga Americana, un premio Cy Young y el pitcher del último juego perfecto lanzado en las Mayores.
For those who are not familiar with baseball, Felix Hernandez is a Venezuelan right-handed pitcher who reigned - literally - in those lands among the elite sportsmen, in a long career of 15 seasons in the Major Leagues, with the Seattle Mariners team. Among other achievements: 7 times MVP of the team, 6 times All Star with the American league, a Cy Young award and the pitcher of the last perfect game thrown in the Majors.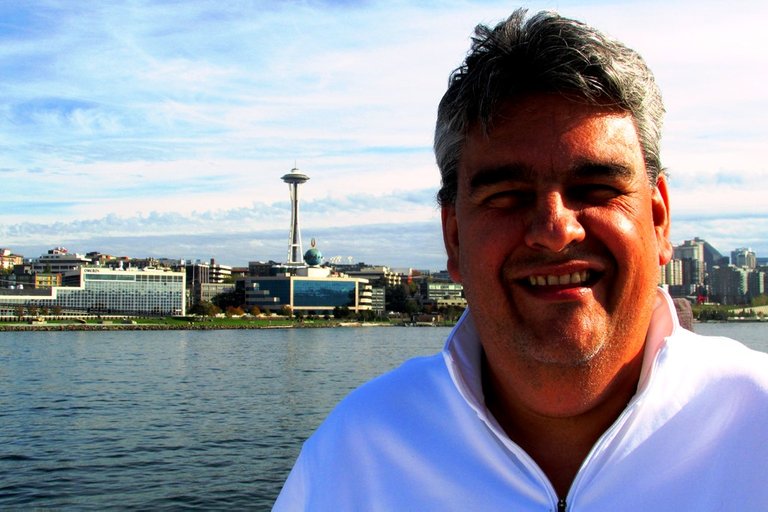 Image by @psico with Canon PowerShot SX160 IS Camera in Elliott Bay, Seattle, WA, USA

     Entonces no fue una sorpresa escuchar con asombro de primera mano, como los fanáticos de aquella ciudad se referían a él, con epítetos que llenaban de orgullo el gentilicio nacional. Más cuando venía de haber logrado, en el año inmediato anterior a mi viaje, una efectividad de 2.14, con 15 juegos ganados, 6 perdidos y 248 ponchados. Con tamaña labor y el reconocimiento de pitcher del año en la Americana 2014, en el equipo que escogen los mismos jugadores y mánagers, se encontraba en el cénit de su carrera y en las preferencias del público de aquella ciudad.
So it was not a surprise to hear with astonishment first hand, how the fanatics of that city referred to him, with epithets that filled the national crowd with pride. Even more so when I had just achieved, in the year immediately preceding my trip, an effectiveness of 2.14, with 15 games won, 6 lost and 248 struck out. With such a great job and the recognition of pitcher of the year in the 2014 American Championship, in the team chosen by the same players and managers, he was at the peak of his career and in the preferences of the public of that city.
     Incluso, una sección del estadio Safeco Field, era exclusivamente para ubicar a la corte del rey Félix, quienes se vestían de franela amarilla y llevaban carteles con la letra K, para significar los ponches que hacía durante el juego. Un pitcher que se encuentra lanzando un juego perfecto, que llega al último inning y enfrenta al último jugador, imaginamos se encuentra bajo gran presión, pero si además de eso, es capaz de lanzar un pitcheo a 95 MPH en éstas alturas del juego, para retar al bateador; debe ser alguien muy especial.
Even a section of the Safeco Field stadium was exclusively for the location of King Felix's court, who wore yellow T-Shirt and carried signs with the letter K, to signify the punches he made during the game. A pitcher who is throwing a perfect game, who gets to the last inning and faces the last player, we imagine is under great pressure, but if on top of that, he is able to throw a pitch at 95 MPH at this point in the game, to challenge the batter; he must be someone very special.
     El caso es que sus días de gloria han pasado y en 2019 dejó Seattle para probar suerte con los Bravos de Atlanta en la temporada 2020, Solo que el Covid-19 se atravesó y a pesar de tener una buena pretemporada, donde dió visos de aquella grandeza, Felix prefirió dar mayor descanso a su brazo y declinó jugar bajo la pandemia. Anda en busca de equipo y si las condiciones pandémicas mejoran, creemos que lo encontrará.
The fact is that his glory days are over and in 2019 he left Seattle to try his luck with the Atlanta Braves in the 2020 season. Only Covid-19 crossed the line and despite having a good preseason, where he showed signs of that greatness, Felix preferred to give his arm more rest and declined to play under the pandemic. He is looking for a team and if the pandemic conditions improve, we believe he will find it.
Enlace web del canal de MLB en YouTube // Web link from the MLB channel on YouTube

     ¿Por qué lo decimos? Félix tiene apenas 35 años, está relativamente con energía para lanzar y ¿cuál equipo no querría arriesgar un poco, por un ex-ganador de Cy Young que ha descansado su brazo por largo tiempo? Si lo que demostró en le pre-temporada con Atlanta el año pasado no fue un espejismo ¿No querría un manager tener un abridor de calidad? El buen pitcheo siempre hará falta en cualquier rotación y ahora mismo es el pitcher veterano más apetecible del mercado.
Why do we say it? Felix is only 35 years old, he is relatively energetic to throw and, What team wouldn't want to risk a little, for a former Cy Young winner who has rested his arm for a long time? If what he showed in the pre-season with Atlanta last year wasn't a mirage, Wouldn't a manager want a quality opener? Good pitching will always be needed in any rotation and right now he is the most desirable veteran pitcher in the market.
     Una de las razones primordiales para arriesgar es que Félix no estuvo lanzando duro en postemporada y demostró que había aprendido en la larga recuperación de su brazo, a mezclar los lanzamientos para estirar su carrera y si me preguntan a mí, lo firmaría -al menos- para verlo lanzar en la pretemporada 2021, siempre estaría la posibilidad de dejarlo libre si no da la talla ¿Está acabado Félix? Ciertamente no.
One of the main reasons to take the risk is that Felix wasn't throwing hard in the postseason and he showed that he had learned in the long recovery of his arm, to mix the throws to stretch his career and if you ask me, I would sign him - at least - to see him throw in the pre-season 2021, there would always be the possibility of letting him go if he doesn't measure up. Certainly not.
P.S. English is not my native language, apologize for that. I used a web translator
for english text (DeepL), the fonts are embedded in the images
     ¡Gracias por leer..! // Thanks for read..!
Las fuentes están incrustadas en las imágenes

¿Quieres tener tu propio blog y la libertad financiera que significa
el mundo cripto? ¡Haz clic en la firma!
---
My social networks