Los japoneses tienen un aura mística arropada por aquella percepción general de su propia humildad como sociedad, la cual fue adquirida durante su evolución y moldeada por los avatares de las katanas y las batallas. Así que jamás oirán decir a Shohei Ohtani que lo quiere todo, no está en la naturaleza de la idiosincrasia nipona. Simplemente apelará al trabajo y el entrenamiento duro, como la explicación a su extraordinario performance.
The Japanese have a mystical aura wrapped in that general perception of their own humility as a society, which was acquired during their evolution and molded by the vicissitudes of katanas and battles. So you will never hear Shohei Ohtani say he wants it all, it is not in the nature of Japanese idiosyncrasy. He will simply appeal to hard work and training as the explanation for his extraordinary performance.
      Ayer mismo leíamos un trabajo en el sitio de la MLB, donde especialistas deportivos discutían sobre la improbable finalización anticipada de la temporada y el resultado de la votación para el MVP de la liga americana entre Vladimir Guerrero Jr. y Shohei Ohtani. Estos debates, a mi modo de ver, son importantes para dilucidar un posible camino de decisión, pero inútiles por cuanto una temporada culmina con el juego número 162 de cada equipo, último en el calendario antes de los play-off.
Just yesterday we read a piece on the MLB site, where sports specialists discussed the unlikely early end of the season and the outcome of the American League MVP voting between Vladimir Guerrero Jr. and Shohei Ohtani. These debates, in my opinion, are important to elucidate a possible decision path, but useless because a season ends with the 162nd game of each team, the last game on the schedule before the playoffs.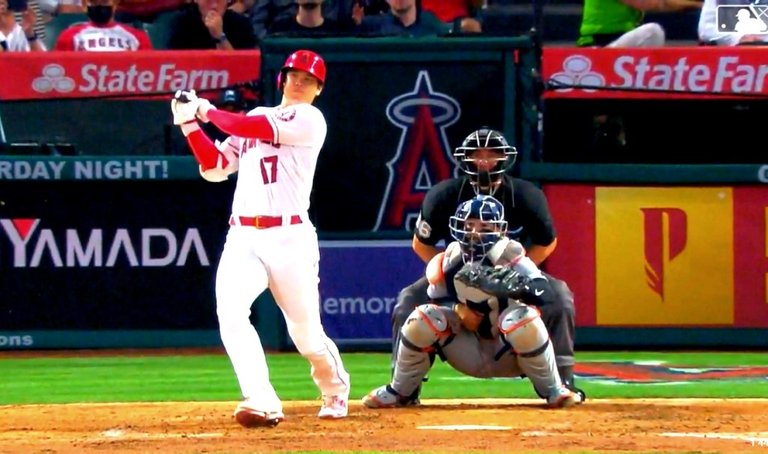 Screenshot from video by MLB

      Las nuevas generaciones puede que no recuerden esto o lo hayan escuchado, pero la última vez que hubo tanto alboroto alrededor de un nipón, fue en la primera temporada de Ichiro Suzuki con los Marineros de Seattle. Ichiro era un tipo difícil de sacar out, primordialmente porque tenía una envidiable disciplina en el plato y le pegaba solo a lanzamientos en la zona de strike. Venía precedido de la fama ganada en la liga japonesa por la cantidad de hits que por allá logró. Y se ocupó de demostrar en este lado del pacífico, que aquello no era casualidad.
New generations may not remember this or have heard of it, but the last time there being this much hype around a Nipponese, it was Ichiro Suzuki's first season with the Seattle Mariners. Ichiro was a tough guy to get out, primarily because he had enviable plate discipline and hit only pitches in the strike zone. He was preceded by the fame he earned in the Japanese league for the number of hits he got there. And he took care of demonstrating on this side of the Pacific that this was no coincidence.
      Y el tipo se lo llevó todo, literalmente. Pero lo principal fue el respeto de sus contemporáneos. Ese furor causado en la costa oeste se ha visto reverdecido ahora en Los Ángeles. Ohtani ha estado haciendo cosas que no se veían en grandes ligas desde que "Babe" Ruth jugó, hace más de cien años ¿lo imaginan? El caso, como decía uno de los especialistas, es que el "Babe" no sacaba el bate a más de 100 MPH y hacía otro tanto con sus lanzamientos a la goma. He ahí la diferencia.
And the guy took it all, literally. But the main thing was the respect of his contemporaries. That furor caused on the West Coast has now reverberated in Los Angeles. Ohtani has been doing things that haven't been seen in the big leagues since "Babe" Ruth played, over a hundred years ago, can you imagine? The thing, as one of the specialists said, is that the "Babe " didn't take the bat over 100 MPH and did as many with his pitches to the rubber. That's the difference.
      Y ayer fue todo un espectáculo ¿por qué? Bueno, primero los despachos de noticias informaron que Ohtani participaría en el derby de jonrones, competencia que precede al juego de las estrellas, luego el nipón dejó claro que no le va ser nada fácil a Guerrero, dejarlo atrás en la carrera por el liderato de cuadrangulares al sacar dos pelotas a las gradas, las cuales fueron una muestra de que algo especial tienen las condiciones del japonés.
And yesterday was quite a spectacle, why? Well, first, the news dispatches reported that Ohtani would participate in the home run derby, a competition that precedes the All-Star game, then the Japanese made it clear that it will not be easy for Guerrero to leave him behind in the race for the home run lead by hitting two balls into the stands, which were a sign that there is something special about the Japanese player's condition.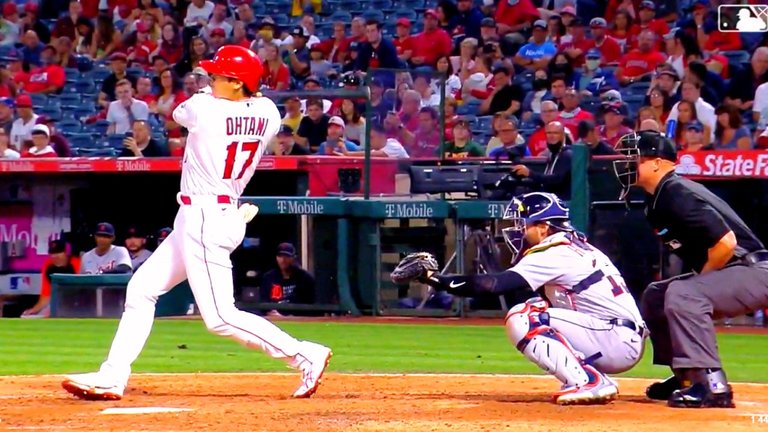 Screenshot from video by MLB

      En la quinta entrada, con un hombre en base, Ohtani sacó un leñazo ¡en línea! Por supuesto, esto no es nada raro, lo extraordinario ha sido el sonido que hizo el bate. Como diríamos en criollo: "le dió con el alma" Hay que tener una clase de fuerza especial para darle a una pelota de ese modo. A continuación en el octavo inning, con las bases limpias, el tipo ha bateado un cuadrangular por la banda contraria al sitio más alejado del home entre el left y center.
In the fifth inning, with a man on base, Ohtani hit a line drive! Of course, this is nothing unusual, what was extraordinary was the sound the bat made. As we would say in Creole: "hit him with his soul" You have to have a special kind of strength to hit a ball like that. Then, in the eighth inning, with the bases clear, the guy hit a home run on the opposite side of the field to the farthest place from home between left and center.
      ¿Puede Ohtani ganar el premio MVP? No lo sé, pero de que está haciendo los méritos incuestionables, no queda duda ¿Ganará el Home Run Derby? Mucho más difícil de predecir, pero las condiciones las tiene. Todos sabemos que las nuevas generaciones son más contestatarias que nunca y eso es bueno. Son las llamadas a cambiar las percepciones tradicionales por un tipo de evolución acorde con los tiempos y Shohei Ohtani parece querer cambiar la percepción occidental sobre su sociedad, porque con su performance parece gritar: "Lo quiero todo".
Can Ohtani win the MVP award? I don't know, but that he is making the unquestionable merits, there is no doubt. Will he win the Home Run Derby? Much more difficult to predict, but he has the conditions. We all know that the new generations are more contentious than ever and that is a good thing. They are the ones called to change the traditional perceptions for a type of evolution according to the times and Shohei Ohtani seems to want to change the western perception about his society because with his performance he seems to shout: "I want it all".
P.S. English is not my native language, apologize for that.
I used a web translator for english text (DeepL)