El escenario cumbre de ésta ¿épica o emocional? historia ha sido el American Airlines Center de la ciudad de Dallas, TX, un pabellón que sirve también como sede a los equipos profesionales de la NBA y la NHL de la ciudad: los Mavericks y los Stars, respectivamente ¿Quién lo habría creído? ¿Un maracucho en Dallas? Pero la historia ligada al petróleo de la ciudad del medio oeste, tendría por lógica una cantidad de nacidos en la tierra del Zulia asentados allá, así que eso no es lo extraordinario.
The high point of this epic or emotional? story has been the American Airlines Center in the city of Dallas, TX, a pavilion that also serves as the home of the city's NBA and NHL professional teams: the Mavericks and the Stars, respectively. Who would have believed it? A maracucho in Dallas? But the Midwestern city's oil history would logically have a number of Zulia-born people settled there, so that's not what's so extraordinary.
     ¿Saben lo extraordinario? Veamos: como toda historia de boxeo, un chico salido de los barrios zulianos con mucha disciplina y dotes boxísticas se dedicó al deporte de los puños. Su carrera profesional le llevó a enfrentarse en 2017 a un boxeador nicaragüense René Alvarado, éste le venció por nocaut técnico y puso en entredicho aquello por lo cuál había trabajado toda su vida ¡Boxear era su carrera! Y un combate perdido puede torcer las oportunidades de campeonato.
Do you know how extraordinary? Let's see: like all boxing stories, a boy from the Zulia neighborhoods with a lot of discipline and boxing skills dedicated himself to the sport of fists. His professional career led him to face a Nicaraguan boxer, René Alvarado, in 2017, who beat him by technical knockout and questioned what he had worked for all his life. And a lost fight can distort the chances of a championship.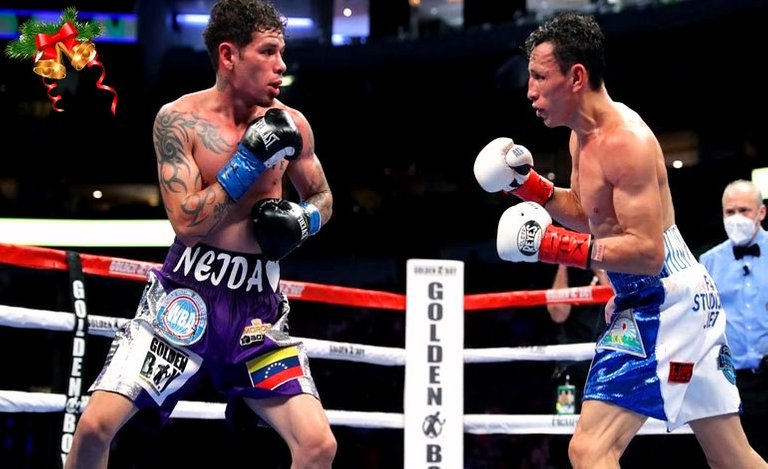 He aquí que nuestro protagonista no se dejó amilanar y redobló los esfuerzos para ser tomado en cuenta. Trabajó y logró la firma para la pelea de su vida: un campeonato que le había sido esquivo ¿adivinen contra quién? Ajá, contra el mismísimo hombre que hacía tres (3) años le había vencido y era el actual poseedor del cinturón superpluma en la Asociación Mundial de Boxeo (A.M.B.) ¿No es hermoso cuando la vida te ofrece revanchas?
Our protagonist did not let himself be intimidated and redoubled his efforts to be taken into account. He worked and achieved the signature for the fight of his life: a championship that had been elusive, guess against who? Aha, against the same man who three (3) years ago had beaten him and was the current holder of the super feather belt in the World Boxing Association (WBA). Isn't it beautiful when life offers you revenge?
     Por supuesto, antes de una pelea hay que prepararse y la concentración debe ser total. Pero Roger no contaba con el destino, quien de manera alevosa le arrebató a su mamá en plena preparación para el combate ¿Podría este lamentable suceso sacar de concentración al aspirante? Una sombra de dudas fue arrojada sobre la oportunidad de Roger. No solo enfrentaría al mismo tipo que lo había noqueado hace tres años, además se enfrentaría con el dolor por la pérdida de su madre.
Of course, before a fight you have to prepare yourself and your concentration must be total. But Roger didn't count on destiny, which treacherously snatched his mother away from him in the middle of her preparation for the fight. Could this unfortunate event take away the aspirant's concentration? A shadow of doubt was cast over Roger's opportunity. Not only would he face the same guy who had knocked him out three years ago, he would also face the pain of losing his mother.
     Con todo esto en desarrollo, llegó el día de la pelea. Formaría parte de una cartelera donde la pega estelar la protagonizaban el californiano Ryan García y el británico Luke Campbell por el campeonato interino de peso Ligero. El "Nica" y el Zuliano se montaron al ring y la campana dio inicio a todo. Round de estudio el primero. Y en el tercer round vino la debacle para el Centroamericano: dos caídas que ponían adelante a Roger. Esto provocó al campeón, quien salió desde el 4to. round a echar el resto.
With all this in development, the day of the fight arrived. It would be part of a billboard where the starring punch was the Californian Ryan Garcia and the British Luke Campbell for the interim Lightweight Championship. The "Nica" and the Zuliano got into the ring and the bell began to ring. Study round first. And in the round third came the debacle for the Central American: two falls that put Roger ahead. This provoked the champion, who went out from the 4th round to throw the rest.
Tomado de la cuenta de Twitter de @GoldenBoyBoxing

     Pero el haber intentado el todo por el todo, no da siempre el resultado que mereces. Más aún cuando tienes enfrente a un contendor que desea ser campeón. Así que Roger lo demostró enviando Alvarado a la lona en el capítulo 12, último de la pelea. Así, los jueces que tenían alguna duda sobre quién debía ser el campeón, la despejaron en ese round. 113-112 las tarjetas de los tres jueces al hacer el anuncio del nuevo Campeón Mundial de peso Superpluma.
But having tried everything for the sake of everything does not always give the result you deserve. Even more so when you are facing a contender who wants to be a champion. So Roger proved it by sending Alvarado to the canvas in chapter 12, the last chapter of the fight. Thus, the judges who had some doubt about who should be the champion, cleared it up in that round. 113-112 the cards of the three judges as they made the announcement of the new Super Featherweight World Champion.
     Roger, un humilde chico zuliano, se derrumbó a la lona con el anuncio y lloró. Lo hizo porque sabía que su mamá estaba con él en el ring. Al pararse, lo hizo mirando al cielo y dando gracias. Dijo en la entrevista posterior a la pelea que había preparado su físico para 20 rounds. Te creemos Roger.
Roger, a humble Zulian boy, collapsed to the canvas with the announcement and cried. He did so because he knew his mother was with him in the ring. When he stood up, he did so looking at the sky and giving thanks. He said in the interview after the fight that he had prepared his physique for 20 rounds. We believe you, Roger.
P.S. English is not my native language, apologize for that. I used a web translator
for english text (DeepL), the fonts are embedded in the images
     ¡Gracias por leer..! // Thanks for read..!
Las fuentes están incrustadas en las imágenes

¿Quieres tener tu propio blog y la libertad financiera que significa
el mundo cripto? ¡Haz clic en la firma!
---
My social networks