El crecimiento de una comunidad implica desafíos enormes. En efecto, ésta semana hemos arribado a la cantidad de 348 suscriptores y apenas estamos publicando el número 26 de nuestra revista semanal (tarde, sí, lo reconocemos). 26 semanas significan seis (6) meses constantes sin fallar. Si agregamos mes y medio adicional hasta que se nos ocurrió la idea de una revista, podemos decir que "Full Deportes" se consolida ¿Quienes creen sean los responsables de esto? ¡Ustedes, estimados autores!
The growth of a community involves enormous challenges. In fact, this week we have reached 348 subscribers and we are just publishing the 26th issue of our weekly magazine (late, yes, we admit it). 26 weeks means six (6) constant months without fail. If we add an additional month and a half until we came up with the idea of a magazine, we can say that "Full Deportes" is consolidated. Who do you think is responsible for this? You, dear authors!
     Una de las preocupaciones propias de "mantener" una comunidad unida son las interacciones, es decir, tanto a más una comunidad se lee y se comenta entre ellos, tanto o más, autores que no han querido compartir en nuestro feed se animarán hacerlo ¿Un ejemplo? Por favor, sírvase leer el comentario orgánico que hace @acont a un nuevo usuario animado por publicar en "Full Deportes"
One of the concerns of "keeping " a community together is the interactions, that is, the more a community reads and comments to each other, the more authors who have not wanted to share in our feed will be encouraged to do so. Please read the organic comment made by @acont to a new user encouraged to post on "Full Deportes".
---
     Otro desafío corresponde al validar la legitimidad de la contribución en el feed de los usuarios nuevos. Como quiera, nadie nace aprendido en #Hive; el GAP de aprendizaje abruma a los nuevos usuarios principalmente por descuidar documentarse bien sobre el como hacer las publicaciones. Es algo de doble vía: #Hive provee el sitio, el editor y las recompensas; el creador provee el contenido y la búsqueda de la excelencia.
Another challenge is to validate the legitimacy of the contribution in the feed of new users. However, no one is born learned on #Hive; the learning GAP overwhelms new users mainly by neglecting to document well how to make posts. It's a two-way street: #Hive provides the site, the publisher, and the rewards; the creator provides the content and the pursuit of excellence.
     Al menos, así lo vemos desde nuestra perspectiva. Piensen detenidamente por un momento: otras comunidades aceptan contribuciones de cualquier índole o especializada, pero no exigen un mínimo de calidad ¿dónde creen se encontraría Full Deportes sin el control de lo que se publica en su feed? Y, además, tenemos algo en contra: no somos anglosajones y la experiencia previa de éstos últimos con la comunidad hispana en la vieja cadena, digamos, no fue nada gratificante.
At least, that's how we see it from our perspective. Think carefully for a moment: other communities accept contributions of any kind or specialty but do not demand a minimum of quality. Where do you think Full Deportes would be without control of what is published in its feed? And, besides, we have something against us: we are not Anglo-Saxons and the latter's previous experience with the Hispanic community in the old network, let's say, was not at all gratifying.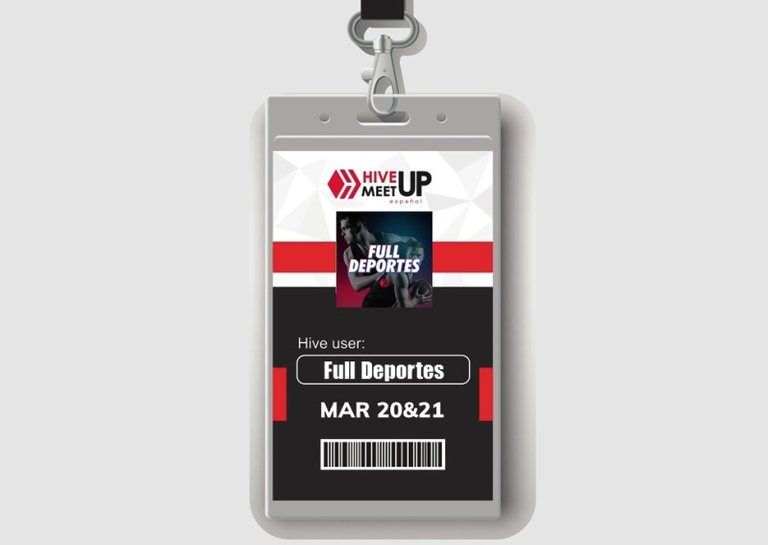 Diseño en Power Point a partir de imagen proveída por @hivemeetup en su cuenta de Twitter
---
     El robo de identidad y el plagio a partir de audios montados en YouTube son las últimas perlas que hemos tenido por enfrentar. Esto puede poner en peligro todo lo que hemos logrado como comunidad. El ciber-fraude está más alborotado que nunca, habida cuenta del encierro que la pandemia ha causado a nivel mundial y la impericia de quienes controlamos los contenidos, en el conocimiento de las herramientas usadas por el crimen organizado.
Identity theft and plagiarism from audio montages on YouTube are the latest pearls we have had to face. This could jeopardize everything we have achieved as a community. Cyber-fraud is more rampant than ever, given the encirclement that the pandemic has caused worldwide and the lack of expertise of those of us who control the content, in the knowledge of the tools used by organized crime.
     Porque sí, estimados autores, #Hive no se escape a la realidad virtual de un mundo oscuro que ha sabido como penetrar éstas redes. Y quienes estamos intentando hacer vida acá legítimamente, tenemos por meta ganar en calidad a los escondidos en las tinieblas, que desean cabalgar sobre nuestro éxito ¿Difícil? Sí ¿Demandante? También, el asunto es comprometer unos minutos al día, para ayudar a superar el reto.
Because yes, dear authors, #Hive does not escape the virtual reality of a dark world that has known how to penetrate these networks. And those of us who are legitimately trying to make a life here, have the goal of winning in quality to those hidden in the darkness, who wish to ride on our success Difficult? Yes. Also, the point is to commit a few minutes a day to help overcome the challenge.
Salón de la fama Vol. 26 // Hall of fame Vol. 26
---
     El @hivemeetup en español fue todo un éxito, en dos días de actividades y más de nueve (9) horas de exposiciones, lo más granado de #Hive estuvo presente. Testigos y representantes como @pgarcgo de @cervantes, @blocktrades, @crimsonclad, @qwoyn, @nathanmars, @juliakponsford, @clayboyn, @acidyo, @arcange y otros más; Hivers líderes de comunidad como: @eddiespino, @enrique89, @roadstories, @marybellrg, @ylich, @tripode y muchos otros, varios proyectos y comunidades, rindieron sus visiones y opiniones sobre #Hive en un evento conducido en la moderación bilingüe de @ilazramusic y amenizado por la voz mágica de @eugelys. Pedimos excusas a los omitidos en la lista anterior y les animamos comentar en este post, su participación en el evento mencionado.
The @hivemeetup in Spanish was a success, in two days of activities and more than nine (9) hours of exhibitions, the best of #Hive was present. Witnesses and representatives such as @pgarcgo from @cervantes, @blocktrades, @crimsonclad, @qwoyn, @nathanmars, @juliakponsford, @clayboyn, @acidyo, @arcange and more; Hivers community leaders such as @eddiespino, @enrique89, @roadstories, @marybellrg, @ylich, @tripode, and many others, various projects and communities, rendered their visions and opinions on #Hive in an event led in bilingual moderation by @ilazramusic and enlivened by the magical voice of @eugelys. We apologize to those omitted from the above list and encourage you to comment on this post about your participation in the above event.
     No hubo trabajos muteados en la semana; agradecemos a nuestros patrocinadores: @theycallmedan, @bluemist mediante la cuenta de @appreciator y el testigo @cervantes, por haber confiado en el proyecto. Las pautas sugeridas, guían el trabajo de todos. Agradecemos el apoyo del witness hispanohablante @cervantes, voten por él en peakd.com o en hive.blog
There were no jobs muted during the week; we thank our sponsors: @theycallmedan, @bluemist through the @appreciator account, and the witness @cervantes, for having confidence in the project. The suggested guidelines, guide everyone's work. We appreciate the support of Spanish-speaking witness @cervantes, vote for him at peakd.com or hive.blog.
P.S. English is not our native language, apologize.
We used a web translator for english text (DeepL)
     ¡Gracias por leer..! // Thanks for read..!

¿Quieres tener tu propio blog y la libertad financiera que significa
el mundo cripto? ¡Haz clic en la firma!
---
---
Considere unirse al trail de Full Deportes y apoye a los autores deportivos hispanos.
Consider joining the Full Deportes trail and support Hispanic sportswriters.