Formula One - Abu Dhabi GRand Prix - Vettel's Last Ride & New 15 Wins Record To Beat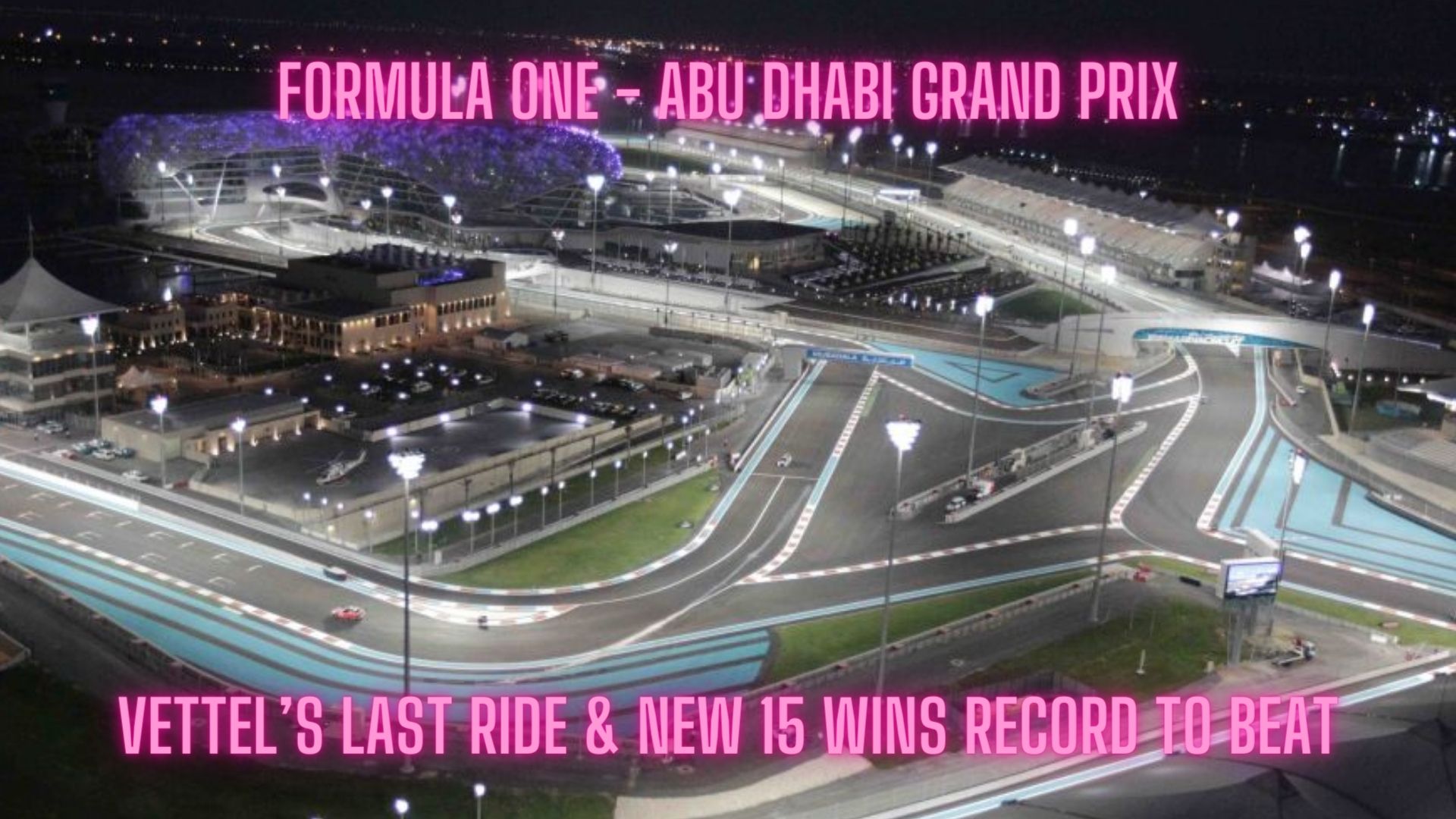 Alright guys, last season of the season! We are racing in Abu Dhabi, the place where about one year ago the most controversial ending to a season happened. It had a pretty big bang and is in everyone's might until today. This time around the championship is already decided: Max Verstappen is yet again the champion while his teammate Sergio Perez is fighting with Charles Leclerc for the second position. This was also one of the main topics throughout the week. Max did not let Perez through on the last lap and made it more difficult for the Mexican driver to secure himself the second position in the driver's championship.
Furthermore, we will see the last race of Sebastian Vettel. The four time champion is one of the more popular drivers in the paddock which was not always the case. I remember the times where he was winning race for Red Bull and where he was disliked like so many other successful drivers in their prime. I think that Max will soon get the same destiny and that the fans will soon root for other drivers yet again. This race will also show whether Mercedes is able to keep up their positive momentum. I really hope that they can underline their strong form from last week and potentially get another race win.
Qualifying
The qualifying had little surprises in it unlike the last week's qualifying. In Q1, both Williams drivers, Bottas as well as Gasly and Magnussen went out. It looks like Gasly has given up with his current team and is only focusing on the next season with Alpine. Q2 was also not the most spectacular one as Zhou, Stroll, Schumacher, Tsunoda and Alonso had to go out. This also means that Sebastian Vettel was able to make it into Q3, what an nice way to end his last qualifying!
Like almost every time this season, the Q3 was dominated by Ferrari, Mercedes and Red Bull. No wonder the first six places go to these three teams. With Red Bull in P1 and P2, they will have the best chances to get Sergio Perez the second place. But they definitely will need to fight for this one as Charles Leclerc and Carlos Sainz are straight behind them in P3 and P4. Vettel was able to claim P9 and has a very good shot for points in his last race.
The Race: Vettel's Last Ride & New 15 Wins Record To Beat
Well, what should I say on such an emotional Sunday? The race has started like expected, both Red Bull were being chased by the Ferraris. Mercedes saw some gaps and it developed to be a pretty interesting race without anything to gain to be honest. There were some great overtakes between those three teams in the beginning of the race and it basically lasted until the end. This time around, there was no drama, almost no DNFs and a lot of donuts at the end of the race.
The second place battle between Charles Leclerc and Sergio Perez went to Charles, which would certainly bring the move from last race into discussion into the paddock of Red Bull. Furthermore, Verstappen was able to win this race once again, putting himself on 15 race wins. This is now a new record to beat and I kind of doubt that this will happen anytime soon. Carlos Sainz finished P4 while George Russel managed to take P5 and grabs therefore the 4th place in the championship. It was a great debut season for the young Brit, but he should stay humble as next season Lewis Hamilton will certainly want to fight for the crown again!
It was also a great ending for Sebastian Vettel, getting a 10th place and therefore one last point in Formula One. In total he finished in twelfth place but well ahead of his teammate Lance Stroll. In general Aston Martin had not the greatest of seasons and I really hope that they can perform better with next season's car.
Conclusion – Next Season Will Be Hot!
In general, I think that this season was interesting but will not top the finale of the last one. I don't think that the Drive To Survive Season will be worth watching too much, but I will still do it just to recap this season. The main topics will probably be once again the seating game in this sport. It is hurting not to see Mick Schumacher but there are hopes that Mercedes will give him a reserve driver seat. On top of that Daniel Ricciardo managed to get a reserve driver seat at Red Bull. This also means that if Perez starts to do some funny stuff, there will be immediately someone to replace him and from the past we know how quickly Christian Horner can be with his trigger.
Last but not least, I am really hoping for some drama next season. I hope for tight races and very dirty maneuvers just because it makes the sport so much more entertaining. I do believe that it could be a nice three-way fight next season with a lot of potential for some surprises. I still believe that Williams and Haas will have the worst results but due to some new regulations they have definitely the best cards to improve their cars the most. It will be a very long break but I will stay tuned for any new news! 😊
Published by ga38jem on
Sports Talk Social
On 20th November 2022
---
---