Formula One - Belgian GP in Spa - Red Bull Dominance Continues!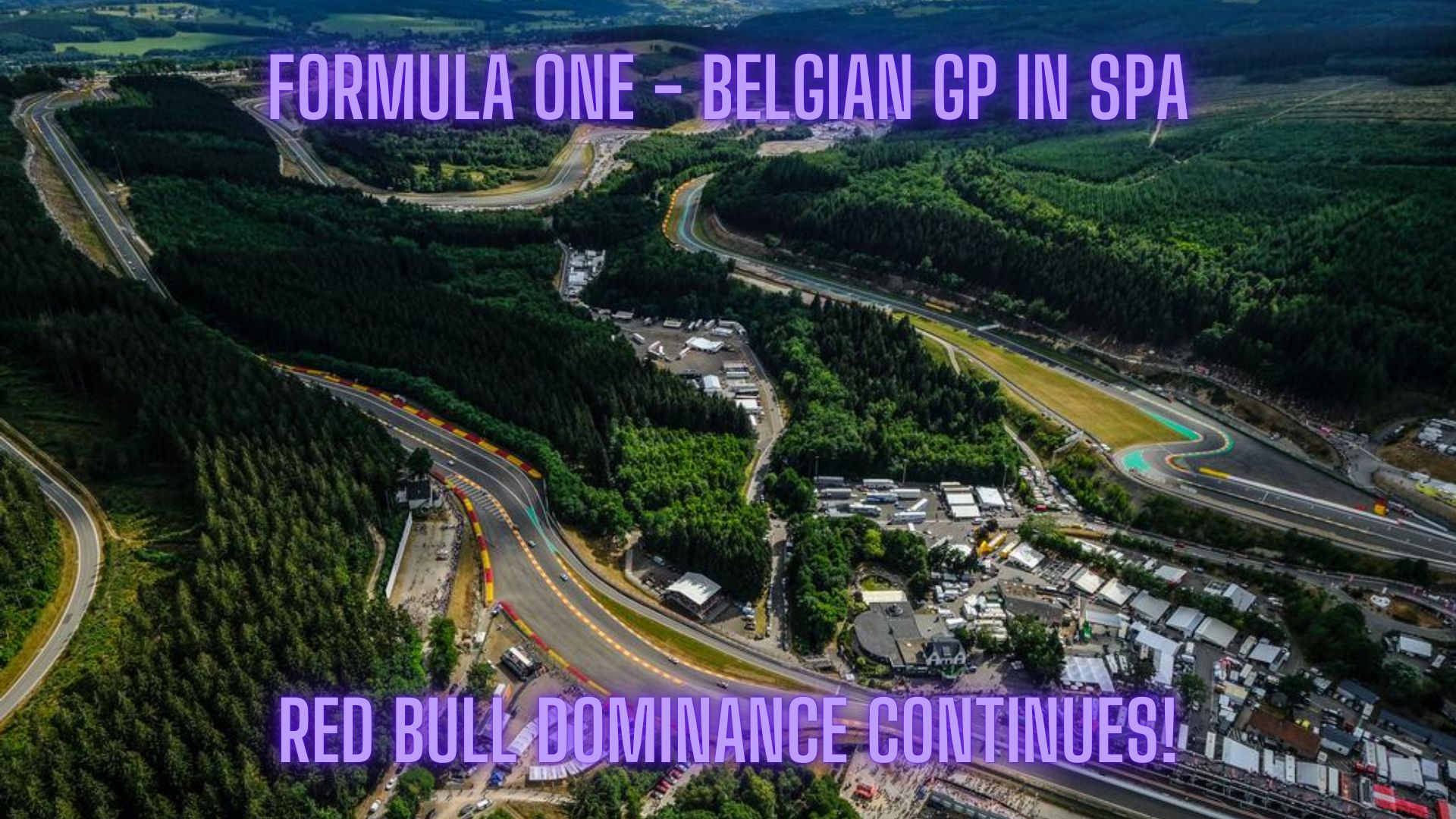 It feels like it has been a decade since the last F1 race in Hungary. But this weekend the waiting time is finally over. We are racing again, this time in Belgium. This race will be very interesting since it is the first race after a long period of time where teams were able to bring some updates to the car. It is also a track where overtaking is possible which promises us great racing. Furthermore, this race is the start of the second part of the season. The current situation looks as follows: Max Verstappen is 70 points ahead of his first competitor, Charles Lecrelc. They are both followed by Perez, Russel, Sainz and Hamilton. The latter even has 110 points to catch up to Verstappen.
In the team category Red Bull is almost 100 points ahead of Ferrari, followed by Mercedes who are only 30 points behind Ferrari themselves. It will be a very tight race to the end of the season, especially if the new car upgrades might bring some chaos into the performances of the cars. But it will not only be an interesting battle in the front. Since the silly-season has started, more eyes are also on the individual performances of the drivers. Some drivers, like Daniel Ricciardo, have no seat for next season, other drivers such as Mick Schumacher are fighting for their current spot in the team. I think we are off to an interesting second half!
Qualifying: If Everyone Gets A Grid Penalty, No-One Has A Grid Penalty
Because the teams don't want to risk any DNFs, some drivers were getting new engines into their cars. This obviously lead to a lot of grid penalties. Among these drivers were Verstappen, Leclerc, Norris and Schumacher. This brought a lot of chaos into the starting positions, but let's start from the beginning.
The qualifying had some surprises right in the beginning. For starters: Bottas, who is usually making it at least to Q2 was knocked out straight away. Furthermore, a multiple pole sitter in Spa, Sebastian Vettel, only managed to get into P16 which is obviously a car problem. Nevertheless a very disappointing result for him. Due to the numerous penalties, he will be starting from P10 and because Aston Martin's race pace is rather good in this season, I am expecting Sebastian Vettel to score some points this weekend. What's more is that Magnussen went out in Q1 which means that Schumacher was doing better, but will have to start the race behind his teammate, due to his penalty.
Probably the biggest surprise in Q2 was that Alex Albon managed to get through into Q3 with his car and eliminating a disappointed Daniel Ricciardo once again. Other than that, Q3 was starting with all the obvious drivers and teams. Both Ferraris, Red Bulls, Mercedes and Alpines made it into Q3 and were now supposed to battle out the rest of the grid positions.
In Q3 Verstappen was showing yet again his class and out-qualifying the rest. Since he also has the penalty, he will be starting from P14, followed by Leclerc, who only got into P4 but because Carlos and Perez do not have to move back, he basically gained positions on Max. This also means that our polesitter for this race will be Sainz followed by Perez. It will be very interesting to see whether Carlos can take the pressure or whether the Mexican pilot can overtake right in the beginning.
Right behind those two, Fernando Alonso will be starting in his alpine. I am expecting the Spaniard to attack straight away and also hold everyone else back in the process. Especially the two Mercedes drivers that are following him will probably have a hard time to overtake Alonso. I am also excited to see what Alex Albon will be able to do from P6 in his Williams. I truly wish him best of luck to score important points for his team this time around.
The Race: Verstappen's Master Class
Moving on to the race we saw some very cool racing but everything in order. It all started with a very furious race-start. Already in the first two laps, there were two major collisions that determined the faith of this race. Straight from the beginning, Alonso and Hamilton managed to get past Perez without any problems while Carlos Sainz was able to pull away. Unfortunately for Hamilton, he was able to overtake Alonso but had also a very bad contact with him, that catapulted his car into the air. He was still able to continue driving but had to retire his car a few corners later. The other yellow flag in the opening lap was caused by none other than Goatifi himself. He managed to spin and crash right into Bottas. The worst part is that Latifi was able to continue his race while Bottas had to retire.
Meanwhile after the restart, Verstappen was able to make up some places to find himself into P6. This was very surprising but also just shows his masterclass on the track currently. He was sweeping trough all of his opponents and found himself in P1 shortly after. The more interesting part was that Leclerc who just started one place behind him was still stuck in P16 due to a pit stop during the safety car. Another sign of the current Verstappen dominance was that he managed to do all of that on soft tires while everyone else was on Mediums. Well, the overtaking was not a big surprise but what was very unordinary was that all of the other drivers had to pit before him. This just shows how well his tire management in this race was.
Verstappen managed to bring this Grand Prix home for yet another win and underlying that he is on track of winning his second world championship in a row. His teammate Sergio Perez was able to take P2 which makes the Red Bull dominance complete. P3 was very highly battled between George Russel and Carlos Sainz. In the end, the Ferrari pilot was able to secure himself another podium, while the Brit had to be satisfied with P4 which is another very solid performance by Russel. They were followed by Leclerc who managed to mitigate the damage but is just falling behind in the championship further and further behind Verstappen.
Further down the grid, Sebastian Vettel was able to finish in P8. He was very long on track for P6 but due to the better strategies, both Alpines were able to snatch away the places from him. In P10, Alex Albon has managed to defend this last available point for his team. He fought very heroically against 4 other cars for this point and has rightfully earned this last point for his team. The disappointments of this race are definitely McLaren and Haas who both did not manage to score any points
Conclusion
Looking to the next weekend, the championship might be as good as decided by then. We will be racing in the Dutch Zandvoort. This means, it will be Verstappen's home race that he surely wants to win and dominate like the current one. If Ferrari does not step up their game then, it could be game over for the championship dreams of Charles Leclerc. Furthermore, I am a little disappointed about the Mercedes race this week. They looked more sharp but still were not able to perform on the top of their game. I think they made a step in the right direction once again, but the competition does not sleep and so the margin between those cars is only getting marginally smaller.
On the same note, I am also disappointed to see that Mick Schumacher is not being able to make some advertisement for himself. I really hope he will be able to promote his performances in order to get a seat for next year but with placements like these, it will be very difficult to get attention onto yourself, that's for sure.
Published by ga38jem on
Sports Talk Social
On 28th August 2022
---
---