Formula One - Dutch GP - Verstappen's Luck & Mercedes' Resurrection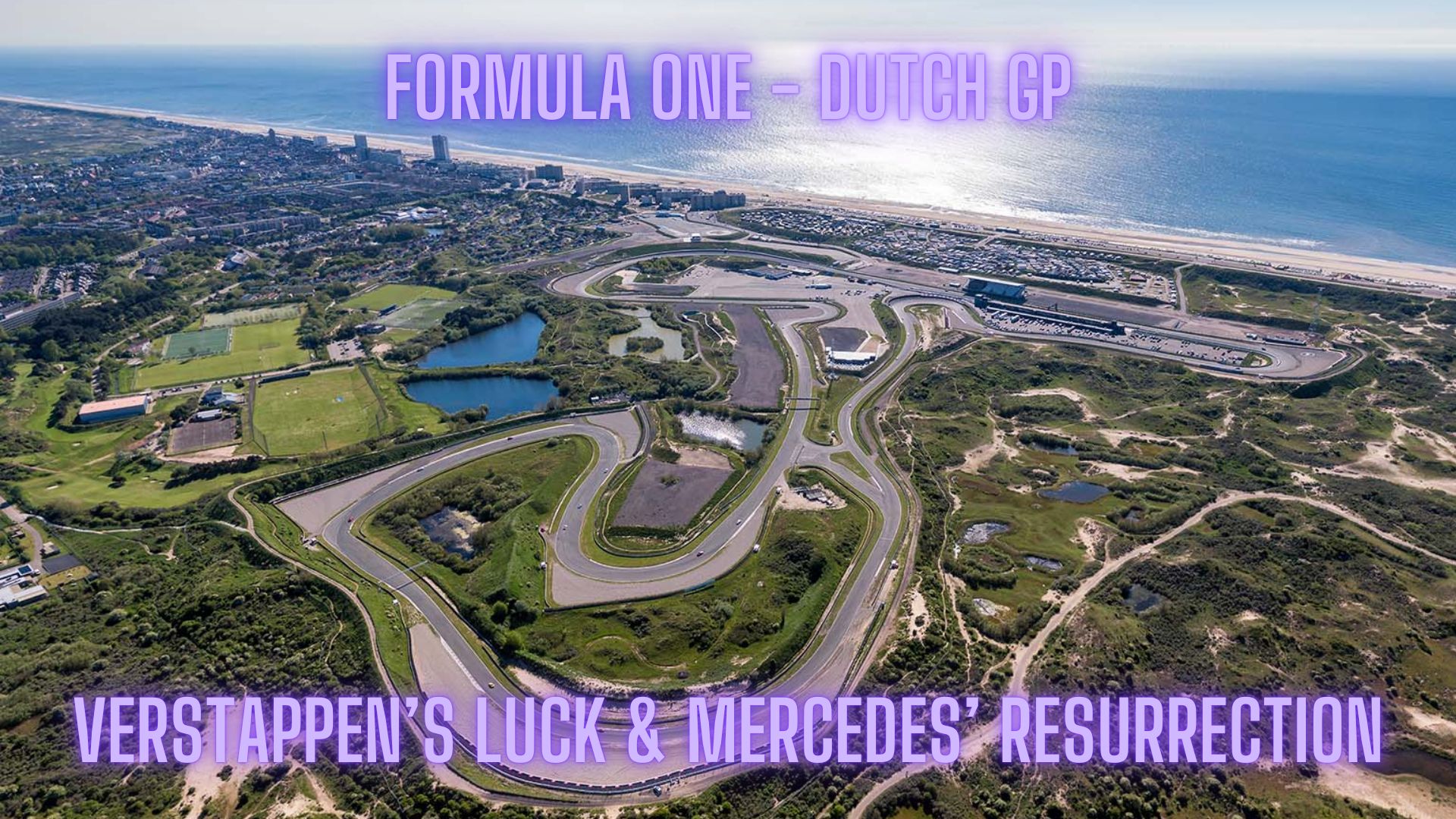 Once again we are racing this weekend! This time around in Zandvoort in the Netherlands. I don't have much to say about this race other than that it is going to be completely orange! What do I mean by that? Well, as we all know, it is the Dutch GP, meaning that a lot of people will be supporting Max Verstappen here. Because orange is the Dutch color, there will be a an ocean of fans firing up fire-works as well as wearing the orange national kits of the Dutch national team!
But let's talk about the situation in the championship for a minute. Since last race's dominant performance there is no doubt that Max is driving in a class for himself. I think Ferrari has some minimal chances to get into his way for his second championship but I would argue that he is too far ahead to get this title taken away from him. This is why we should focus on the battle for second place. With Perez, Leclerc, Sainz, Russel and Hamilton, we have 5 close contenders for this place. They are separated by just 21 points!
For me, I am also interested in the midfield teams. As you might have guessed by my previous articles, I really hope that Schumacher will perform good yet again. Last race was very disappointing which is why I am hoping to see him in the points yet again. It will also be interesting to see whether Alpine can continue their great run or if McLaren is able to fight back and get some important points for the crucial 4th constructor's position.
Thrilling Qualifying
Let's start with the qualifying yet again. This time around it was a very exciting one! Q1 saw the same faces leave again. It seems like Vettel does not have the Saturday on his side and always has to leave the pack in Q1. With him Daniel, Latifi Magnussen and Bottas had a shocking first round. They will have a hard time to get into the points on the race Sunday. Moving into Q2, there were some surprises. The first one being that both Alpines were not able to qualify for Q1! This is exactly what I was talking about in the intro when I mentioned that Alpine needs to keep up their performance. It is not impossible to score points but it will be rather hard once again.
On this note, a very pleasant surprise was that Mick was able to go trough into Q3! He definitely outperformed his teammate this time and is collecting more and more arguments for a stay in Formula One for next year. If he puts in a solid race, I am confident that he will be able to score good points in this race. The same goes with Yuki Tsunoda. He is in a very similar position and his only chance to stay in Formula One next season is to score as many points for his team as possible.
Mobing to the top, the first six places are distributed between the three top teams yet again. While Mercedes was blocked by Sergio Perez's yellow flag, both Ferraris were able to get P2 & P3. Max Verstappen had yet again a very solid performance and was able to outpace both Ferraris. This time around they were much closer together though which could promise us a very tight race between the front three. Mercedes looked like they had a good pace as well which could raise the hope for an interesting battle between P1 and P6. I guess it will all come down to the start on the Sunday!
The Race: Verstappen's Luck & Mercedes' Resurrection
It was race how I wished it to become! It was exciting and had controversial moments. It had once again major screw ups as well as lucky endings. In the end it was entertainment and a fun Sunday afternoon, which is all I could have asked for. So let's start from the beginning, shall we?
Frist few laps, nothing special had happened. Verstappen had quite a great start and was pulling away from both Ferraris comfortably. Both Red Bull cars and Ferrari cars had started on the Soft Tire. In contrary, the Merc drivers had started on Mediums which was the right decision thinking back! While the other cars went into the pits around the laps 15-20, the Merc drivers were able to stay out until around lap 30! This was a massive advantage and allowed them to lead the race for quite some time.
Whenever it was time to pit, Carlos Sainz was the only one with a major screw up there. He lost a big chunk of time because his mechanics did not have his rear left tire ready. I feel like it is already becoming a tradition that something goes wrong in the Ferrari team, so I am honestly not surprised anymore. During this phase, some drivers risked it on a one stop strategy. These cars were Norris and both Merc cars, as they switched to hard compound tires. While you would think that this would somehow let their immediate performance look worse, they actually started to perform much better than the rest of the field.
This brought us in a very interesting position where Verstappen had to overtake both Mercedes to win this race as he still needed to make a pitstop, whereas the Merc drivers did not have to do that. In this time around, it looked like the good old times of last season. This went on for until lap 45. I will try to explain it as easy as possible, but it was quite confusing while watching it: Tsunoda stopped his car because he felt like a tire was getting lose. After standing for a few seconds on the side of the track he made it to the pit lane, where his mechanics changed his tires as well as tried something to fix on his seat belts. After this was done he pulled out again and stopped a few corners later.
This disrupted the whole strategy of Mercedes and obviously helped Verstappen to get a much cheaper pit-stop. He selected the hard tires as well, while Merc reacted to this and switched both drivers onto mediums. It was great thinking by the Merc team and it still looked like they were on track for a win this weekend. Unfortunately, there was another incident. Lap 55 had us on the edge of our seat as Bottas had to stop his car on the main straight. This cause a Safety Car Phase in which Russel demanded Soft Tires, as well as Verstappen. Hamilton either slept or trusted his engineers but decided to stay on the mediums: Big mistake by the record world Champion!
After the restart, he was an easy target for 3 cars behind him and so he unfortunately finished the race in P4. Verstappen demonstrated the power of his car and his own skill yet again by taking the first place very comfortably, while Russel was rewarded for his soft-tire decision and taking home P2 for the Merc team. Leclerc was able to do the best out of his position and finished on the podium in P3.
Closing Thoughts
The straight speed of the Red Bulls is just from another world in this season. Despite this, they are currently having the best driver in the field. This combination is definitely World Champion worthy. When we take a look at the other teams, it looks like Mercedes is finding their old strengths back. While many cars in the field are having troubles, this team is trying to make the best out of an les performing car. All the props also go to George Russel who was able to make the correct call in the right moment to secure himself P2 in this race.
On a more disappointing not is yet again the team of Ferrari. Like I mentioned before, the memes about this team will not stop until they will have one clean race. Their next chance is in Italy next week which can be hopefully a turning point for them. Another disappointing result was that Mick was not able to get any points for his Haas. This also had to do with a screwed up pit stop in the early stages of the race. Nevertheless, the were enough opportunities to come back for him.
I am very excited for the next race where we can see another show by Verstappen and monitor the progress of Ferrari and Mercedes towards the top. Furthermore, it will be interesting to see whether Perez will finally show that he can keep up with his teammate as his last performances were really disappointing in a dominating Red Bull. I guess we need to wait another week to see whether there will be some changes in this regard!
Published by ga38jem on
Sports Talk Social
On 4th September 2022
---
---