Kyle Trask is one of the more interesting players to have worn the Gator uniform. Playing behind another Deriq King in High School he never started a single High School game. Deriq, a duel-threat QB, was a better match for the offense his High School played.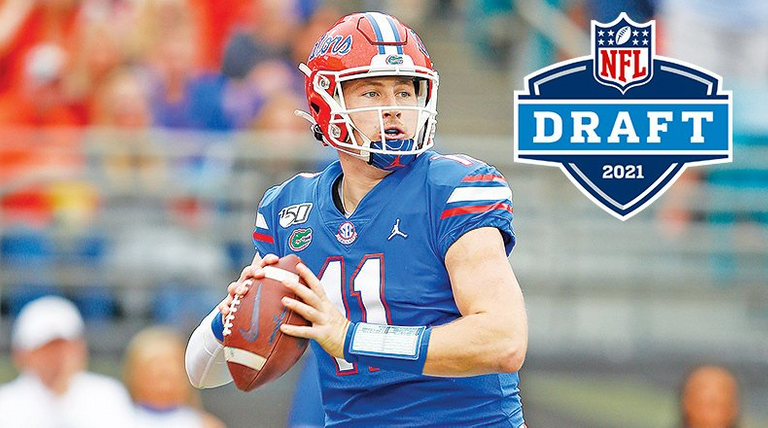 (source)
Nonetheless, after an outstanding camp with the Gator's, Kyle, a 2-star recruit, managed to catch the eye of the Gator coaches and snagged a scholarship offer. Many Gator fans felt it was a wasted scholarship and that Trask would never amount to anything. I was not one of them having checked his stats and seen his film.
But like in HS, Trask came in and was stuck behind a highly regarded QB, Felipe Franks, and appeared destined to be a career backup. But Franks suffered a horrible injury early in his junior year opening the door for Trask to take the reigns.
All the doubters were quickly proven wrong as Trask went on to have a successful Junior and Senior.
Strengths
Kyle quickly became one of the highest rated QBs in the NCAA displaying quick decision making skills combined with pin point accuracy. He was able to read defenses pre-snap and allowing him to find the mismatches.
Areas to Improve
While Kyle showed impressive accuracy, his arm strength is not elite. He will need to work on improving his arm strength at the next level in order to keep defenses from crowding the short routes.
What I Like About the Pick
Kyle Trask will come in as Tom Brady's backup and will be under no pressure to try and take over the starting job until Brady decides to retire. Backing up Brady will hopefully give Kyle the opportunity to learn from the Greatest Of All Times. If I was Kyle I would be watching and listening to everything Brady does.
Highlights
If you aren't familiar with Kyle Trask you may enjoy watching this highlight film from his time with the Gators.
Congratulations Kyle!
Congratulations Kyle! Your perseverance has paid off in spades. The whole Gator Nation thanks you for your time in the Orange and Blue and wish you nothing but continued success. Go Gators!