I started getting into the fantasy premier league towards the end of last season and it has been a roller coaster experience. I think the highest score I was able to get per game week was 75 or so, can't recollect vividly. As the new English Premier League will be kicking off this coming weekend, it is time to select your FPL team and stand a chance of getting g a headstart ahead of many others that will only join later. I hope to get as many point as possible each game week, hence, I will be making as much tweak to my team as possible. Let's look at my initial team selection.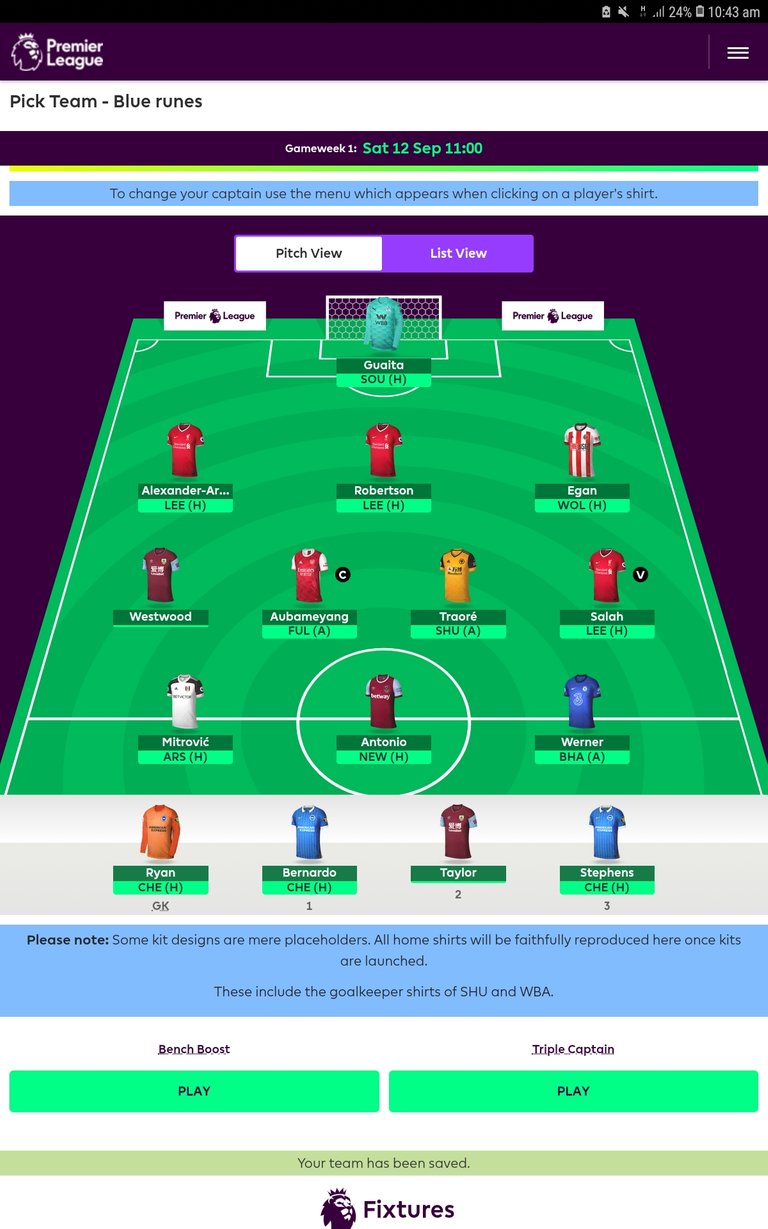 One thing I focused on while choosing my team was to garner as much points as possible in game week 1. This might be a source of catalyst for me for the rest of the season. Guaita is a decent, not too expensive goalkeeper that is sure to start every game barring injuries. It was a no brainer selecting him so as to cut cost for more valuable outfield players. I built my defence around two premium defenders that were in top 5 performers last season in the persons of Trent Alexander Arnold and Robert. I also decided to select two premium midfielders and one premium attacker. I took a bit of gamble with Timo Werner because he's a new recruit into the EPL and may or may not hit the ground running. But that price, if he hits the ground running, he would be a steal.
One thing I also took cognizance of is the fact that the two Manchester teams are off for game week one due to their busy schedule towards the end of last season. Hence, I avoided including any of their players in my team for game week one. Of course, Kevin De Bruyne is one player I must have in my team after game week one. Perhaps I will sacrifice Sallah or Aubameyang depending on their performance in the first game. One thing though, my bench is shitty and I really hope all my first eleven would start this game week.
Barring any last minute injury or transfer, I don't intend to make any changes to this team. For the FPL enthusiasts, what do you think about this team?