The new English Premier League eventually kicked off this last weekend and everywhere has been buzzing. A lot of excitement was witnessed with a few debutants putting up a good performance - some even going as far as netting a goal and/or providing assists. In all these, it was a mixed feeling for FPL managers.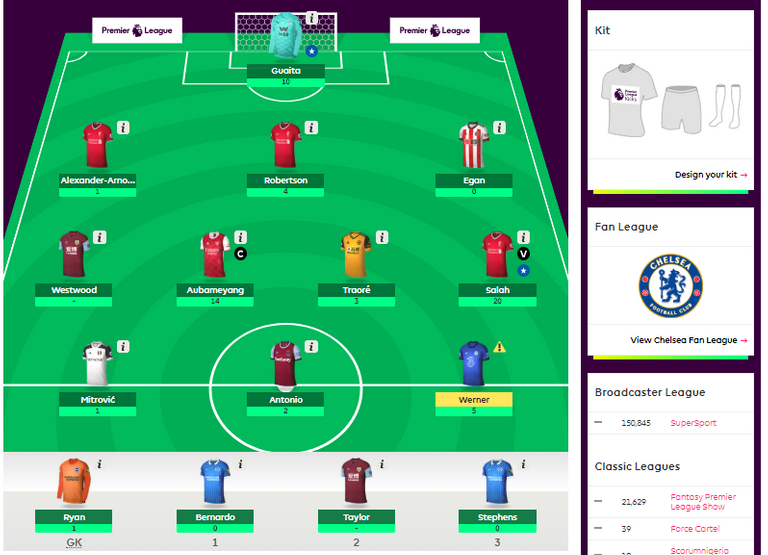 I was able to garner a decent 60 points from game week 1, thanks to a 3-stars performance from Mo' Sallah. It was a frustrating game week for me to see a player like Egan and Mitrovic not starting games when I had missed an earlier memo of Burnley's game being canceled. In all, 3 players were more or less missing in action for me. That I was still able to stack up 60 points is nothing short of a miracle.
Moving forward
So I decided to utilize my wild card chip for game week 2 and focus on having 3 premium midfielders and one premium forward. Kevin De Bruyne is a must-have for me as we all know that he has been one of the most consistent players in the EPL. So I brought him in and then reshuffled some other parts of the field to accommodate my transfer budget. Justin, Lewis Jamal, and Rob Holding had a decent performance in game week 1 and were available for cheap. Hence, I replaced them with a backline of Alexander Arnold, Robertson, and Egan.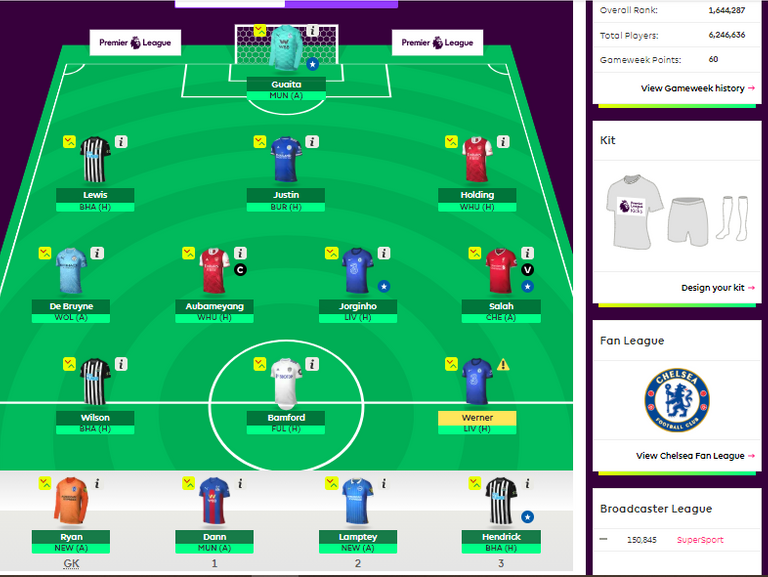 I also made sure to revamp my bench with players such as Tariq Lamptey, Dann, and Hendrick coming in at the backdrop of their decent performance in game week 1. Wilson and Bamford came-in in the place of Mitrovic and Antonio while Jorghino, a penalty taker, was brought-in to the midfield in place of Traore.
With these major changes, I stand no chance of overhauling my FPL team again without suffering point deductions. I expect the premium midfield to always come-through and cover for lapses from other parts of the field weekly. Hopefully, my team would be injury-free.
What do you all think?