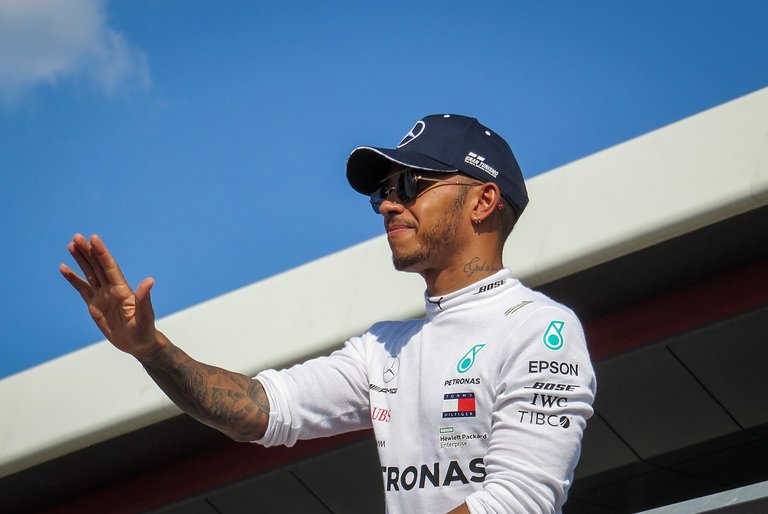 Hamilton on the podium at the 2018 British Grand Prix. / Hamilton en el podio del Gran Premio de Gran Bretaña de 2018.
It is very difficult to suppose what was the thought of Lewis Hamilton (named in honor of the exceptional athlete Carl Lewis multiple athletic champion in the disciplines of long jump and speed winner of 10 Olympic medals during his career) when the MacLaren team included him in the year 1998 in its McLaren Young Drivers Program created to offer guidance, assistance and support to promising young drivers, regardless of their nationality, in their promotion to the highest categories of motorsport.
This experience was immediately put into practice and transformed into eloquent results: he won the British Formula Renault 2.0, Formula 3 Euroseries and GP2 Series championships.
Nine years after he joined the team of young drivers, he made his Formula 1 debut and is no longer a promise. He is a reality.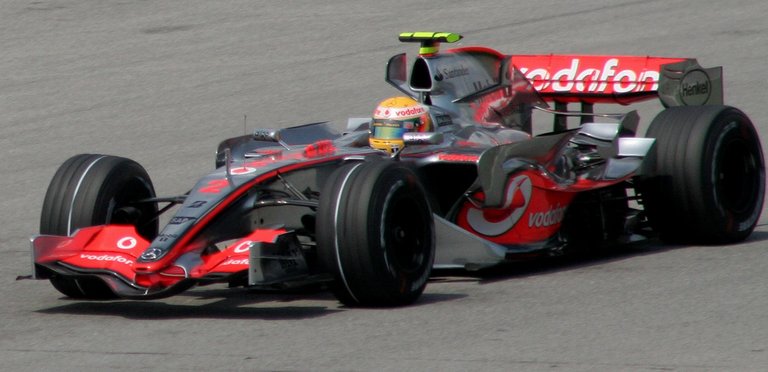 Lewis Hamilton during the 2007 Malaysian Grand Prix. / Lewis Hamilton durante la disputa del Gran Premio de Malasia de 2007.
Es muy difícil suponer cual era el pensamiento de Lewis Hamilton (llamado así en honor al excepcional atleta Carl Lewis múltiple campeón de atletismo en las disciplinas de salto en largo y velocidad ganador de 10 medallas olímpicas durante su carrera) cuando el equipo MacLaren lo incluyó en el año 1998 en su Programa de Jóvenes Pilotos McLaren creado para ofrecer orientación, asistencia y respaldo a jóvenes pilotos prometedores, independientemente de su nacionalidad, en su ascenso a las categorías más altas del automobilismo.
Esta experiencia la llevó a la práctica de inmediato y la transformó en resultados elocuentes: ganó los campeonatos de Fórmula Renault 2.0 Británica, Fórmula 3 Euroseries y GP2 Series.
Nueve años después de su incorporación al team de jóvenes pilotos debuta en Fórmula 1 y ya no es una promesa. Es una realidad.
A record start. / Un inicio con récords.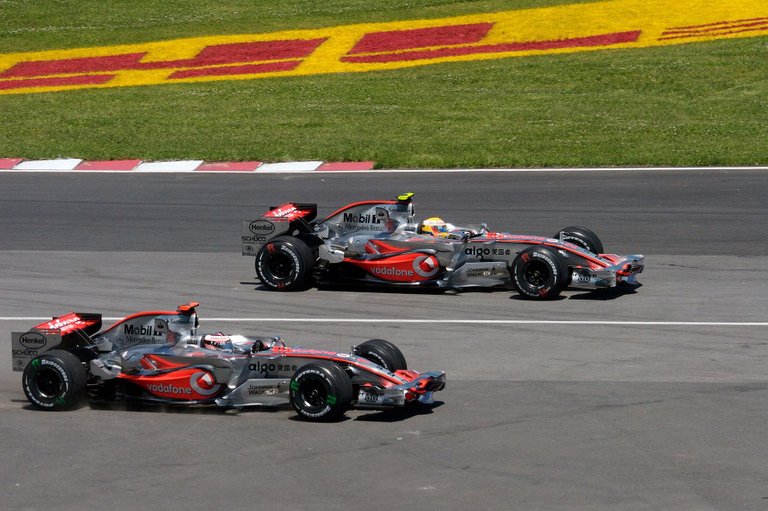 Lewis Hamilton along with Fernando Alonso at the Canadian Grand Prix, which was his first F1 victory. / Lewis Hamilton junto con Fernando Alonso en el Gran Premio de Canadá, que fue su primera victoria en la F1.
Already in his first season, he begins to set records that position him as a pilot with exceptional characteristics.
He finished second in the championship behind Kimi Raikkonen, tying in points with Fernando Alonso, at the time a true star of world motorsports.
At no time does the fame of his partner overshadow his performance. On the contrary, he motivates him more and more.
He wins his first F1 world championship in 2008 becoming the youngest driver in history to achieve it at 23 years, 9 months and 26 days. (After he is overtaken by a promising Sebastian Vettel who sets a new mark with his 23 years, 4 months and 11 days still standing.)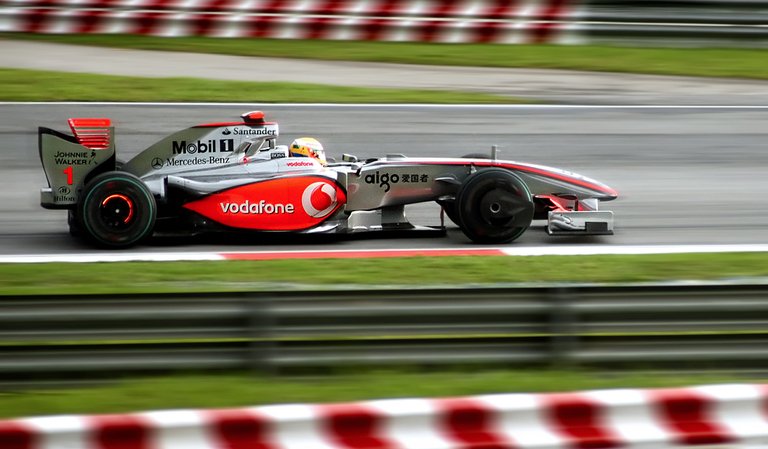 Hamilton driving McLaren in the 2009 Malaysian Grand Prix. / Hamilton conduciendo su McLaren en el Gran Premio de Malasia de 2009
Ya en su primera temporada comienza a establecer récords que lo posicionan con un piloto de características excepcionales.
Termina segundo el campeonato detrás de Kimi Raikkonen empatando en puntos con Fernando Alonso, en ese momento una verdadera estrella del automobilismo mundial.
En ningún momento la fama de su compañero opaca su rendimiento. Al contrario, lo motiva cada vez más.
Gana su primer campeonato mundial de F1 en el año 2008 convirténdose en el piloto más joven de la historia en lograrlo a los 23 años, 9 meses y 26 días. (después es superado por un prometedor Sebastian Vettel quien establece una nueva marca con sus 23 años, 4 meses y 11 días que todavía se mantiene.)
Separation between Maclaren and Mercedes. / Separación entre Mac Laren y Mercedes.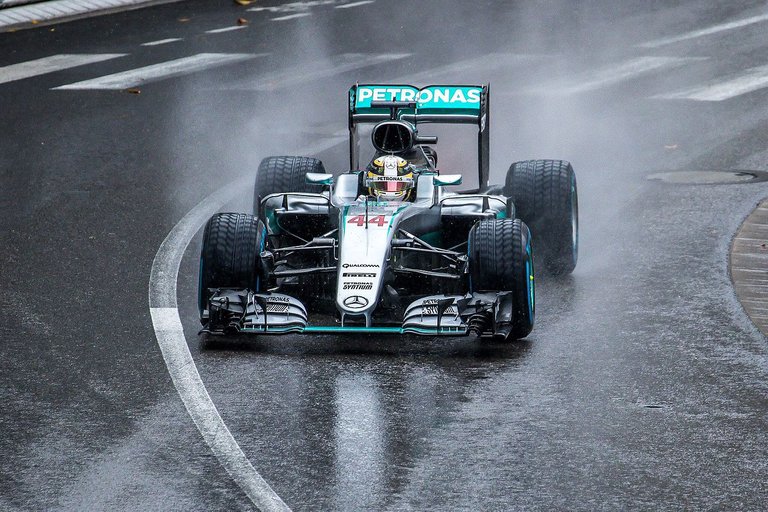 Hamilton in the victorious 2016 Monaco Grand Prix. / Hamilton victorioso en el Gran Premio de Mónaco 2016.
After the separation between MacLaren and Mercedes, he became the official driver of the new German team that would mark (and is still doing so) historical milestones of performance and effectiveness. The calls in a time silver arrows today are synonymous with unbeaten.
Lewis Hamilton is champion in 2014, 2015, 2017, 2018, 2019, and runner-up in 2016. And a few days ago he has surpassed the mark of Micheal Schumacher. With 93 victories he is by no means the winningest driver in Formula 1.
He will reach a hundred wins without any hesitation next year to celebrate a new achievement. The number of races to be held in 2020 will not be allowed. Simple mathematical logic. It's just a matter of time.
Perhaps how many years must pass for another phenomenon to overtake this phenomenon. Many without a doubt.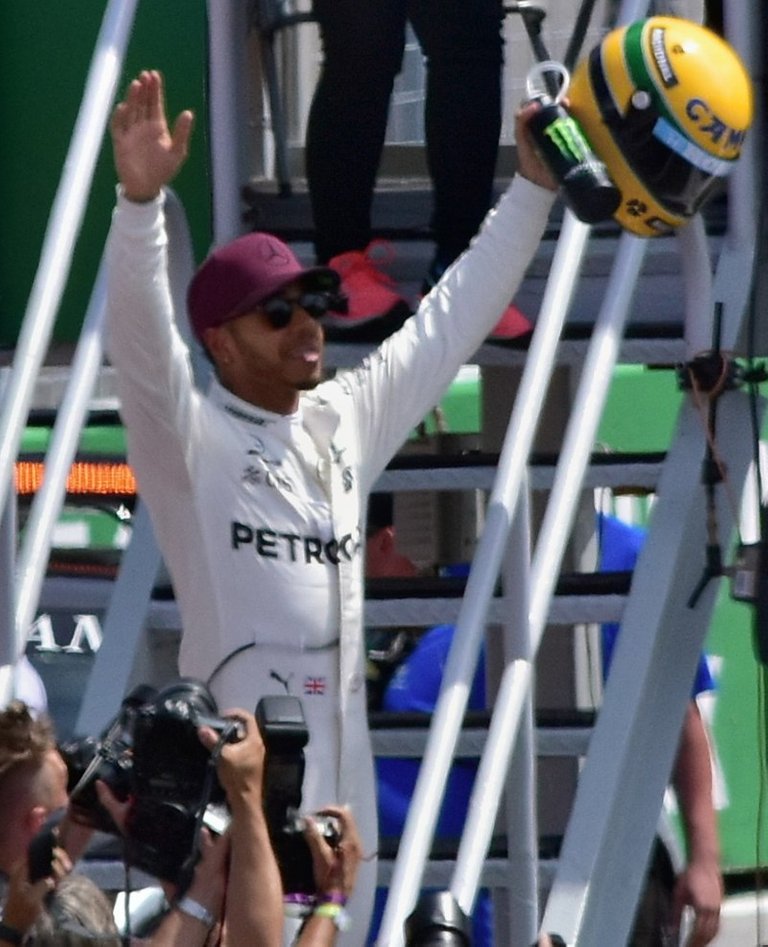 Hamilton in Canada, after having equaled Ayrton Senna's pole position record, shows off the Brazilian's helmet given to him by the missing driver's family. / Hamilton en Canadá, después de haber igualado el récord de la pole position de Ayrton Senna, muestra el casco del brasileño que le regaló la familia del piloto desaparecido.
Luego de la separación entre MacLaren y Mercedes se convierte en piloto oficial del nuevo equipo alemán que marcaría (y lo está haciendo aún) hitos históricos de rendimientos y efectividad. Las llamadas en un tiempo flechas de plata hoy son sinónimos de imbatibilidad.
Lewis Hamilton es campeón en 2014, 2015, 2017, 2018, 2019, y subcampeón en 2016. Y hace pocos días ha superado la marca de Micheal Schumacher. Con 93 victorias es en absoluto el piloto más ganador de la Fórmula 1.
Llegará al centenar de victorias sin ningún tipo de dudas el año próximo para festejar un nuevo logro. La cantidad de carreras a disputarse en este 2020 no se lo permitirón. Una simple lógica matemática. Es solo cuestión de tiempo.
Quizás cuantos años deberán pasar para que otro fenómeno supere a este fenómeno. Muchos sin dudas.
Own merits. / Méritos propios.
And perhaps the greatest merit of this achievement is that it has been obtained in a team that has never privileged its drivers. He has always left open competition between them. Alonso, Rosberg, Bottas. In the style of Ayrton Senna and Alain Prost to cite one example.
As the Maranello team has done in the past, almost always. Specifically with Michael Schumacher. He has only changed his strategy in recent years. And the results are on sight.
This year he will surely reach the last record of the legendary German rider: he will win his second world championship and everything indicates that he will be able to surpass it next year. He has no rivals in sight. Neither he nor the Mercedes.
Today only Verstappen with Red Bull can dispute that supremacy. but it is not a very specific threat either. I have made the Dutch driver almost certainly finish third in the championship.
And his teammate Valteri Bottas suffers too much from his teammate's superiority syndrome.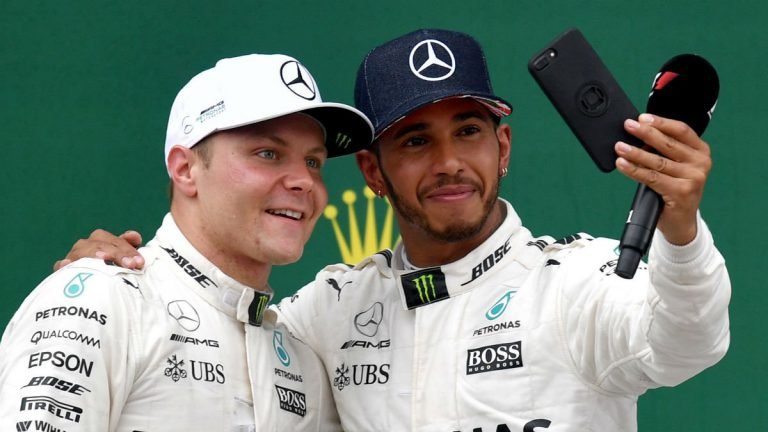 Lewis Hamilton believes Valtteri Bottas does an incredible job for the team and is undervalued. / Lewis Hamilton cree que Valtteri Bottas hace un trabajo increíble a favor del equipo y que se le infravalora.
Y tal vez el mayor mérito de este logro es que lo ha obtenido en un team que nunca ha privilegiado a sus pilotos. Ha dejado siempre abierta la libre competición entre ellos. Alonso, Rosberg, Bottas. Al estilo Ayrton Senna y Alain Prost por citar un ejemplo.
Como lo ha hecho el team de Maranello en pasado, casi siempre. Especifícamente con Michael Schumacher. Solo ha cambiado su estrategia en los últimos años. Y los resultados están a la vista.
Este año alcanzará seguramente el último record del legendario piloto alemán: conquistará su sútimo campeonato mundial y todo indica que podrá superarlo el añ próximo. No tiene rivales a la vista. Ni él ni la Mercedes.
Hoy por hoy solo Verstappen con la Red Bull pueden disputarle esa supremacía. pero tampoco es una amenaza demasiado concreta. He hecho el piloto holandés terminará casi seguramente tercero el campeonato.
Y su compañero de equipo Valteri Bottas padece demasiado el sindrome de superioridad de su compañero.