Massive Win For Liverpool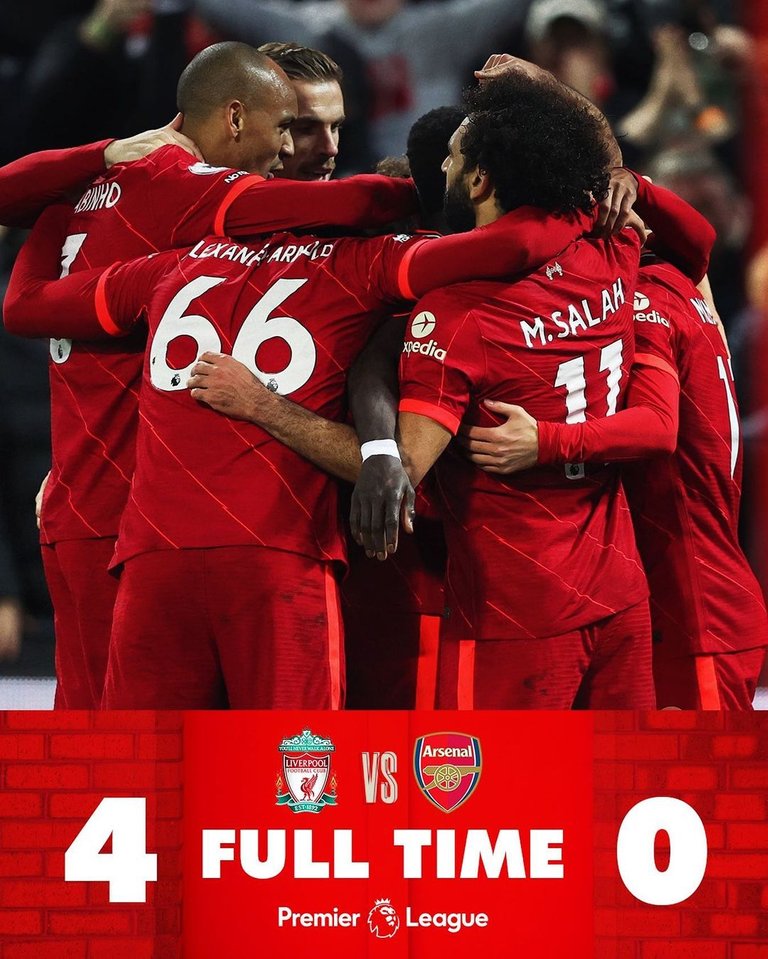 Source:https://www.instagram.com/p/CWgl3dhtB23/?utm_medium=copy_link
Hello, sports fans, welcome to another interesting weekend of English club football. It's been a long International break, and I am glad it's over now.
The EPL started on an interesting note today. Chelsea won their away game against Leicester City. They look unstoppable on the football pitch as The Blues dominated the game.
Manchester United had a bumper ride at the Vicarage Road. Ole Gunnar Solskjar side suffered a massive 4-1 defeat. This is a successive defeat in two weeks and there are some questions about the manager's future at Old Trafford.
The highlight of the week was the Liverpool vs Arsenal match. The Gunners battled Liverpool away from home for 3points and it was nothing short of a thrilling encounter.
The first half began with Klopp's side dominating the game. They had more ball possession and brought pressure to the Arsenal defence. Liverpool was so close to scoring an early goal but was denied by Ramsdale.
There was a little squabble on the sideline between Klopp and Artéta, which in my opinion changed the dynamics of the game.
The first goal came at 39th minutes through a beautiful set piece by the Englishman by Arnold. Sadio Mane was there to receive the ball in the box, heading it into the goalpost to give Liverpool the lead. The first half ended with Liverpool leading by a goal.
The Second half of the match began with Liverpool still looking dangerous and eager to register another goal. The Gunners on the other hand weren't looking as solid as they did in the first half which allowed The Reds to increase their lead.
A missed pass by Nuno Tavares during a buildup gave Diogo Jota the chance to double The Reds' lead, as he quickly claimed the ball, dribbling his way through the Arsenal defence to net the ball.
The 3rd goal came in the 73rd minutes through a counterattack. Jota initiated the attack with a headed pass to Mane who ran down the left wing into Arsenal's defence. The Senegalese striker crossed the ball to Sallah who put it behind the net, scoring his 16th goal in the EPL.
The last goal came from a substitute, Minamino. Just a few minutes on the pitch the striker found the back of the net, thanks to a cross by Arnold.
The match came to an end with Liverpool taking all three points. It was a beautiful display of football. Liverpool retains their 3rd position on the table while Arsenal takes the 5th position.
---
---