COPA AMERICA FINAL ANALYSIS: BRAZIL VS ARGENTINA: Will Lionel Messi finally lay his hands on a senior international trophy with La Albiceleste?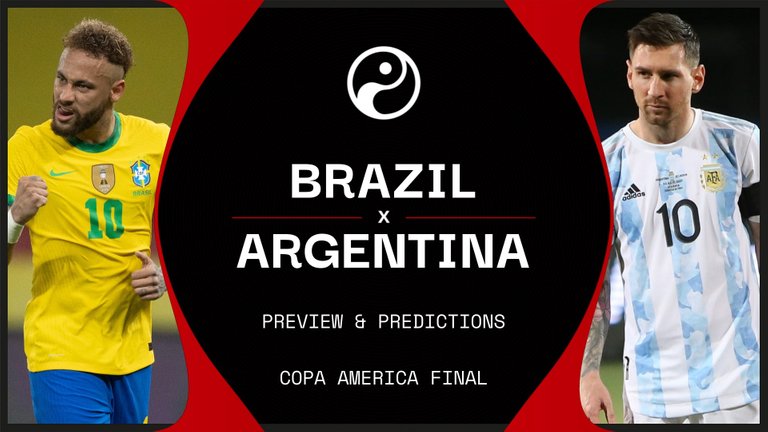 Source
The journey that began on the 13th of last month will finally come to an end today as the Selecao of Brazil take on La Albiceleste of Argentina in a mouth watering Copa America final.
Scheduled to kick off by 1am GMT at the Estadio do Maracana, you can bet both sides will be coming all out for this game knowing fully that it's "Winner takes all".
And aside the immense football rivalry between both teams, the world will also be keenly watching to see if Lionel Messi will be able to achieve that long awaited dream of lifting a Senior International Trophy with the latter after loads of heartbreaks in recent years.
Hmm, enough of the hypes and let's take a look at the chances of either teams claiming this prestigious Trophy, shall we?
BRAZIL:
The first stat in favor of Tite's men is their better "head to head" results in the last 5 meetings between both sides.
Selecao have won 3 and lost 2 in these meetings with 1 of these victories being at the last Copa America Semifinal.
You can bet Tite's men will be going into this game with some huge confidence, can't you?
Then we've got "Lionel Messi's senior international trophy" Curse.
La Albiceleste's skipper's last 4 attempts to win a senior international trophy with Argentina have all been in vain with the first of the 4 being a narrow heartbreaking World Cup defeat to the Germans, followed by 2 consecutive painful Copa America final defeats to Chile, and the last being a 2 nil Copa America Semifinal defeat to today's opponent.
Unlike the Golden career he's had in his Club Career, his Country Career has been more of a nightmare.
Don't you think Brazil will be looking to prey on this nightmare once again?
Let's now see stats favoring Lionel Scaloni's men, shall we?
ARGENTINA:
Although Brazil have been the better side in the last 5 meetings between both sides as stated earlier in favor of Brazil, La Albiceleste were however victorious in their last meeting.
This victory should provide some sort of courage and motivation for Argentina, am I correct?
A greater point that could stand for Lionel Scaloni's men would be the motivation to put an end to Lionel Messi's long wait for an international trophy.
Really, if Argentina are ready to help Messi achieve this long awaited dream, it is most certain that it will come to pass except if Messi himself fails to come to the party, which rarely happens.
Do you see the whole Argentina team making this happen, or will they come short once again?
CONCLUSION:
Having these stats placed before us, seeing Lionel Messi put an end to a trophyless senior international career might "not" come true.
But you never can tell if the time for the jinx to be broken is finally here.
I bet you don't need anyone to advice you not to miss this game if you're a true football lover.
Love always from your Football Analyst and Writer, IbkDaGreat.
---
---