ENGLISH FA CUP SEMIFINAL ANALYSIS: Chelsea vs Manchester City. Can the Blues shatter the Citizens' quadruple dream this season?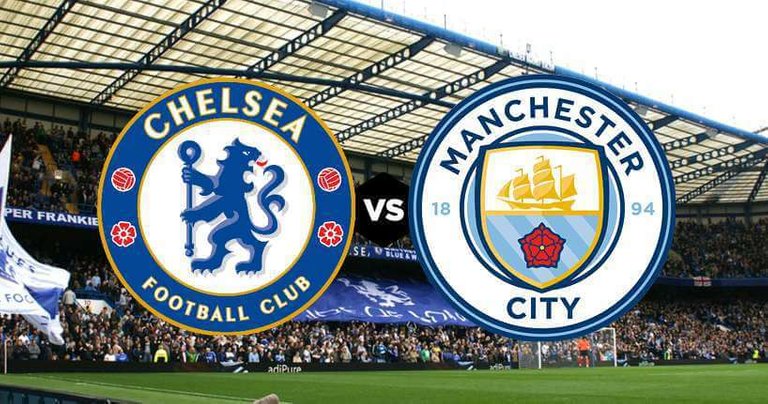 Source
The EPL continues today with 3 more matches scheduled to go down today.
Newcastle will take on West Ham United, Southampton will host Crystal Palace, and Sheffield United will travel to Wolverhampton to take on Wolves.
However, our concentration today will be on the hugely anticipated FA Cup tie between Chelsea and Manchester City.
Since Thomas Tuchel took charge as Chelsea's manager, he has transformed this Chelsea team into a team you wouldn't want to see your team come against thanks to his excellent tactics.
Pep Guardiola, on the other hand, doesn't need any introduction as we are already familiar with the high level of tactical intelligence he brings into the game with Manchester City.
Now, here we are with both managers taking on each other on a neutral ground and in a huge fixture where we can only have one winner.
Let's proceed to stats favoring both sides shall we?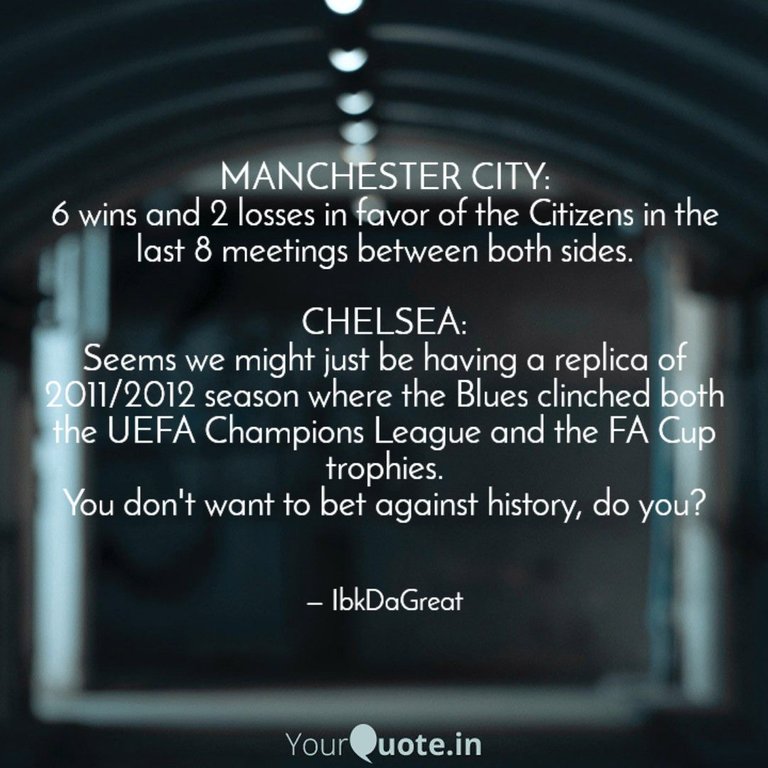 Source
Starting off with the away team this time,
MANCHESTER CITY:
The first stat favoring the Citizens is their slightly better results in all competitions compared to the Blues'.
They've won 6 and lost 2, compared to the Blues who have 5 wins, 1 draw, and 2 losses in as many games.
A fair edge for Pep Guardiola's men isn't it?
A better stat favoring Pep Guardiola's men is their better results over the Blues in the last 8 meetings between both sides.
They've won 6 and lost just 2 of these encounters.
This should give Pep Guardiola and his men more confidence going into this game.
Finally, one stat/fact that could be a huge motivational factor for the Citizens is their pursuit of a Quadruple this season.
They are currently at the top of the EPL table, Final of the English Football League/Carabao Cup, Semi final of the Champions League, and Semi final of the FA Cup.
Don't you think they will want to do everything possible to claim all 4 trophies?
Let's now take a look at stats in favour of Thomas Tuchel's Chelsea.
CHELSEA:
The Blues might not have stats in their favor, but they've got history on their side.
Chelsea's progress this season looks very replica to 2011/2012 where they clinched both the FA Cup and the UEFA Champions League in the most grandest of style.
They were performing below per that very season, appointed a new coach, fighting to get a Champions League spot just to mention a few, and out of nowhere, they clinched those 2 trophies.
The big question is, can history repeat itself in favor of the Blues?
CONCLUSION:
If we are to consider the stats before us, then Pep Guardiola and his men look very much on course to get a Quadruple this season.
However, you won't want to bet against history if it's at work, will you?
Let's get your thoughts and predictions on this game, they will be hugely appreciated
Love always from your Football Analyst and Writer, IbkDaGreat.
---
---