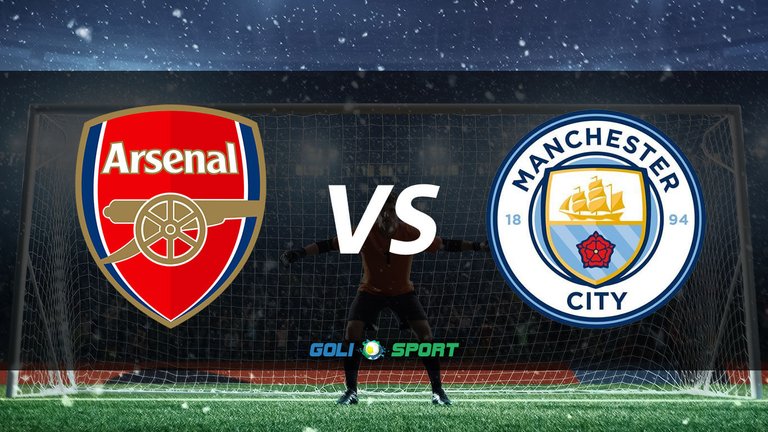 Source
Matchday 25 of the EPL has been nothing short of scintillating considering the games that have gone down so far, and we will be having 4 more mouth watering games today which are: the London derby between West Ham United and Tottenham Hotspur at London Stadium, Aston Villa hosting Leicester City at Villa Park, Manchester United welcoming Newcastle United at Old Trafford, and the big game of the day between Arsenal and Manchester City at Emirates Stadium. You are very free to call it a Super Sunday if you want to.
Really, picking any of these games would have been perfect for my analysis, but the huge clash between master and tutor is just an offer I can't give up.
The question here is if Mikel Arteta and his men have what it takes to bring Pep Guardiola and his men back to earth, or if it will be the latter who will be getting another routine win? So let's move on the analysis of this game, shall we?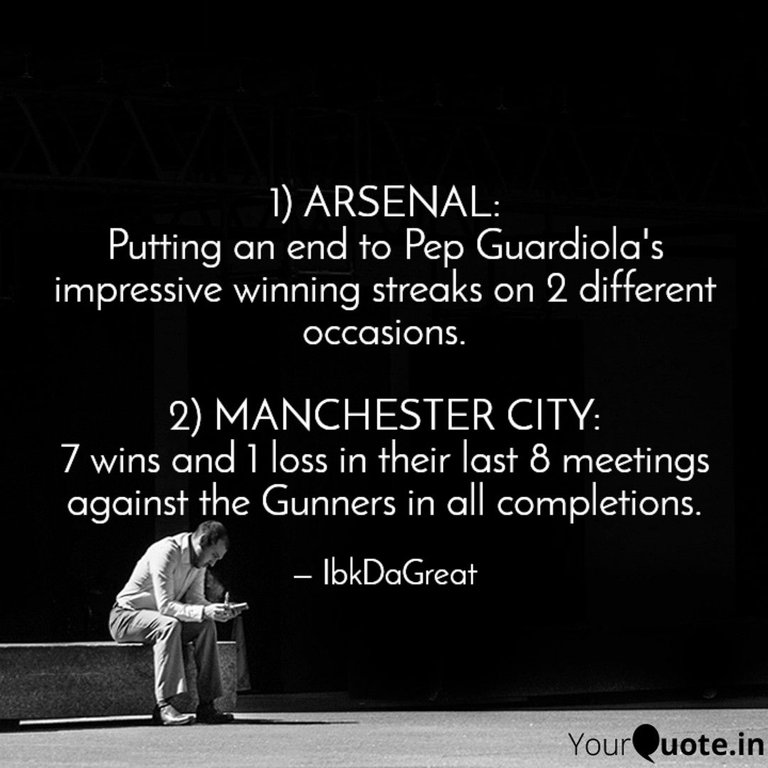 Source
Starting with the home team:
ARSENAL:
No doubts about it, the Gunners are no where near the Citizens in terms of form or performance this season making this game some sort of David versus Goliath contest. However there are 2 stats that could provide Mikel Arteta's men some courage going into this game:
Yes, Arsenal have earned just 1 win against Manchester City in their last 8 encounters, but the fact that this win was right here at the Emirate Stadium when the latter last visited will definitely provide some confidence that they, Arsenal, might as well.get to make it 2 wins out of 2, or at least, maintain an "unbeaten" stand in 2 consecutive games played here at the Emirates stadium against Manchester City.
Another fact which also doubles as a fun fact is how Arsenal have been able to cut short some of Pep Guardiola's impressive winning streaks with the major 2 been the Catalan's time as Bayern Munich's manager in 2013 when they, Arsenal, put to an end to the Bavarians' 13 consecutive wins, and in 2015, did the same to another 12 consecutive wins been held by the Bavarians. I bet they will be fancing the opportunity to shatter another Pep Guardiola's impressive unbeaten run.
With these 2 stats laid out in favor of Arsenal, we will be moving on to see stats favoring the Citizens.
MANCHESTER CITY:
Definitely, the Citizens'' run of 24 games without suffering defeat in all competitions which also include a massive 17 games winning streak will provide a huge positive psychological boost for Pep Guardiola and his men going into this tie.
Another stat that favor the Citizens which have been slightly mentioned earlier is their domineering "head to head" victories over the Gunners in their last 8 encounters. Guardiola's men have racked up a whooping 7 victories out of a possible 8 in these meetings, and I believe this will improve the Citizens' confidence of getting a win going into this game.
One thing for sure is that this game will be an entertaining one even if it ends in a draw. I just hope Arsenal's Bukayo Saka, and Manchester City's duo of Ikay Gundogan, and Kevin De Bruyne will provide some scintillating individual performances as well.
In all, I don't think any of the games going down in the EPL worths missing. Make sure you do well to enjoy each of them.
Your takes and opinions on any of today's games will be well appreciated. You can make them known via the comment section below.
Much love from your Football Analyst and Writer, IbkDaGreat.