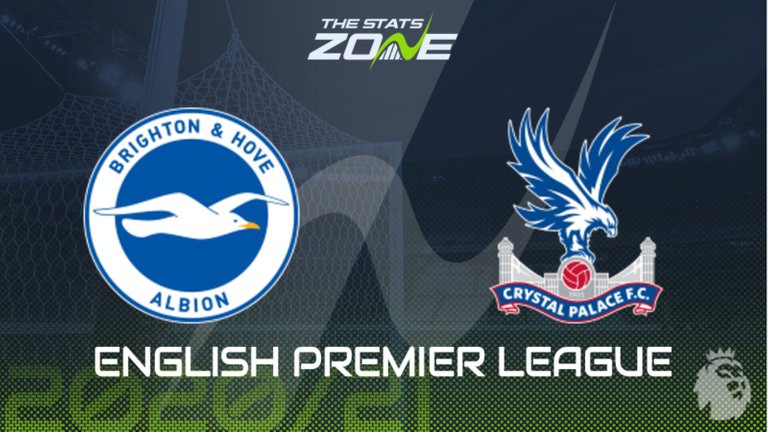 Source
Hmm, welcome to the final game day of EPL Matchday 25 as Brighton and Hove Albion welcome Crystal Palace to The American Express Community Stadium.
You and I will definitely agree that Matchday 25 have been nothing short of entertaining with the many thrilling games that went down, however, it seems we've still got one more huge game to witness as 16th placed Brighton and Hove Albion take on 14th placed Crystal Palace.
Brighton and Hove Albion are 4 points away from the relegation zone, whilst Crystal Palace are a further 3 points off the relegation zone. You and I will most agree this game will be a tough one as both sides will be looking to stay as far as possible from this dreaded zone.
With the above laid out before us, shall we beginning our analysis on this game?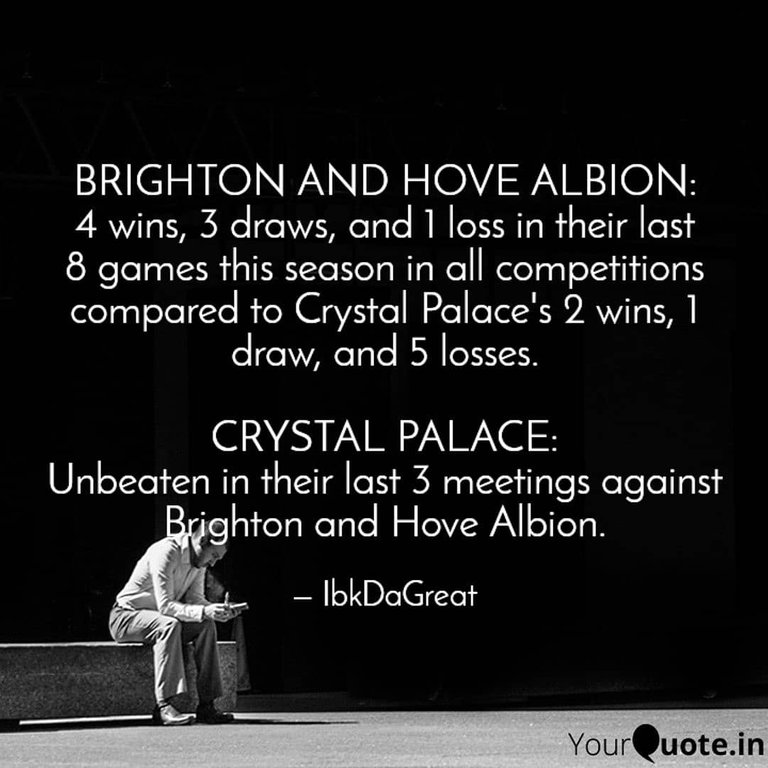 Source
BRIGHTON AND HOVE ALBION:
No doubt about it, the Seagulls have been pretty impressive in their last 8 games in all completions which consists 4 wins, 3 draws, and 1 loss, compared to the Eagles 2 wins, 1 draw, and 5 losses in as many games.
These amazing run of games for Brighton and Hove Albion which include massive wins over Liverpool and Tottenham Hotspur is the reason they are out of the relegation zone, and I bet they will be aiming to avoid returning into this dreaded area.
Another stat that favors the Seagulls is their somewhat better "head to head" over the Eagles on their last 8 meetings.
They, Brighton, have managed 3 wins, 3 draws, and 2 losses in these meetings, I bet they will be going into this game with some hope of getting something from this game.
CRYSTAL PALACE:
Moving on to the Eagles,, I have got just one stat that goes in their favor.
Although they have not been in fine form recently, and their "head to head" against the Seagulls isn't that impressive, Roy Hodson's men will still have some courage going into this game as they are on 3 games unbeaten run against Graham Potter's men. Some sort of encouragement you may want to say.
CONCLUSION:
Although the game could go in anyone's favor, or even end in a draw, the Seagulls still look like favorites to get a win.
In all, we should get an entertaining and intriguing game from both sides considering what is at stake.
What is your take on this game? Do you think the Seagulls can get the win? Or do you think they will be stunned by the Eagles?
Much love from your Football Analyst and Writer, IbkDaGreat.