EPL MATCHDAY 31 ANALYSIS: Brighton and Hove Albion vs Everton. Can the Toffees increase the tension in the Top 4 Race as they take on the Seagulls?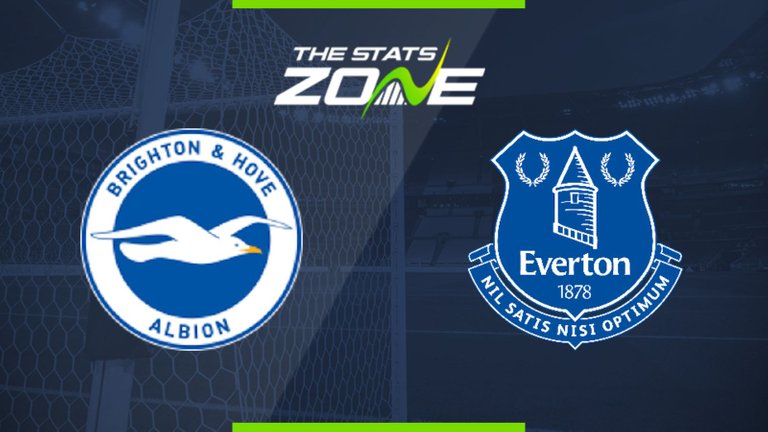 Source
Finally, an entertaining Matchday 31 will come to an end with it's last 2 games going down today.
West Browmish Albion will take on Southampton at the Hawthorne, whilst Everton will pay a visit to Brighton and Hove Albion at the American Express Community Stadium.
However, our attention on today's analysis will be on the game between Graham Potter's Brighton and Carlo Ancelotti's Everton.
While Brighton are looking to finish the season above the relegation zone, Everton, on the other hand, are fancing the chances of getting a top 4 finish which would secure them a UEFA Champions League spot.
We will definitely get more insights to this game as we take a look at stats favoring both sides getting a win today.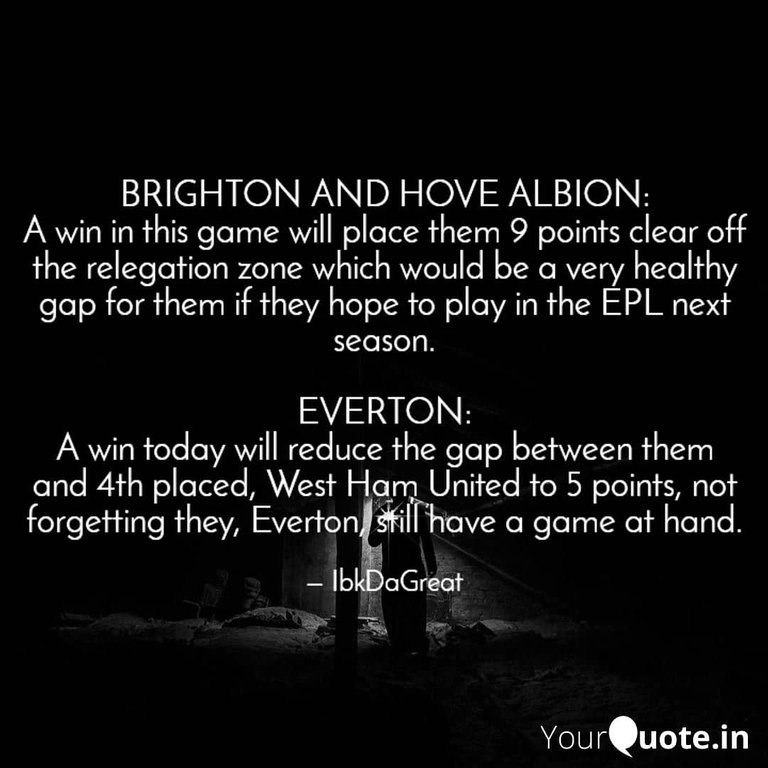 Source
Starting off Graham Potter's men,
BRIGHTON AND HOVE ALBION:
The Seagulls impressive results against the Toffees in their last 3 meetings at The American Express Community Stadium is one stat that would surely give them some boost going into this game.
They've won 2 and drawn 1 of these 3 encounters.
An excellent stat for Graham Potter's men, isn't it?
Another stat/fact that would be a huge source of motivation for the Seagulls will be their desire to avoid been relegated from the EPL this season.
They are currently 6 points clear off Fulham who occupy 18th position, having played a game less.
A win today will put them 9 points clear which will definitely be an healthy gap for them considering the fact that we will be having just 7 games left to round off the EPL for this season after today's game.
What's your take on this as we move to Carlo Ancelotti's men?
EVERTON:
The Toffees impressive results in the last 7 encounters between these 2 sides in all competitions is the first stat that tilts this game in their favor.
They've won 4, drawn 1, and lost 2 in these encounters.
A good one for Carlos Ancelotti's men, isn't it?
Another stat/fact that would be a huge source of motivation for the Toffees going for a win in this game is the shot they've got at claiming a "UEFA Champions League" slot, or an "UEFA Europa League" at least.
Although they are 8 points away from 4th placed West Ham United, a win today as well as in their outstanding game will reduce this gap to 2 points, whilst they maintain an Europa League spot.
Getting an Intercontinental Competition slot at the end of this season will definitely be a huge accomplishment for the Toffees, but for them to achieve this, then a win in this game is a must for them
Hmm, I believe you get the point I am driving at here, or do you have a contrary opinion?
CONCLUSION:
With both teams having a lot at stake in this game, picking a side will definitely be very difficult.
However, a draw would be a fair result for both sides.
Let's get your thoughts and predictions on this game, they will be greatly appreciated as always.
Love always from your Football Writer and Analyst, IbkDaGreat.
---
---