EPL MATCHDAY 31 ANALYSIS: Crystal Palace vs Chelsea. Time: 17:30GMT Can the Blues keep their chances of a Top 4 finish intact as they take on the Eagles in a dicey London derby?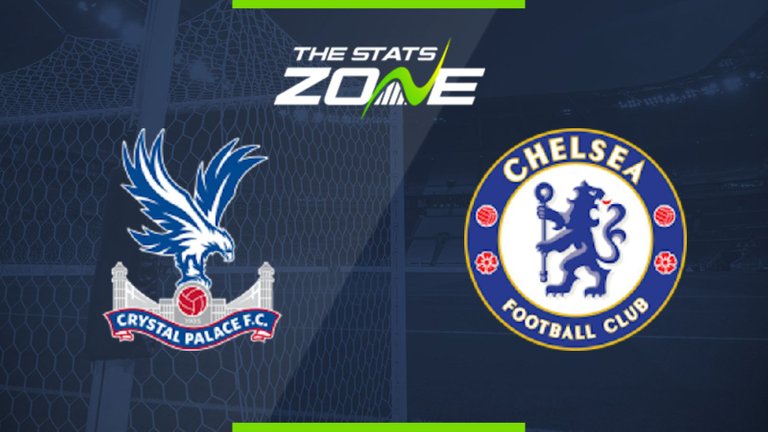 Source
3 more matches are scheduled to go down today as we move on to day 2 of Matchday 31 in the EPL.
However, you can be guaranteed that these games will be nothing short of interesting as:
League Leaders, Manchester City host fearless Leeds United, Liverpool seek to revenge their 7:2 humiliation by Aston Villa in both teams' last meeting, and Chelsea visit Selhurst Park to take on Crystal Palace in a dicey London derby.
Any of these games would have been well suited for today's article, but many EPL football lovers will most likely want to see if Chelsea can keep their hopes of a Top 4 finish after they lost that position last week to fellow London team, West Ham United, thanks to a dismal home loss to West Bromwish Albion.
You might want to believe Thomas Tuchel's Blues should have an easy game against Roy Hodgson's Eagles after they got an impressive 2 nil win over Porto this week, but let me remind you that this is the English Premier League, and not just this, the game between these 2 sides is a London derby. I believe you now get my point, don't you?
Hmm, seems I am writing a lot once again, isn't it?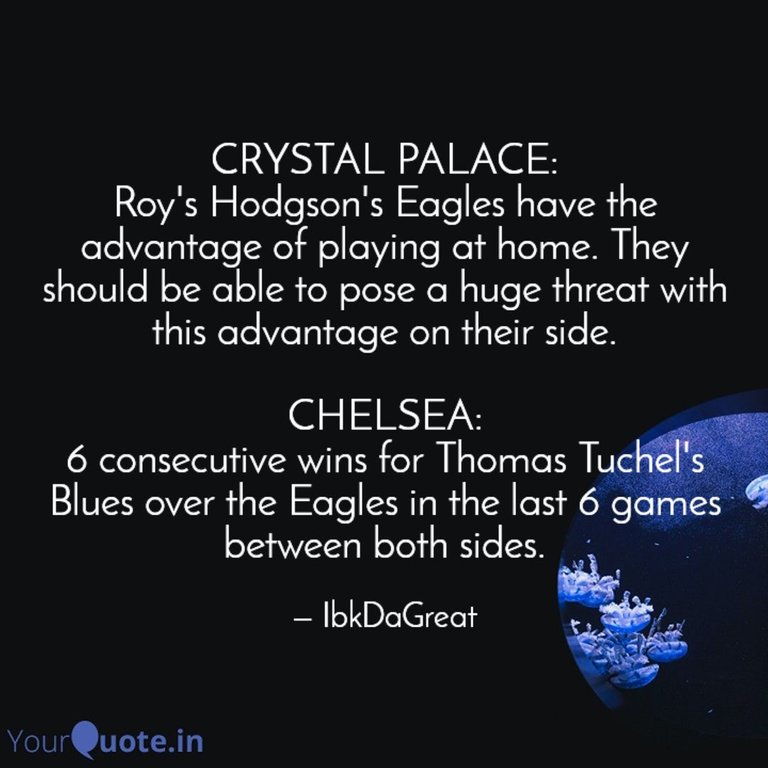 Source
Let's proceed to the analysis of today's game, and as usual, we will be starting with the home team,
CRYSTAL PALACE:
In truth, the Eagles do not have the best of results compared to the Blues neither is there "head to head" results in the last 8 encounters against the latter, a good one.
However, 1 thing we are all aware of is the fact that they are the host for today's game.
This means the game will be played on their Turf, a ground they are well familiar with.
This should provide some sort of confidence for Roy Hodgson and his men, don't you think?
IN BETWEEN:
The fact that this game is a "London Derby" makes it even difficult to pick sides.
We all know how unpredictable derby games could be, let alone the "London Derby" where no team can be classified as been inferior if you don't want to be shocked.
Moving on to Thomas Tuchel's Blues,
CHELSEA:
Although the Blues were stunned at home last week by 19th placed, West Bromwish Albion, their better results in the last 8 games they've played compared to the Eagles is one stat that can't be watered down.
They've managed 5 wins, 2 draws, and 1 defeat in contrast to the Eagles' 2 wins, 3 draws, and 3 losses in as many games.
An excellent one for Thomas Tuchel's army isn't it?
The Blues impressive "head to head" results against the Eagles in the last 8 games between both sides is another stat that tilts the former as been favorite in this encounter.
They've managed 6 wins and 2 losses in these encounters.
But the fact that those 6 wins have all come from the last 6 encounters between both sides will provide the Blues with more confidence going into this game.
They will most likely be going into this game with the aim of extending these wins to 7, stamping their dominance over the Eagles.
Another huge motivation for the Blues will be the goal of finishing in the Top 4 at the end of this season.
The Blues are currently a point behind fellow London team, West Ham.
A win for them would send them back to the Top 4, provided the Hammers play a draw or lose in their fixture tomorrow.
The Blues won't want to miss this opportunity, will they?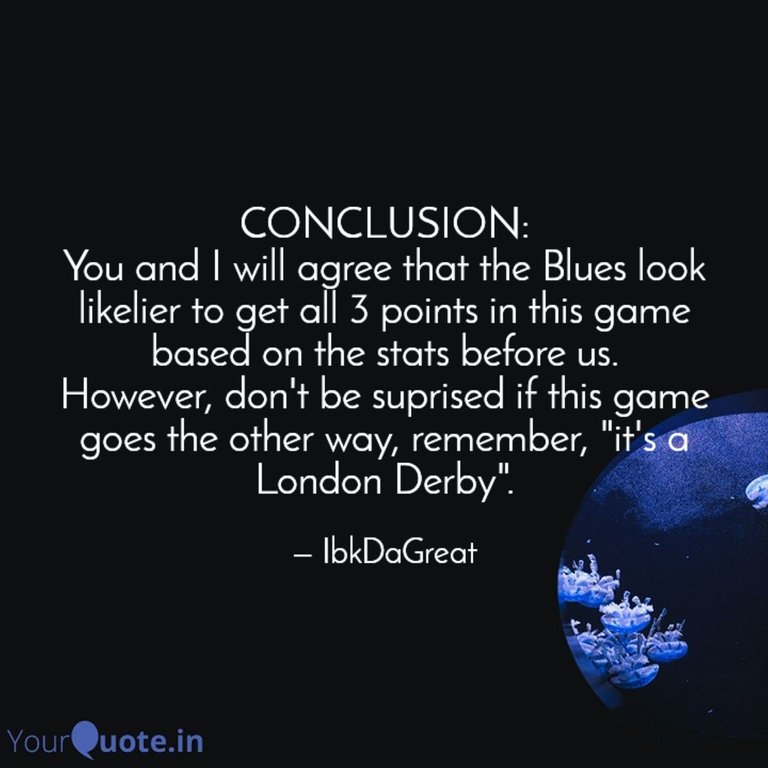 Source
CONCLUSION:
You and I will agree that the Blues look likelier to get all 3 points in this game based on the stats before us.
However, don't be suprised if this game goes the other way, remember, "it's a London Derby".
Let's get your thoughts, predictions, and anticipated scorelines on this game, trey will be hugely appreciated.
Love always from your Football Analyst and Writer, IbkDaGreat.
---
---