EPL MATCHDAY 31 ANALYSIS: Fulham vs Wolverhampton Wanderers. Which of these teams will put an end to their dismal run of games, the Lily Whites or Wolves?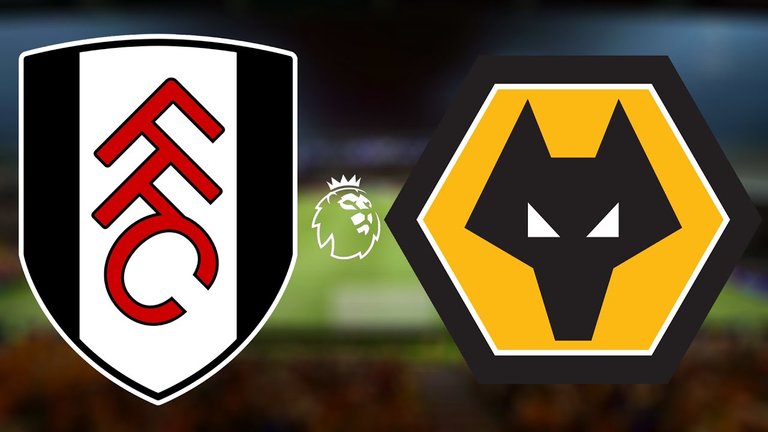 Source
We are back to the EPL with 1 game scheduled to go down today as we commence Matchday 31.
However, today's game will be between Fulham and Wolverhampton Wanderers, 2 sides that have been pretty woeful of late.
Both sides will definitely be desperate to put an end to their poor run of games, especially Fulham who are presently in the relegation zone.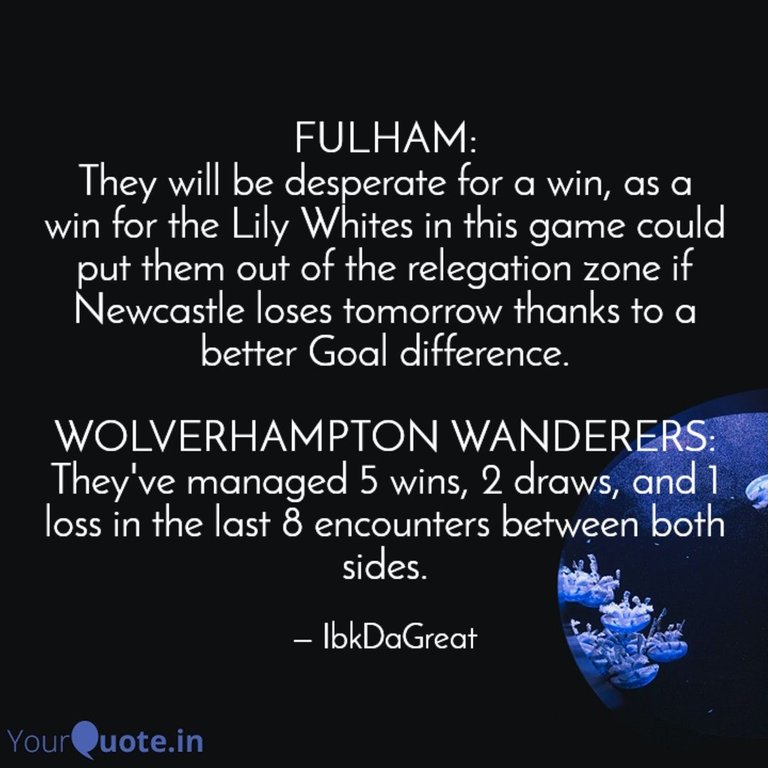 Source
Let's take a look at stats/facts favoring either sides in this encounter, shall we?
FULHAM:
One fact favoring the Lily Whites is that they will be the host for today's game.
This should provide some advantage for them considering that they are more familiar with this terrain than their opponents, Wolves.
Do you think they can make adequate use of this advantage?
Another fact that should be a huge source of motivation to Scott Parker's is the high possibility of them leaving the relegation zone.
They are just 3 points away from Newcastle who occupy 17th position, and a win for them should see them climb over the Magpies thanks to a better goal difference, provided the latter loses to Burnley tomorrow.
However, a loophole to the above assumption is the fact that the Lily Whites have played 1 game more than the Magpies, but who cares?
All they need now is to get a win, and let the rest take care of itself.
Do you thinks Scott Parker and his men can get this done?
Moving on to Nuno Espirito Santo's Wolves,
WOLVERHAMPTON WANDERERS:
You and I will definitely agree that Wolves have been very poor this season, and their run of games of late have been no better either.
However, their impressive "head to head" results against the Lily Whites in the last 8 meetings between both sides should provide them some positive boost as they go into this game.
They've managed 5 wins, 2 draws, and 1 loss in these encounters.
A good one for Nuno Espirito Santo and his men, isn't it?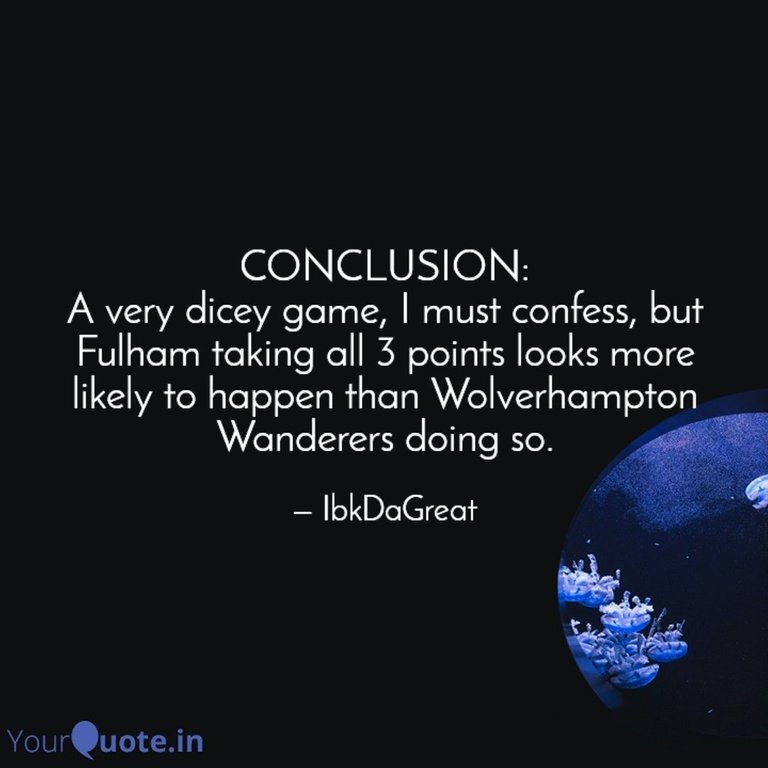 Source
CONCLUSION:
A very dicey game, I must confess, but Fulham taking all 3 points seems more likely than Wolves doing so.
Let's get your thoughts, predictions, and anticipated scorelines, they will be greatly appreciated.
Love always from your Football Analyst and Writer, IbkDaGreat.
---
---