EURO2020 QUARTER FINALS ANALYSIS: BELGIUM VS ITALY. Can the Red Devils follow in the steps of the 3 Lions?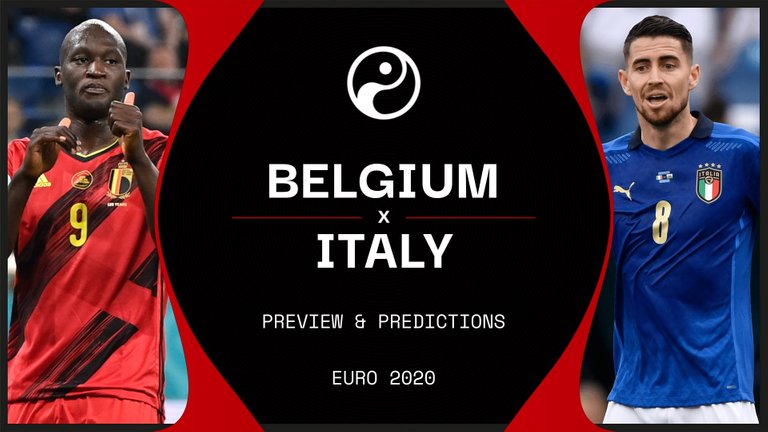 Hello Guys, great to be back with you all after loads of months of been absent. I must also commend the efforts of @Botefarm who was instrumental in helping me back, thanks a lot Boss.
It's been a really busy Summer break with Country Intercontinental Football Competitions taking center stage.
First of these Competitions was the Inaugural CONCACAF Nations League Finals which was won by the USMNT, and now we have both the EUROs and the COPA America which are presently in the Quarter Finals stage.
For today, 3 games will be taking place across both Competitions with Switzerland facing off against Spain, Belgium taking on Italy, and Peru battling it out with Paraguay, all for a place in the Semifinals of their individual competitions.
You can bet picking a game to analyze was pretty difficult considering the Swiss' resilient effort in eliminating France, and Spain's improved performance after a slow start to the competition.
However you definitely won't want to miss an analysis on the game between Roberto Martinez's Belgium and Roberto Mancini's Italy, 2 teams which have been phenomenal, winning all 4 of their games and conceding just a goal in this Competition.
I think we've had enough of the big talks, let's now focus on looking at stats favoring both sides starting with the first team, Belgium.
BELGIUM:
You will definitely agree with me that the Red Devils are nothing short of a force to reckon with in Europe presently.
Their Meteoric but gradual rise to this level says it all, which is also buttressed with their superb performance at the 2018 World Cup that saw them clinch 3rd position.
It's very sure Roberto Martinez's men will be looking to improve on this achievement, don't you think?
The close gap between both sides in their last 5 meetings also gives some hope for Robertonig Martinez's
Although the Azzurris have the upper hand with 3 wins and 2 defeats from these meeting, the Red Devils will be more confident going into this game knowing fully well they've got a good chance of getting a victory.
You really do not want underestimate the Red Devils, do you?
The above point will lead us to points favoring Roberto Mancini's Italy.
ITALY:
One stat providing a strong statement for the Azzurris over the Red Devils is their massive winning streak.
The former are on a whooping 34 matches winning streak over the latter in competitive.
You can most definitely feel the huge motivation the Azzurris will be having coming into this game.
Another magnificent stat in favor of the Azzurris is their current unbeaten run
Roberto Mancini's men are unbeaten in their last 31 games in all Competitions, and you can bet they will be looking to keep this record intact going into this game.
CONCLUSION:
With all the stats pointed before us, picking the Azzurris to come out victorious today won't be a bad decision.
But you never can tell if Belgium might just have the last laugh over Italy the same way England had over Germany in the Round of 16.
Mouth watering games for us to enjoy today. Feel free to drop your takes on these games, they will be hugely appreciated
Love always from your Football Analyst and Writer, IbkDaGreat.
---
---