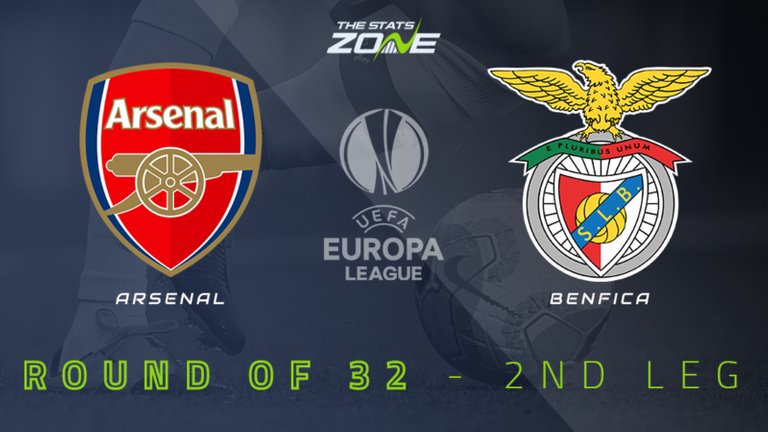 Source
It's Thursday football in Europe where all 32 teams in the Europa League bar Tottenham and Wolfsberger will be battling it out in today's return fixtures for a place in the competition's Round of 16.
With Tottenham through, and Manchester looking all good for the next round after their first leg thumping of Real Soceidad, we are left with Arsenal and Leicester as the only English teams whose fate are yet to be ascertained.
However, you and I will agree that Mikel Arteta's Arsenal have a bigger test getting past Benfica compared to Brendan Rodgers' Leicester City doing likewise against Slavia Prague. And this is why I have decided to focus on this game.
With the above well said, shall we proceed?

Source
ARSENAL:
No doubt about it, You and I will agree that Mikel Arteta's men aren't in the best form at the moment considering their recent run of games in all completions.
But if we are to consider how impressive they've been in the UEL, winning 6 of their 7 games whilst drawing 1, compared to Benfica's 3 wins and 4 draws, you will agree with me that Arsenal look favorite to proceed into the next round.
Another stat that favors Mikel Arteta's side getting past Jorge Jesus side is their better "head to head" between both sides.
The Gunners have claimed 2 wins, 1 draw, and 1 loss against As Aguias, which also include a 3 matches unbeaten run.
I believe this will provide some positive motivation for the Londoners, or what do you think?
Further more, Arsenal's precious "away goal" against Benfica is another huge bonus for the Gunners.
I believe you are aware of UEFA competitions' "away goal" rule of which Arsenal could benefit from if this game ends in a goalless draw.
Lastly, the fact that the Gunners will be the host of tonight's game should also be of huge advantage to them going into this. I believe you agree with me on this as well?
We will be moving on next to Jorge Jesus' Benfica.
BENFICA:
Although, every stats we've provided above points to Arsenal carrying the day, a look at the current form of both teams could provide a huge boost for Jorge Jesus' men.
As Aguias' run of 2 wins, 5 draws, and 1 loss in 8 games, compared to the Gunners' 2 wins, 2draws, and 4 losses is really something the former can bank on going into this game.
This is definitely a huge stat to bank on, isn't it?
CONCLUSION:
In all, using the stats and facts provided, we all will agree that Mikel Arteta's men are the favorite to proceed into the next round in this encounter.
However, you will agree with me that nothing is 100% certain in the game of football, especially when it involves UEFA's elite competitions.
So what's your take on this game, do you think the Gunners will make it to the Round of 16, or will they be stunned by As Aguias?
Much love from your Football Analyst and Writer, IbkDaGreat.