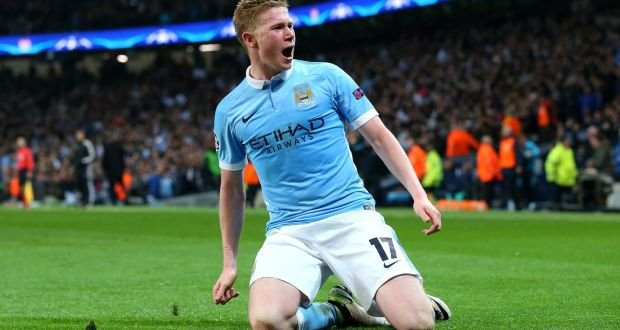 Source
Pep Guardiola's City made a huge title statement as they got a well deserved victory over Chelsea at the Bridge giving Lampard and Chelsea loads of things to worry about.
City started the game on a high tempo, and even without the service of their top striker, Gabriel Jesus, they were a goal up in the 18th minute as Ikay Gundogan slotted home a delightful pass from Phil Foden. Things got worse for Lampard's men as 3 minutes later, Phil Foden turned goal scorer slotting home a fine pass from their magician, Kevin De Bruyne. The game was all over before it even began when City found themselves 3 nil up in the 34th minute after Kevin De Bruyne reacted first to a loose ball from a Reheem Sterling's shot that rebounded off Chelsea's goal post. This is definitely a replica of the city we used to know.
The only downside to what would have been a perfect victory for City was Chelsea getting a goal against them, thereby breaching a defence line that has always looked to be impenetrable, all thanks to Callum Hudson Odoi's 92nd minute quick reaction to Kai Havertz's cross to slot the ball past Steffen.
Lampard now knows he has a lot to do if he wants to turn things around positively for Chelsea, but the question is if he would get enough time to do this due to the tensions that are beginning to arise in the dressing room and the board now getting impatient with him. Even the return of Hakim Ziyech to the starting line up couldn't save him from being humiliated by Pep.
One other amazing fact is that Chelsea have now gone 5 years without winning their first game in a new year. This started way back as 2017.
Conclusion:
This win moves Manchester City to 5th position with 29 points, however, if they win their outstanding game, they could move to as high as 3rd position, sitting a point behind joint league leaders, Liverpool and Manchester United.
Chelsea on the other hand sit in 8th position, and could move to as low as 9th position if Southampton gets at least, a draw against Liverpool. Pretty bad I must say for Chelsea who at some point in time earlier this season looked to be title contenders.
Feel free to drop your opinions and comments, they will most appreciated.
From your amiable Football Analyst, IbkDaGreat.