UEFA CHAMPIONS LEAGUE (2nd Leg) ANALYSIS: Paris Saint-Germain vs Bayern Munich Can the Baverians cause a major upset as they take on Les Parisiens at the Parc de Princes?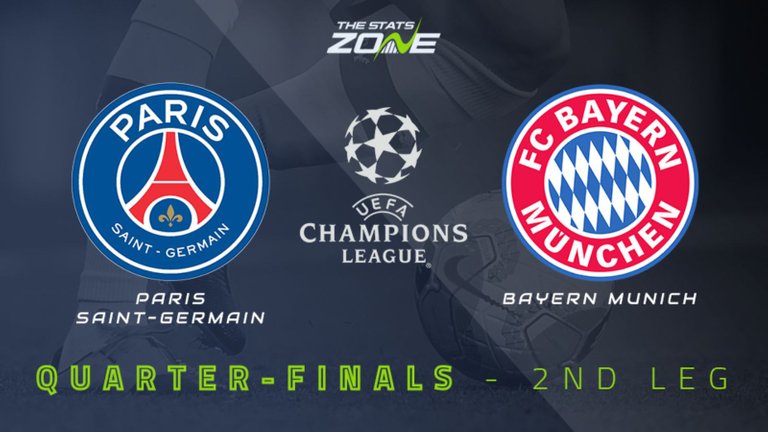 Source
Back to weekday football with the UEFA Champions League Quarter Final 2nd leg fixtures taking center stage.
2 games will be going down today as usual with Chelsea taking on Fc Porto in Seville, and Paris Saint-Germain hosting Bayern Munich in Paris.
With the game between Chelsea and Fc Porto looking almost done and dusted, although nothing is impossible in the game of Football, we will be looking at the game between PSG and Bayern Munich, a game that still looks a bit open.
Let's take a look at stats favoring both teams, shall we?
Starting off with Mauricio Pochettino's PSG,
PARIS SAINT-GERMAIN:
The first stat favoring Les Parisiens is their very important 3:2 win over the Baverians in Munich.
This scoreline means a draw, or a loss with a 1 goal margin below 3:2 in this game will still see Les Parisiens proceed into the next round.
A big advantage for Mauricio Pochettino's men, isn't it?
The Baverians will be without their influential striker, Robert Lewandoski, once again, and you can bet this will provide an additional huge advantage boost for Les Parisiens.
We've seen how hard Hansi Flick's men have struggled in front of goal in their last 3 games without Robert Lewandoski, with 1 of these 3 games been their home loss to PSG if you remember,
You can mostly bet this game will be no different, can't you?
Les Parisiens also have the advantage of hosting this game on their side.
They've not suffered a defeat in the UEFA Champions League at the Parc des Princes this season after their first game loss against Manchester United.
Another huge stat for Mauricio Pochetino and his men, isn't it, or do you have a contrary opinion?
Let's move on to Hansi Flick's Baverians.
BAYERN MUNICH:
Although the odds are very much against Hansi Flick and his men, I hope we know that we still can't write them off in this encounter.
We saw how well they outplayed PSG in the first leg, however, a lack of needed goals was what undermined there performance.
This should provide some boost for Hansi Flick and his men, whilst for Mauricio Pochettino and his men, this should be a source of concern.
CONCLUSION:
A very dicey game we've got here, but it's most likely Paris Saint-German will be the Victor at the end of this 2 legged war.
Let's get your thoughts and predictions on this game, we will be extremely grateful to have them.
Love always from your Football Analyst and Writer, IbkDaGreat.
---
---