UEFA CHAMPIONS LEAGUE QUARTER FINAL ANALYSIS: FC Porto vs Chelsea. Can the Blues get back to winning ways as they take on the Dragons?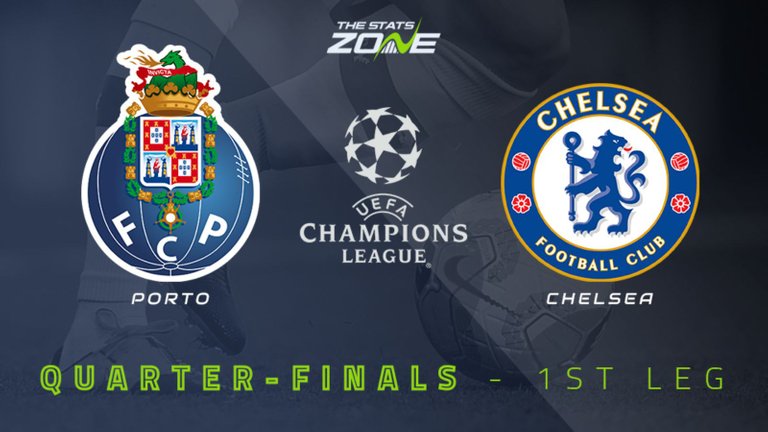 Source
2 more scintillating games will be going down today as last year's competition finalists, Bayern Munich and Paris Saint-Germain take on each other at the Allianz Arena, whilst the 2 most surprising teams in this season's tournament, FC Porto and Chelsea, face off against each other at the Estadio Ramon Sanchez-Pizjuan in Seville.
Unfortunately, I can only pick a game to analyze so as not to bore you, my esteemed readers.
Even without looking at the title of this article, I can bet many of my loyal readers wouldn't find it difficult guessing which of these matches I would go for.
However, my reason for picking the game between the Dragons and the Blues isn't majorly tied to the fact they the latter is my Beloved team, but to the fact that both teams have actually left majority of Football lovers all over the globe shocked about how much they've achieved this season compared to the big dogs of the tournament.
Not again! I am being carried away once more. Please, permit me to move on to the in-depth analysis of this game, I hope I got it?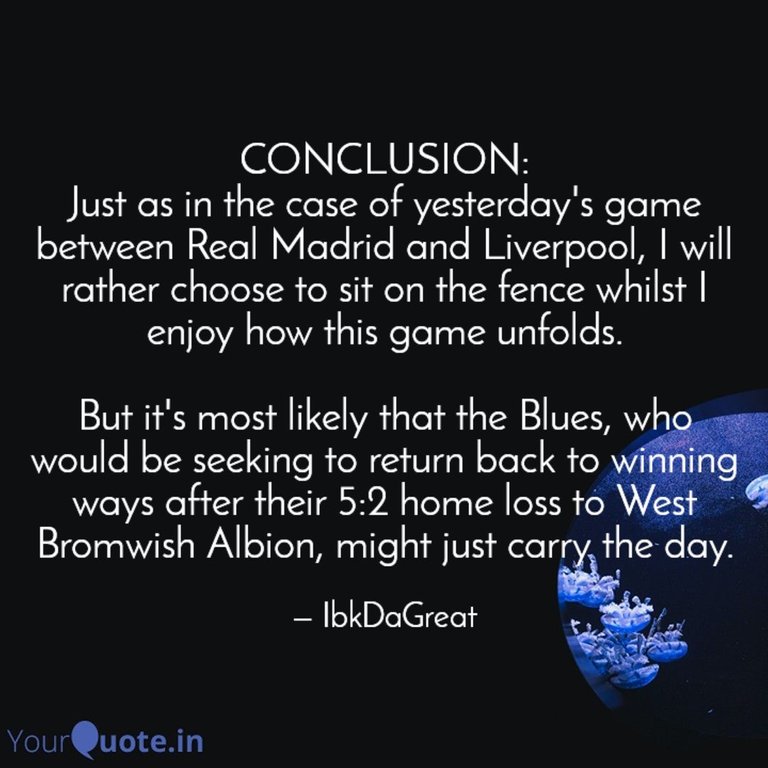 Source
Starting of with Sergio Conceicao's Dragons:
FC PORTO:
The Dragons' "slightly" better run of games compared to the Blues in both teams' last 8 games in all competition if we are to look at the number of wins amassed by both sides is a stat you won't want to overlook.
The Dragons have managed 5 wins out of their last 8 games compared to the Blues who are 1 win lesser in as many games.
You might want to ask why I picked the "number of wins" gotten by both clubs as a stat in favor of FC Porto, well, here is my reason.
I believe we are aware that what matters most in the knockout stage of the UEFA Champions League is you outscoring your opponent, and how best can this be achieved if not by getting a win.
I believe you now get my point, don't you?
IN BETWEEN:
Another stat that would have favored the Dragons is the fact that they are yet to suffer a defeat at home in this season's competition.
They've won 3 and drawn 1 of their last 4 games at home, of which 1 of these wins was against Juventus, and the only draw, against Manchester City.
Unfortunately, they won't be having the luxury of playing at the Estadio do Dragao this time, rather, they will playing at the Estadio Ramon Sanchez-Pizjuan in Seville which could be termed as a "neutral ground".
Well, this above fact is what brings our first stat in favor of Thomas Tuchel's Blues.
CHELSEA:
In case you've forgotten, then let's try to refresh our memory a bit.
The Blues have won all 4 of the games they've played away from home in this season's tournament, a very good one for them isn't it?
Furthermore, one notable away win was the 4 nil trashing of Sevilla at their own home ground. Can you guess what the name of that stadiun is? It's none other than the Estadio Ramon Sanchez-Pizjuan, the very same ground both sides will be playing both legs of their Quarter Final encounter.
Are you thinking what I am thinking?
Another stat that tilts this game in favor of the Blues is their better "head to head" over the Dragons in the last 8 meetings between both teams.
The Blues have won 5, drawn 1, and lost 2 in these encounters.
Another huge one for Thomas Tuchel's side isn't it?
CONCLUSION:
Just as in the case of yesterday's game between Real Madrid and Liverpool, I will rather choose to sit on the fence whilst I enjoy how this game unfolds.
But it's most likely that the Blues, who would be seeking to return back to winning ways after their 5:2 home trashing by West Bromwish Albion, might just carry the day.
Your thoughts and predictions on this game are hugely welcome as always.
Love always from your Football Analyst and Writer, IbkDaGreat.
---
---