UEFA CHAMPIONS LEAGUE QUARTER FINAL ANALYSIS: Real Madrid vs Liverpool. Can the Reds clinch their 6th consecutive away victory as they take on Los Blancos?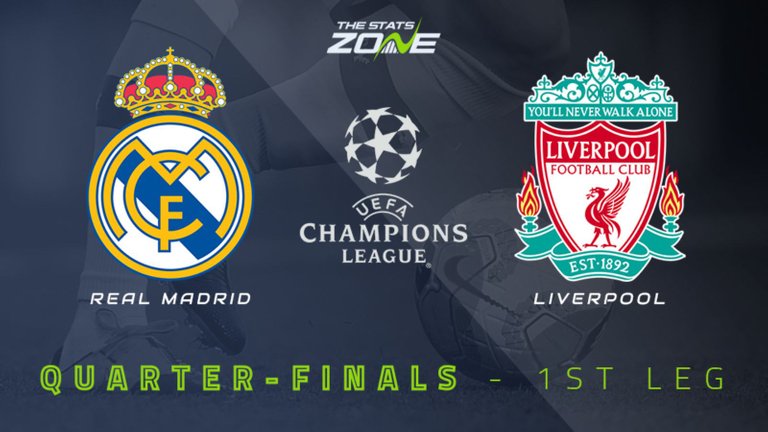 Source
Hmm, welcome to the 1st Leg of the 2020/2021 UEFA Champions League Quarter Final.
All 8 teams will be playing this week with 2 games scheduled for today, whilst the remaining 2 will go down tomorrow.
For today, Manchester City take on Borussia Dortmund at the Etihad, and Real Madrid host Liverpool at Santiago Bernabeu.
However our focus on today's article will be on the game involving Europe and Spain's most decorated UEFA Champions League Champion, Real Madrid, and England's most decorated UEFA Champions League Champion, Liverpool.
You and I will agree that this is one heck of a game no one would want to miss as 2 experienced sides in the UEFA Champions League competition take on each other.
Let's proceed to the analysis proper, shall we?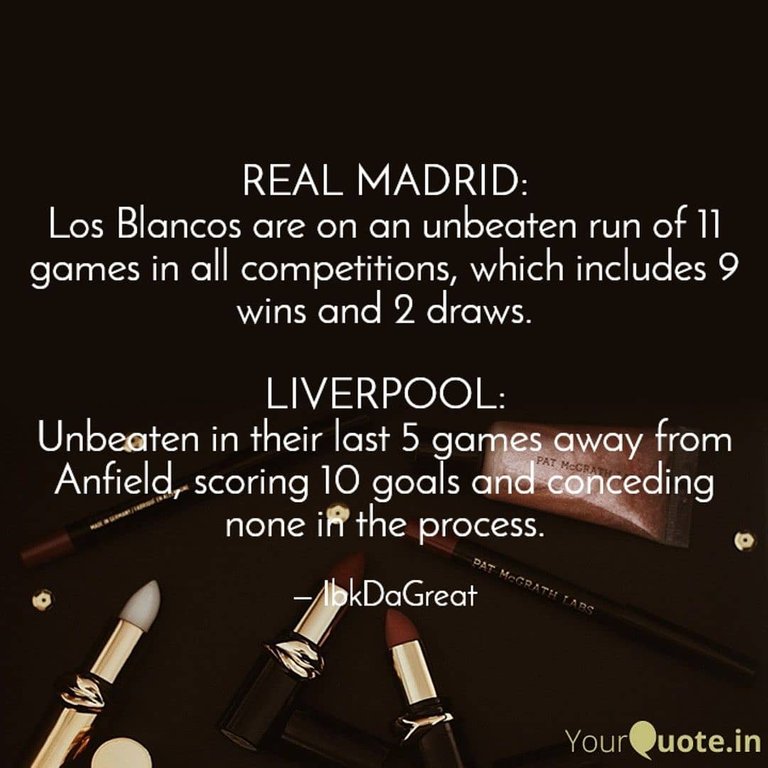 Source
REAL MADRID:
Los Blancos amazing run of games in all competitions since the beginning of February gives them a huge advantage going into this game.
They are unbeaten in all 11 games played so far, winning 9 and drawing 2.
A huge one Zinedine Zidane's men, isn't it?
Another stat that favors Los Blancos is their slightly better "head to head" results over the Reds in the last 5 games between both sides.
They've won 3 of these encounters whilst the remaining 2 have ended in losses.
However, this stat is somewhat strengthened by the fact that all 3 wins gotten by Zinqdine Zidane's men over the Reds have all been in the last 3 encounters between both sides, with the last occuring in the 2017/2018 UEFA Champions League Final.
You and I will agree this is another huge stat for Zizou and his men, or do you feel otherwise?
Moving on to Jurgen Kloop's men,
LIVERPOOL:
The Reds no doubt look like the underdogs in this game, however, their amazing run of games away from Anfield is one stat Los Blancos shouldn't take lightly.
You would almost think they, Liverpool, are unbeatable when faced away from Anfield.
They've managed 5 wins in their last 5 away games from Anfield which includes wins in both legs against RasenBallsport Leipzig, and a more recent 3 nil thumping of Arsenal.
The fact that they've scored 10 unreplied goals in these 5 games proves how amazing they are playing away from Anfield.
You will agree with me that this is definitely a huge stat that Zizou and his men shouldn't take for granted.
CONCLUSION:
Picking a side here is nothing more than choosing between the devil and the deep blue sea. I think I will rather sit on the fence and watch how this game unfolds.
Let's get your thoughts and predictions on this game, they will be extremely welcomed.
Love always From your Football Analyst and Writer, IbkDaGreat.
---
---