UEFA CHAMPIONS LEAGUE QUARTER FINAL ANALYSIS(2nd Leg): Liverpool vs Real Madrid. Can the Reds do another stunning comeback as they take on impressive Los Blanco's?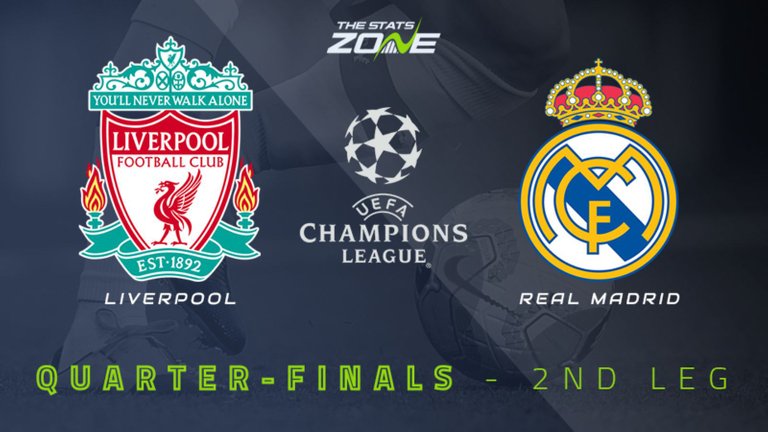 Source
Next up are the remaining 2 Quarter Finals games as we wait curiously to see which 2 other teams will join Chelsea and Paris Saint-Germain in the Semi Finals of this season's UCL.
Borussia Dortmund will host Manchester City in Germany, whilst Liverpool will square off against Real Madrid in England.
Although the game between Liverpool and Real Madrid look very close to been done and dusted compared to that of Borussia Dortmund and Manchester City, you can't just overlook the former as it concerns Liverpool, who are arguably the number 1 UEFA Champions League comeback kings.
We want to see if they can produce this amazing comeback once again, or not.

Source
Let's proceed to the analysis of this game, shall we?
LIVERPOOL:
One fact that stands in favor of the Reds is the home advantage they've got.
The Reds have the comfort of playing on a turf they are very familiar with which should help boost their performance against Los Blancos.
What makes this stat better is the fact that they, Liverpool, were finally able to put an end to their losing streak at Anfield last weekend after they saw off Aston Villa in a thrilling 2:1 encounter.
This should further boost the confidence of Jurgen Kloop's Reds as they take on Los Blanco's later today.
A bigger stat favoring the Reds is their huge reputation when it comes to turning around things from a losing position.
We witnessed this against against AC Milan in 2004/2005 UEFA Champions League Final where they came from 3 nil down to win the game on penalties.
And if you can't remember the above, you should be able to remember their 4:3 aggregate Semi Final victory over FC Barcelona 2 years ago when they did another huge comeback from a 3 nil first leg loss.
Well, even if we've forgotten, you can bet Zizou and his men haven't.
Okay then, let's move to stats favoring Zinedine Zidane's Los Blancos,
REAL MADRID:
Foremost is Los Blancos' better results in their last 8 games compared to the Reds'.
They've managed 2 draws which are followed by a whopping 6 consecutive wins, compared to the Reds' 5 wins and 3 losses in as many games.
A huge one for Zizou and his men isn't it?
Los Blancos' better results over the Reds in the last 6 encounters between both sides is another stat that favors them.
They've won the last 4 meetings between them having lost the first 2 of these 6 games.
You can bet Los Blancos will be looking to extend their winning streak over the Reds to 5.
Although we've talked about Liverpool's insane ability to turn games around from a losing position, it will be very unfair if we fail to mention Los Blancos' advantage in terms of the current scoreline.
A draw or a loss below 3:1 would still see Los Blancos progress into the Semi Finals.
All they've got to do is ensure the match ends as stated above it they can't get a win.
This should be easy for them don't you think?
CONCLUSION:
Another dicey game before us just like yesterday's game between PSG and Bayern Munich, however,it's most likely Real Madrid won't allow Liverpool get a comeback.
Let's get your thoughts, predictions, and anticipated scorelines in this game, they will be hugely appreciated as always.
Love always from your Football Analyst and Writer, IbkDaGreat.
---
---