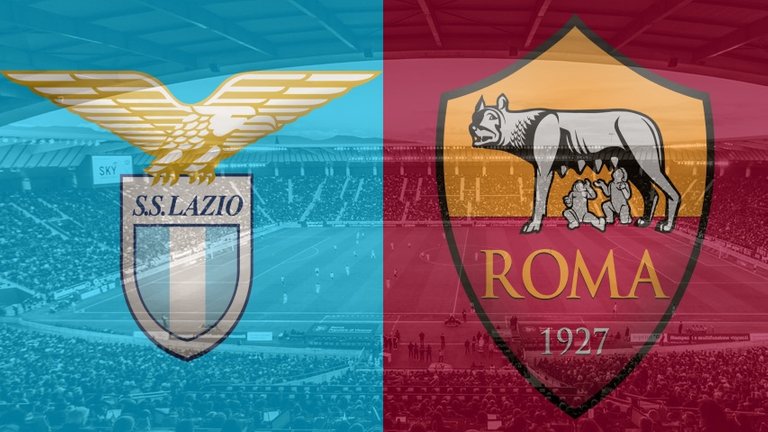 Source
Of all the games going down tonight, 2 actually caught my attention, the 1st between Portuguese giants, FC Porto and Benfica at the Estadio do Dragao, and the 2nd between city rivals Lazio and AS Roma at the Stadio Olimpico. But of these 2 games, I will prefer to go with the latter whose rivalry is dated as far back as 1927..
No doubt about this, choosing a side to win this game is more like choosing between the devil and the deep blue sea, however, It is more likely we see Roma carry the day if the game doesn't end in a stalemate. Yes, I think a draw is the most likely outcome between these 2 sides, but if a winner emerges, then I think it is Roma who will definitely be the winner, and here are my reasons:
Going first with the reason why I think a draw is most likely to happen between this side.
Head To Head:
Although AS Roma have been the better side in the last 8 meetings between these 2 sides, winning 3 of these fixtures, the last 5 meetings between them have seen each team claim one victory over the other, with the remaining 3 games ending in stalemate, of which, 2 of these stalemates are as recent as their last 2 games. It is definitely going to be tough seeing any of the teams claim victory over the other

General Performance:
This point buttress the reason why I think AS Roma will get all 3 points.
It is no doubt that Roma has been the better side of the the 2 teams, and even the Serie A table bears witness to this with the Giallorossi sitting in 3rd position whilst the Blancocelesti sit In 8th position.
Furthermore, although Lazio have won their last 2 games, Roma's magnificent run of 3 wins and a huge 2 all comeback draw against an impressive Inter Milan side speaks volume of how hard it might be for Lazio to get all 3 points over their city rival.
You might want to put forth an argument that Lazio will have the advantage of playing at home, well, I am very sorry to disappoint you, but both teams actually share the same Stadium, Stadio Olimpico.
I believe we will definitely get an entertaining game between both sides with me favoring the "Yellow and Reds" to get a win, however, remember it is the " Derby della Capitale" (Derby of the capital city), and just like every other big derby match, anything is possible.
Feel free to drop your opinions and comments, they will be greatly appreciated.
Much Love from your amiable Football Analyst and Writer, IbkDaGreat.