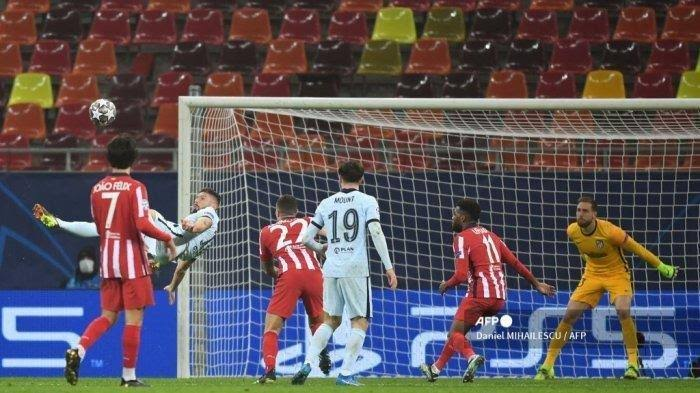 Source
Chelsea and Atletico Madrid have just finished their match in the Champions League where this match was won by Chelsea with a thin score, namely 1-0
This match takes place in the arena of the Nationala, Bucharest This match is one of the determinants for both teams where Atletico Madrid of course lose their fangs
The only goal scored in this match was scored by a former Arsenal player, Oliver Giroud, who led the London team to victory over Atletico Madrid
statistically Chelsea also dominated this match where they managed to reach 63% and at least fired 11 shots with 5 of them on target, of course the team made by Thomas Tuchel dominated the match.
The record states that Atletico Madrid are one of the sharpest teams currently in Europe and they also top the Spanish League standings and become the second sharpest team there in terms of goals.
This victory is certainly a consolation for Thomas Tuchel where in the English Premier League they did not get much wins even a few days ago he scolded the players but now it is a great honor to win this match
Chelsea dan Atletico Madrid baru saja menyelesaikan pertandingannya di Liga Champions dimana pertandingan ini dimenangkan oleh Chelsea dengan skor tipis yaitu 1-0.
Laga ini berlangsung di arena Nationala, Bucharest Laga ini menjadi salah satu penentu bagi kedua tim dimana Atletico Madrid tentunya kehilangan taringnya.
Satu-satunya gol yang dicetak pada pertandingan ini dicetak oleh mantan pemain Arsenal, Oliver Giroud, yang mengantarkan tim London tersebut meraih kemenangan atas Atletico Madrid.
Secara statistik Chelsea juga mendominasi pertandingan ini dimana mereka berhasil mencapai 63% dan setidaknya melepaskan 11 tembakan dengan 5 diantaranya tepat sasaran, tentunya tim besutan Thomas Tuchel mendominasi jalannya pertandingan.
Catatan tersebut menyebutkan bahwa Atletico Madrid adalah salah satu tim paling tajam saat ini di Eropa dan mereka juga memuncaki klasemen Liga Spanyol dan menjadi tim tertajam kedua di sana dalam hal gol.
Kemenangan ini tentunya menjadi pelipur lara bagi Thomas Tuchel dimana di Liga Primer Inggris mereka tidak banyak meraih kemenangan bahkan beberapa hari yang lalu ia memarahi para pemain namun kini merupakan suatu kehormatan besar bisa memenangkan pertandingan ini.