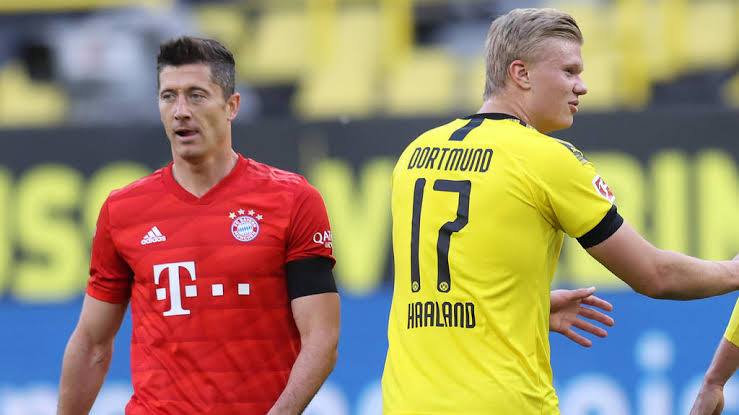 Source
Erling Haaland, is one of the best young football deals to date, he is indeed grazing with Borrussia Dortmund after being trafficked by the German club from RB Salzburg last season.
Erling Haaland, and also Robert Lewandowski have indeed become a mainstay at their respective clubs and it can even be said that they are the mainstay goal machines for their respective clubs
Erling Haaland, of course, can learn a lot from Robert Lewandowski because they are of course also rivals on the field but for matters of scoring Erling Haaland goals, it is not bad and can even be said to be good.
Robert Lewandowski currently has indeed scored 32 goals and also 8 assists in his 31 matches in all matches, of course this is one of the top scorers at this time and he also brings Bayern Munich to the top of the German League and has won 49 points.
Erling Haaland, himself has currently scored 27 goals and also managed to make seven assists, all of which have been obtained in only 25 matches in all competitions with Borrussia Dortmund even though currently Dortmund are currently ranked sixth in the Bundesliga with a total of 36 points.
To become the top scorer in the German League, Erling Haaland. Must beat Robert Lewandowski with 26 goals, while Water Alan only scored 17 goals and is in third position while the second position is currently obtained by Eintracht Frankfurt striker, Andre Silva with 18 goals.
Erling Haaland, salah satu pemain sepak bola muda terbaik hingga saat ini, memang tengah merumput bersama Borrussia Dortmund setelah diboyong klub Jerman tersebut dari RB Salzburg musim lalu.
Erling Haaland, dan juga Robert Lewandowski memang sudah menjadi andalan di klubnya masing-masing dan bahkan bisa dikatakan mereka adalah mesin gol andalan klub masing-masing.
Erling Haaland tentunya bisa belajar banyak dari Robert Lewandowski karena mereka tentunya juga rival di lapangan namun untuk urusan mencetak gol Erling Haaland lumayan lah bahkan bisa dikatakan bagus.
Robert Lewandowski saat ini memang telah mencetak 32 gol dan juga 8 assist dalam 31 pertandingannya di semua pertandingan, tentunya ini menjadi salah satu top skorer saat ini dan ia juga membawa Bayern Munich ke puncak klasemen Liga Jerman dan telah meraih 49 poin. .
Erling Haaland sendiri saat ini sudah mencetak 27 gol dan juga berhasil membuat tujuh assist yang semuanya didapat hanya dalam 25 pertandingan di semua kompetisi bersama Borrussia Dortmund meski saat ini Dortmund saat ini berada di peringkat enam Bundesliga dengan total 36 poin. .
Untuk menjadi pencetak gol terbanyak di Liga Jerman, Erling Haaland. Harus mengalahkan Robert Lewandowski dengan 26 gol, sedangkan Alan Air hanya mencetak 17 gol dan berada di posisi ketiga sedangkan posisi kedua saat ini didapatkan oleh striker Eintracht Frankfurt, Andre Silva dengan 18 gol.