Blackwood brilliance with the bat in second inning and quality fast bowling spell by West Indies bowler helped visitor to win the first test match of the ongoing three match test series against England. This is the story of 1st Test match between England & West Indies.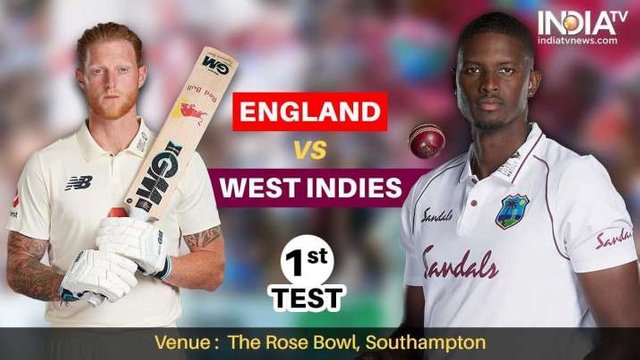 England is hosting West Indies for three test match series. First test match between two played at the rose bowl, southhampton. England won the toss and opted to bat first. England lost wicket of Sibley with no score on the board. Brilliant bowling display be Holder and Gabriel helped West Indies to bowl out English team at a modest total of 204 runs. Ben stokes was a top scorer for English side. He scored 43 runs. For West Indies Jason Holder took 6 while Gabriel took 4 wickets.
In reply West Indies managed 318 runs in 1st inning. Brathwaite made brilliant 65 runs innings while Dowrich scored 61 runs. West Indies took handsome lead of 114 runs. For England Ben Stokes was pick of the bowler. He took 4 wickets.
English openers provided a solid start of 72 runs. Sibley scored 50 runs. England was going well till 89 overs. They took a lead of 130 runs with 7 wickets in hand. Collapse of English batting line started at 90th over when skipper went to the pavilion after scoring 46 runs. Wickets fall reguarly and English team bundled out after scoring 313 runs. For England Crawley played a brilliant inning of 76 runs. For West Indies Gabriel took 5 wickets in second inning.
English team set a traget of 200 runs to win. English bowlers provided a dream start as three West Indies top order batsmen went to the pavilion with 27 runs on the board. Blackwood made a brilliant partnership of 63 runs with Chase. Chase departed after scoring 37 runs. Blackwood brilliance continued. He played a brilliant inning of 95 runs. With his brilliance with the bat West Indies completed the target with four wickets in hand.
Gabriel 9 wicket in a match rewarded him player of the match award. With this win West Indies took a l - 0 lead in the tournament.