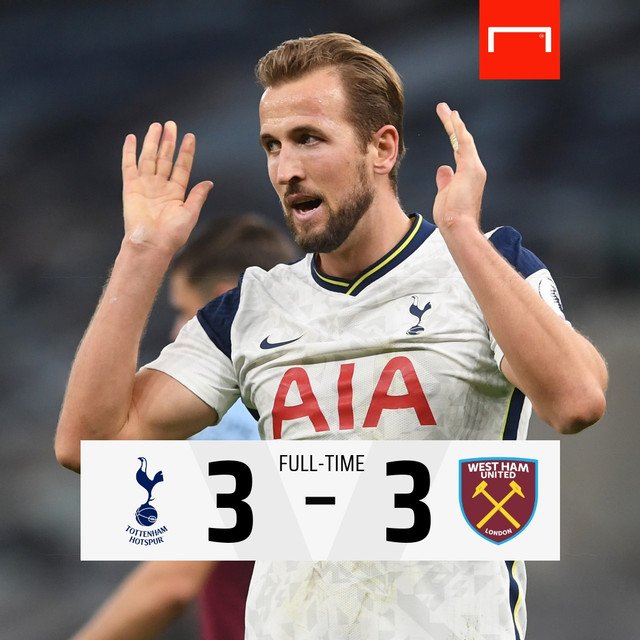 Image Credit
Until the last seconds of 90mins is played you are never a winner even though you are 3 goals up. It is Just unbelievable how Tottenham threw away 3 goals lead under 10 minutes to the end of play.
Ofcourse it was expected these two London sides were going to put up an interesting derby match since they are both on top form . Just before international break, Spur gave Manchester United a scandalous defeat; 6-1 it ended in favour of the visitor in old Trafford while West Ham defeated the reigning defending EPL Champion; Liverpool 7 - 2 in London stadium. So you can see why is was expected to be an explosive match.
Under less than 1min of play, Son Heugh-Min opened scoring for the home side which was made possible by Kane through a beautiful pass. Few minutes later Kane had a brace in the 8 and 16 minutes. So this was considered a done deal for Tottenham as 3 points was already in the bag for Jose Mourinho led side.
We saw a better West Ham in the second 45 minutes as they took more possession of the ball even though Spur was still dangerous with their attack. It almost became 4 goals as Kane clever shot hit the wood work. Still in their resilience, hammers were hoping to atleast have a goal. Balbuena Was able to make that possible by pulling one goal for the visitors in 82 mins of play, D.Sanchez got an own goal 85 mins and it became 3 -2. On his second return to Tottenham Hotspur, Gareth Bale had a great miss which would have sealed the game for Spur to make it 4- 2. This never happened and at injury time it was West Ham that got an equaliser through Lanzini (90+4) the Derby ended 3-3 goals a piece . It was an unbelievable come back for the hammers and a disappointing moment for Spur.
Indeed it was a very interesting match ....Kudos to David Moyes tutored side who just resumed from self Isolation after testing positive for Covid-19 last month.
Big 💖♥️💚
Also Published Here