It's Been a Positive Start!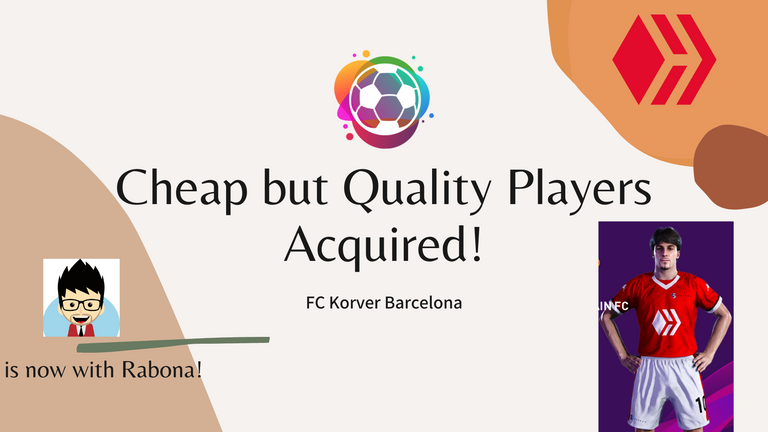 My goal in Rabona (Click this for ref link ) is to be on top without spending too much cash in my own pocket. I wanted to compete with the best of the best here and I wanted something challenging (nah, I just don't have the money lol).
So I did wander in the market and dug for players that have some quality but are undervalued. With my almost 190,000 RBN left, I don't want to spend it much on players in my first season. As suggested by minimining, it would be better to focus on upgrading your stadium to level 5 because most of the funding/revenue comes from ticket sales.
I checked my default players and I was not convinced for my team to win trophies this season. Well, I'm not expecting to win. My goal for season one is to test the waters, learn from other users, and develop my own set of strategies. I was able to get players from all aspects of GK, Defenders, Midfields, and Attackers which only have a price range from 0-2000 RBN and a salary of 400-500 RBN.
These are my picks :
| Player | Key Attribute |
| --- | --- |
| Peter Lewandowski (Midfielder) | |
A typical midfielder that I like among the cheap players being sold on the market. His passing of 84 makes me get him since my focus is to build a Barcelona-like culture and it requires great accuracy of passing. At a price of 1,000 RBN and a salary of only 481 RBN, I think he's a good catch and a better player than other midfielders.
---
| Player | Key Attribute |
| --- | --- |
| Oliver Bergstrom (Forward) | |
Bergstrom on the other hand is a forward. An amazing 84 shot and head ball of 59 is what made me bought him at only 999 RBN. Compared to my default strikers, he's a good catch for a starting position on my front-line. His salary will also be 486 RBN per match, it's really cheap for a quality like him.
---
| Player | Key Attribute |
| --- | --- |
| Tim Berger (Goal Keeper) | |
Tim on the other hand from @drugwar was only worth 99 RBN. He's top-notch for me at a cheap price. Though his salary is higher compared to others (1,730 RBN), his statistics proved he's worth more than that. He's got everything from Goalkeeping, Defending, Cleverness, and even shot. I think he will be my starting GK once the season starts.
---
| Player | Key Attribute |
| --- | --- |
| Max Pagano (Defender) | |
This man is a rockstar signing. I just bought him at 420 RBN though I have to pay him 1,712 RBN per match. I think he's really worth it and will likely be the captain of my team. A defending of 82 with high attributes for passing, head ball, dribbling, and speed, this man will lead my team for season one.
I'm also placing him in the center back position with a 4-3-3 formation. Another reason why I'll be choosing 4-3-3 is that I feel it fits Barcelona's system they wanted the players to be spread in such a way that it will be easy for them to maintain possession and build-up for the attack.
---
These are just my initial moves. I don't know where this would lead me but the good thing is - "I think" for the team. I'm open to feedback and suggestions.
---
For more football updates and sports-related talks, click the "Follow" button and support me by clicking that upvote button.