Simone Biles the elegance and mastery of gymnastics.
I must admit that I am not a big follower of rhythmic gymnastics although I enjoy every time I can see the spectacular jumps and the elegant choreographies that the girls do. Don't think that although I love contact sports I also enjoy the dances they do in gymnastics, it must be said that although it doesn't look like it but gymnastics usually has sports injuries that are worthy of that show "Scarred" that used to be presented by MTV.
Simone Biles is one of the most dominant athletes in her category. Here I had made a comparison between Biles and another athlete from different sport branches but in editing I saw that it was unfair to Biles as she simply has no comparison to another male athlete. If I am going to compare the dominance of Biles I could compare it with the dominance of Serena Williams in tennis.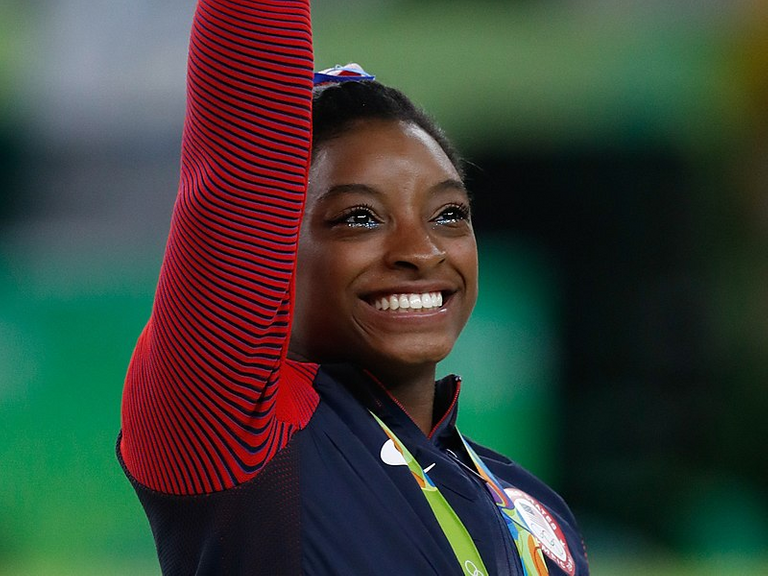 Source
If we are talking about dominance in gymnastics, Biles has to be there as she is no less than seven times US national champion (2013, 2014, 2015, 2015, 2016, 2018, 2019 and 2021). What athlete has been as dominant as Biles in our time?
I discovered Simone Biles at the Rio 2016 Olympics where she also came out on top. This girl is dominant in her entire sport because she has been world champion five times on floor, three times on balance beam and twice on vault. We are in front of the best gymnast in history and that is no exaggeration. Biles has a total of 19 world championship titles and 25 championship medals in her trophy cabinet, making her the winningest gymnast in both the men's and women's categories.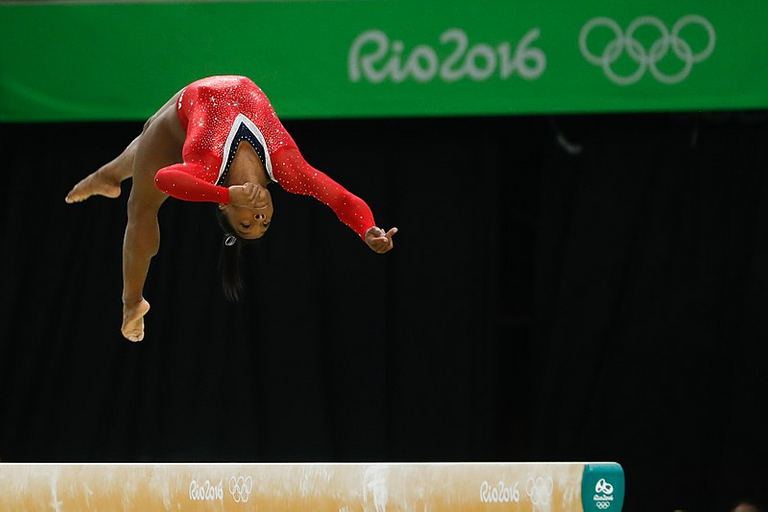 Source
To achieve this seventh U.S. championship Biles performed a Yurchenko double somersault, which is so difficult to remember and even more difficult to perform, because only a few people have managed to land it in history and thus Biles becomes the first woman to perform this jump, you can look for videos about it and see what is practically impossible.
Regarding this jump that has caused some commotion due to the score that the judges gave to the Biles jump which was only 6.6 which is too low a score for a jump that is extremely difficult to achieve, with this perhaps they do not want to show that the level of Biles is too superior to the other gymnasts.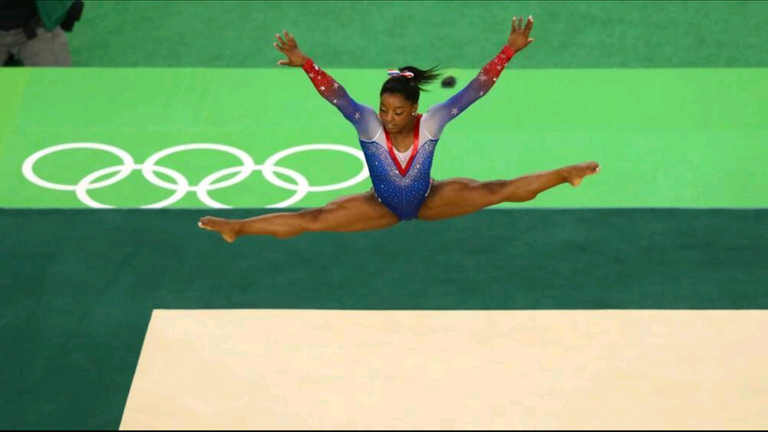 Source
This young girl of 24 years of age is the one who will lead the U.S. team in the postponed Olympic Games in Tokyo 2020. Since the announcement of the postponement of the Games, Biles has been seen attempting even more dangerous and challenging tricks. Biles who is known for having a very reckless style every time she enters the gymnastics floors.
The trials for the U.S. Olympic teams will take place from June 24-27, where Simone is almost certain to have a spot, while the Olympics are scheduled for late July unless they cannot take place because of the pandemic.
Honor to whom honor is due and Simone Biles deserves all the cheers.In a world where almost all eyes are on male athletes, girls like Biles are a breath of fresh air to see something different, let's hear it for the deserving girls too. I'll be watching what she does in the coming days.
Translated with www.DeepL.com/Translator (free version)
Simone Biles la elegancia y dominio de la gimnasia
Debo de admitir que no soy un gran seguidor de la gimnasia rítmica aunque disfruto cada vez que puedo ver los espectaculares saltos y las elegantes coreografías que hacen las chicas. No crea que aunque amo los deportes de contacto también disfruto de los bailes que hacen en la gimnasia, hay que decir que aunque no parece pero la gimnasia suele tener lesiones deportivas que son dignas de aquel programa "Scarred" que solía presentar MTV.
Simone Biles es una de las deportistas más dominantes de su categoría. Aquí había hecho una comparación entre Biles y otro deportista de diferentes ramas deportivas pero en la edición vi que era injusto con Biles pues simplemente no tiene comparación con otro deportista varón. Si voy a comparar el dominio de Biles lo podría comparar con el dominio de Serena Williams en el tenis.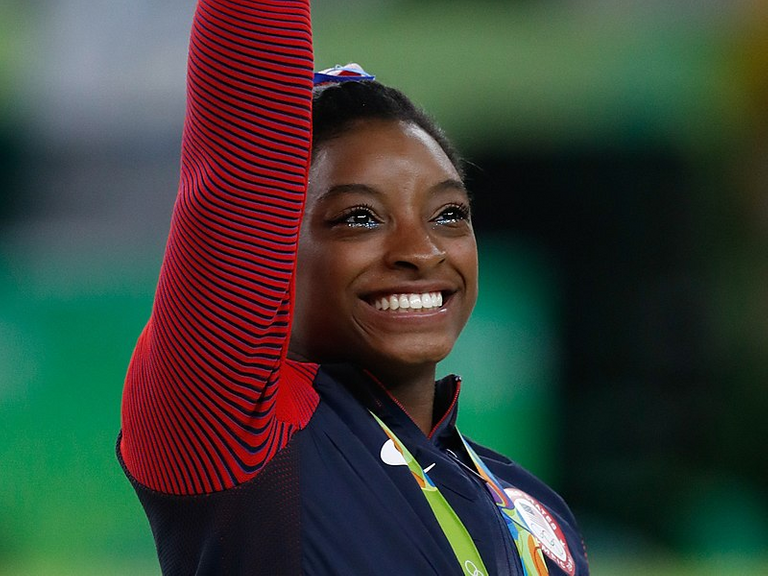 Source
Si de dominio en la gimnasia se habla ahí debe de aparecer Biles pues es la nada más y nada menos que siete veces campeona nacional de Estados Unidos (2013, 2014, 2015, 2016, 2018, 2019 y 2021) señores de pie ante el dominio de Simone Biles quien es realmente espectacular. ¿Qué atleta ha sido tan dominante que Biles en nuestra época?
Yo descubrí a Simone Biles en los juegos olímpicos de Rio 2016 en donde también salió campeona. Es que esta chica domina en todo su deporte púes ha sido campeona del mundo en cinco ocasiones en suelo, tres veces en viga de equilibrio y dos veces en salto de caballo. Estamos frente a la mejor gimnasta de la historia y no es ninguna exageración. Biles posee en sus vitrinas un total de 19 títulos de campeona del mundo y 25 medallas de en campeonatos y así se consagra como la gimnasta más ganadora tanto en categorías femeninas y masculinas.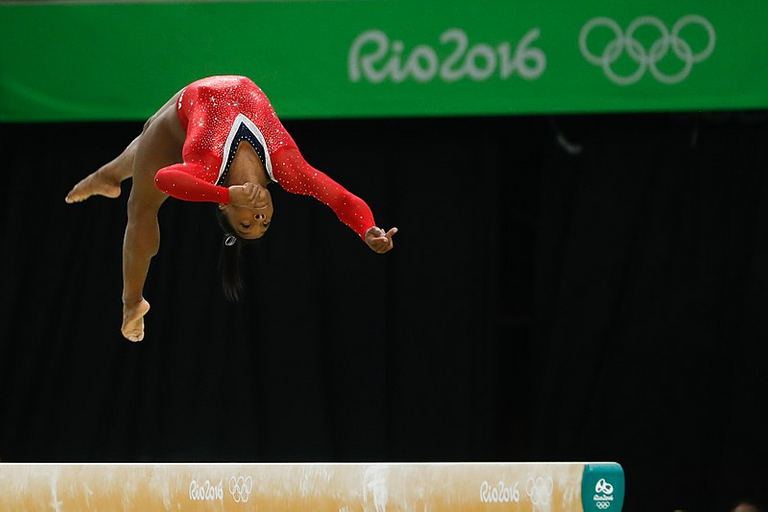 Source
Para lograr este séptimo campeonato estadounidense Biles realizo un Yurchenko doble mortal carpado, que es tan difícil recordarlo y aún más realizarlo, pues solo unas pocas personas lo han logrado aterrizar en la historia y así Biles se convierte en la primera mujer en realizar este salto, usted mismo puede buscar videos al respecto y ver lo que es prácticamente imposible.
Respecto a este salto que ha causado cierto revuelo debido a la puntuación que dieron los jueces al salto Biles que fue solo de 6,6 que es una puntuación demasiado baja para un salto que es sumamente difícil de lograrlo, con esto quizás no quieran demostrar que el nivel de Biles es demasiado superior al de las otras gimnastas.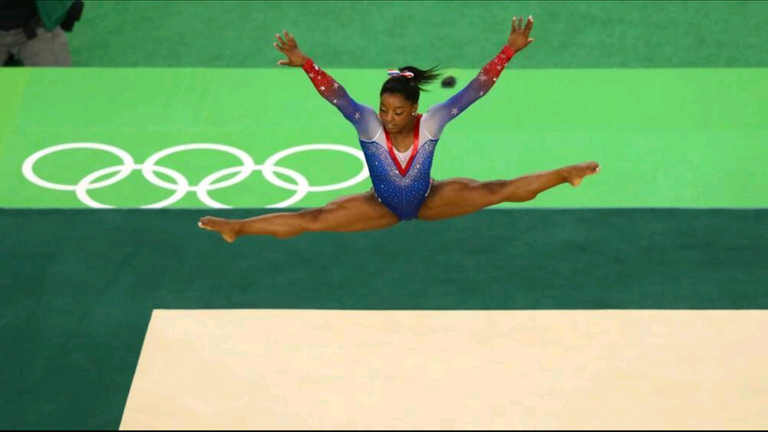 Source
Esta joven chica de 24 años de edad es la que comandará al equipo estadounidense en los pospuestos juegos olímpicos de Tokio 2020. Desde el anuncio del aplazamiento de la justa deportiva se le ha visto a Biles intentando trucos aún más peligrosos y desafiantes. Biles quien se caracteriza por tener un estilo muy temerario cada vez que entra a los pisos de gimnasia.
Las pruebas para conformar los equipos olímpicos de Estados Unidos se llevarán a cabo del 24 al 27 de junio donde Simone es casi seguro que ya tiene un puesto, por su parte los juegos olímpicos están programados para finales de julio a no ser que no se puedan llevar a cabo por ya saben la pandemia.
Honor a quien honor merece y Simone Biles se merece todas las ovaciones. En un mundo en donde se llevan casi todas las miradas los atletas masculinos, chicas como Biles son una bocanada de aire fresco para ver algo diferente, un aplauso también para las chicas que se lo merecen. Estaré atento a lo que haga en los próximos días.