I think the idiom, "Pride cometh before a fall" would be apt at this juncture and it just goes to show that no matter the research or work put into sporting result prediction, the form book can be ripped up and the most unexpected results can happen.
Yes, despite my diligence, we have just seen turn Athletico PR turn over red-hot favourites, Atletico Mineiro by 2-0 and along with it, the hopes and dreams of our players hitting the jackpot. I truly thought Cap'm @metzli would be in for a big win but sadly, not to be.....
But today we go again and the pot rises up but we are going back with renewed determination to the Brasilian Serie A!!

Oh, this is a tricky one......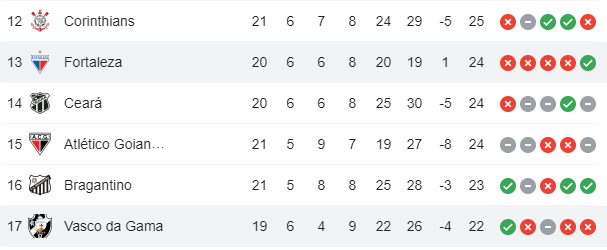 The numbers would suggest that Fortaleza are defensively better but Vasco da Gama score goals at will and with them having the home advantage, I'm actually going to tip them the wink with a 2-1 win (my alternative guess would be 2-2 lol)....first goalscorer? Again I turn to the goalscoring tables and suggest that Cano will continue his rich vein of form!
Simply write the name of the FIRST GOALSCORER and the CORRECT SCORE as a comment. Competition closes 5 minutes before kick-off of which is 22.00 GMT.
The Small Print
In the first goalscorer competition, own goals do not count. In the correct score competition, it's the score after 90mins. Extra time and penalties do not count and the pot for each competition will roll-over if there is no winner. If more than one person chooses the same first goalscorer or correct score, the prize is shared and everyone gets a little upvote! It seems I also need to add, one entry per person. Don't forget the new rule that only people with a rep of 45 or above are eligible to enter unless they have been approved. The bonus will be added to any winnings ONLY if Leeds United win and/or Man U lose and all payouts will never exceed 50% of post payout. Other bonuses paid out at my discretion.
And the winners were.....
Well, as usual, we didn't have any but that result was absolutely a freak one. Mineiro are top of the table lol...Captain @metzli gets her 600 token appearance fee and @friendlymoose @lebey1 and @bitandi all get 500.
Better luck today guys as the pot rises again!!!
Prize money goes up today so were on 7000 + 11000 but if I get the correct result, you lot ought to be paying me! ;-)
Proof of transaction is shown below.

Well, that's it for today. Best of luck and a sincere thank-you for joining in! If you have any ideas to make things more interesting or ideas for new games, let me know in comments, please :-)
Marching On Together