Winners, winners, everywhere! A great day for the team yesterday and especially me as I revelled in Man. U losing to PSG. Just to put the icing on the top, I also got Neymar as the first goalscorer but two of you guys hit the correct score!
Anyway, another day is upon us and tonight we turn our attention to the Europa League and the game between.....

Let's be honest, Arsenal have been shit in the league this year but in the Europa League, they're at the top of a very weak group.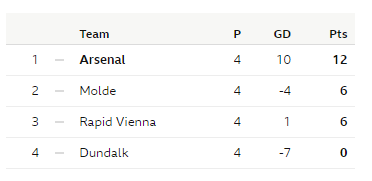 Despite this good European form, they are absolutely going to lose tonight as they will be without David Luiz and because qualification for the next stages is guaranteed, I'd suggest a number of other key players will be rested for a huge date on Sunday in the North London derby away to high-flying Spurs.
I have a feeling it could be carnage so I'm going for a very tentative 1-4 in favour of Rapid Vienna who desperately need a result to stay in the competition and Ercan Kara to get the first goal and keep up his excellent scoring record.
Simply write the name of the FIRST GOALSCORER and the CORRECT SCORE as a comment. Competition closes 5 minutes before kick-off which is 20.00 GMT.
The Small Print
In the first goalscorer competition, own goals do not count. In the correct score competition, it's the score after 90mins. Extra time and penalties do not count and the pot for each competition will roll-over if there is no winner. If more than one person chooses the same first goalscorer or correct score, the prize is shared and everyone gets a little upvote! It seems I also need to add, one entry per person. Don't forget the new rule that only people with a rep of 45 or above are eligible to enter unless they have been approved. The bonus will be added to any winnings ONLY if Leeds United win and/or Man U lose and all payouts will never exceed 50% of post payout. Other bonuses paid out at my discretion.
And the winners were.....
We had two winners of the correct score who are @friendlymoose and @bitandi who split the pot and with their added 500 appearance fee, take away 3000 tokens each.
It was nice to see everyone predict Man. U to lose, I'm proud of you team!!
Captain @metzli and new boy @amr008 still pick up their appearance fees. Everyone's a winner in this game :-)
Proof of Transaction...

That's it for today's post, team. As always, good luck tonight and a huge thank-you for creating some engagement and playing along.
Marching On Together