Useless! Not one of you got the correct score which although it finished 3-4, this was after extra time so for our purposes it was 3-3. Muto (who else...or who is he?) got the first goal and none of you so-called experts even got close lol.....Another cheap day for me ;-)
Time for redemption team for it is the 'proper' start of the FA Cup with the 3rd round and time to get rid of all the lesser teams except for the usual one who will make headlines until getting knocked out in the quarters. But who will that 'underdog' be this season?
Let's start the weekend with a game that will see a Premier League team say goodbye to the competition......

This is going to be a tough one for Liverpool. It's a little premature to say the wheels are coming off their season but they're having poor run. With Champions League about to restart, we will be hearing the usual whinging from Klopp about fixture pile-ups and so I think they are going to struggle away from home tonight.
As for Villa, their league form is good. They currently sit 7 points behind the leaders in 8th place but they have two games in hand. They score goals and defend well and I think they will definitely give Liverpool a real problem.
So after normal time, I will go for a 2-2 scoreline. I think Villa will score first so I choose El Ghazi to score the first goal.
Simply write the name of the FIRST GOALSCORER and the CORRECT SCORE as a comment. Competition closes 5 minutes before kick-off which is 19:45 GMT.
The Small Print
In the first goalscorer competition, own goals do not count. In the correct score competition, it's the score after 90mins. Extra time and penalties do not count and the pot for each competition will roll-over if there is no winner. If more than one person chooses the same first goalscorer or correct score, the prize is shared and everyone gets a little upvote! It seems I also need to add, one entry per person. Don't forget the new rule that only people with a rep of 45 or above are eligible to enter unless they have been approved. The bonus will be added to any winnings ONLY if Leeds United win and/or Man U lose and all payouts will never exceed 50% of post payout. Other bonuses paid out at my discretion.
And the winners were.....
No one again! Just the appearance fees of 500 tokens go to;
@hykss.sports, @friendlymoose, @lebey1, @anderssinho, @captaincryptic @marvinix, @monsterbuster, @hirohurl, @corporateay, @chrisparis, @amr008, @bitandi, @jfang003 @jersteemit and a big welcome back to another old player, @cabinet24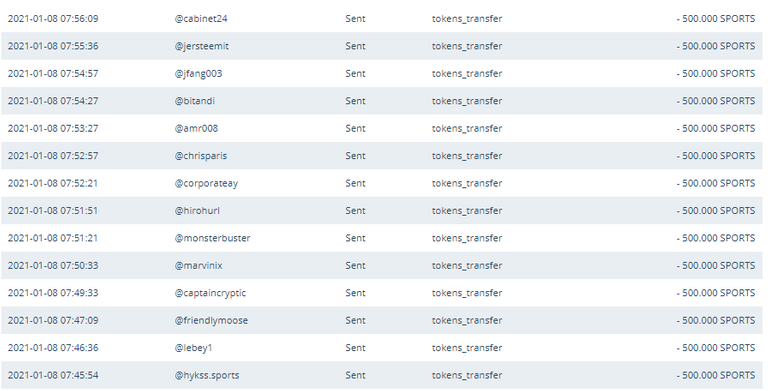 At least the pot is growing a little! We are now at 6500 + 6000. A long way from those halcyon days of 25000 in total but who knows? It only takes a poor run of form for a week or so to see the prizes rise up!
Ok, that's it for now. Good luck to everyone and thanks once more for joining in for a bit of fun.
Stay safe and sane wherever you are.
Marching On Together (to Crawley in the FA Cup on Sunday)