If I'm being honest, when I was growing up, I actually lived closer to Barnsley than I did Leeds. But seriously, who wants to support Barnsley?
Despite the close proximity to home, they were in South Yorkshire and I lived in West Yorkshire so Leeds was actually the closest club in my county/province/ region.
Tonight though, I'm Barnsley through and through as they 'welcome' Chelsea to Oakwell in the FA Cup!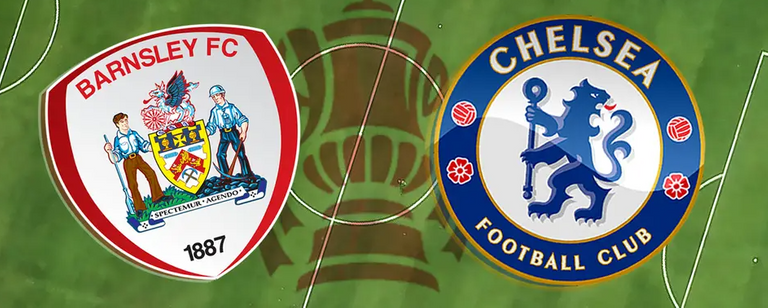 nathen007's Prediction
I know I'm slightly biased when it comes to all things Chelsea but tonight, seriously, is the night they say goodbye to the cup for this year. If you've ever been to Oakwell, you'd know it's a cold windy shit-hole. If there was a crowd there, Barnsley would definitely win. Barnsley fans are big, gormless, well 'ard Neanderthals who make a lot of noise.
History is also on Barnsley's side. They beat Chelsea as the current holders when progressing to the semis back in 2008. Another big plus for Barnsley is that new Chelsea manager, Tuchel has said he will start record signing, Spanish number 1 and absolute waste of money goalkeeper, Kepa Arrizabalaga. He's getting a 'new start' said the gaffer. In South Yorkshire at -6C in the FA Cup, sounds more like a final start to me lol
Prediction: Barnsley 1 : Chelsea 0 (after 90 mins) - First Goalscorer: Alex Mowatt
Simply write the name of the FIRST GOALSCORER and the CORRECT SCORE as a comment. The competition closes 5 minutes before kick-off which is 20.00 GMT.
The Small Print
In the first goalscorer competition, own goals do not count. In the correct score competition, it's the score after 90mins. Extra time and penalties do not count and the pot for each competition will roll-over if there is no winner. If more than one person chooses the same first goalscorer or correct score, the prize is shared and everyone gets a little upvote! It seems I also need to add, one entry per person. Don't forget the new rule that only people with a rep of 45 or above are eligible to enter unless they have been approved. The bonus will be added to any winnings ONLY if Leeds United win and/or Man U lose and all payouts will never exceed 50% of post payout. Other bonuses paid out at my discretion.
And the winners were...
I've been avoiding mentioning this so far to avoid boosting someone's ego too far, but in the last game where we visited the UAE, we had one jackpot winner who correctly predicted the first goal scorer! Unbelievable!
Yes, the Tomas Brolin of SPS, @anderssinho takes home 5500 + 500 for guessing Igor Jesus Maciel da Cruz would score the first goal in the 2-0 home win!
Entrants who get their appearance fees are; @friendlymoose, @numpypython, @hykss.sports, @jfang003, @marvinix, @ralph75 and @chrisparis
Well done guys and thanks for joining in.

@corporateay, @amr008, @cabinet24, @monsterbuster, @bitandi and others.....WHERE ARE YA? Missing training is going to cost you a fine......;-)