Bloody @lebey1 is rapidly turning into my own personal nemesis lol....but tonight, his beloved Chelsea take on Atletico Madrid in the Champions League and so is it my turn to enjoy a little revenge?
AS for last night, I am genuinely surprised by that result although I do always say that although its not logical, look at the run of results. Very rarely do teams achieve the same result more than 4 times and so Palace were due a win by default as I did comment on someones post! A couple of people did get the correct result (looks up at @lebey1 and shakes his head!)
Anyway, full details at the end! But back to tonight and the Champions League...

I would have immediately called this a home win just a couple of months ago but there are a couple of problems with that now. Firstly, since Tuchel took over from Frank Wankhard, Chelsea remains unbeaten in 7 in all competitions. That's pretty good going! Secondly and more relevant to tonight, its not a home game as such as the game is being played in Romania due to Coronavirus restrictions which is a huge negative for Atletico.
Then again, Atletico sits clear of La Liga and that is no mean feat, despite Barca currently being rubbish. For Chelsea, Thiago is out injured and for Atletico, Tripier is still suspended due to breaching the very strict betting regulations. They do however have Suarez.....
Prediction: Atletico Madrid 1 : 1 Chelsea - First Goalscorer: Joao Felix
Simply write the name of the FIRST GOALSCORER and the CORRECT SCORE as a comment. The competition closes 5 minutes before kick-off which is 20.00 GMT.
The Small Print
In the first goalscorer competition, own goals do not count. In the correct score competition, it's the score after 90mins. Extra time and penalties do not count and the pot for each competition will roll-over if there is no winner. If more than one person chooses the same first goalscorer or correct score, the prize is shared and everyone gets a little upvote! It seems I also need to add, one entry per person. Don't forget the new rule that only people with a rep of 45 or above are eligible to enter unless they have been approved. The bonus will be added to any winnings ONLY if Leeds United win and/or Man U lose and all payouts will never exceed 50% of post payout. Other bonuses paid out at my discretion.
And the winners were...
No one got the first goalscorer but the 1:2 result to Palace was nailed by @corporateay, @p15 and @ksfjada..errr @ hhj?:Kl1...I can hardly bring myself to say it! @lebey1 lol ;-) Well done guys you share the 7500 pot giving you 2500+500 tokens each! Not too shabby.
The rest of the team all pick up their appearance fees @amr008, @anderssinho, @jfang003, Captain @metzli, @scarykangaroo, @friendlymoose, @chrisparis, @marvinix, @hykss.sports, @pele23, @numpypython, @ralph75, @espandor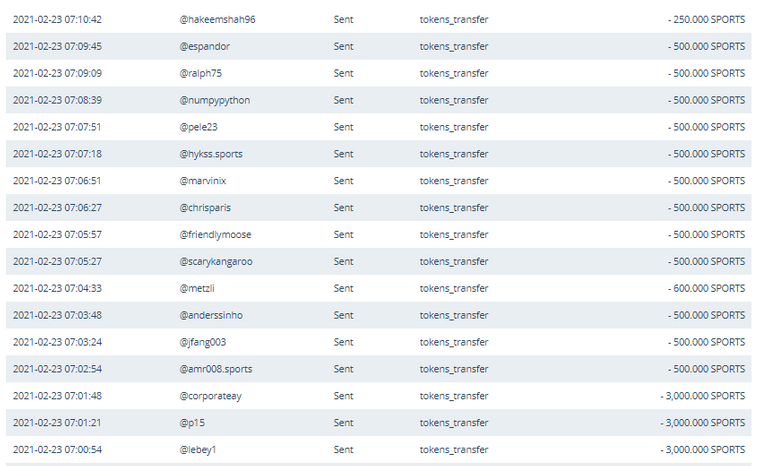 As usual, thanks for joining in and all the engagement. If I dropped a bollock, please let me know in the comments and it will be rectified!
Marching On Together