500 FREE SPS TOKENS JUST FOR ENTERING! First Goalscorer + Correct Score Comp. No 248: EPL Man. City v Wolves : 2 Mar 2021 - 5000 + 5000 SPS Token
Ok, team. Let's have a spelling lesson, shall we? It's spelt:-
R-I-C-H-A-R-L-I-S-O-N
...and now we have that out of the way, I am happy to report we have many winners from last night, just one with the correct score but many with various spellings of the first and only goalscorer!
As for tonight, can the leaders with a 12 point gap be stopped?

I'm working on the basis of not who, but by how many and can Wolves actually get a goal at least. I have no doubt this will be a bread and butter win for City, their form is back to the heights it was a couple of seasons back and there is no way they are going to lose a 12 point lead with only 14 games remaining.
Wolves did, however, win at the Etihad last season and will be hoping to at least repeat that performance but a scrappy win over Leeds and a tough draw against strugglers Newcastle would suggest they are going to have problems finding the goal tonight.
This has to be a very comfortable win by a decent margin for City.
Prediction: Man City 4 : 0 Wolves - First Goalscorer: Rúben Dias
Simply write the name of the FIRST GOALSCORER and the CORRECT SCORE as a comment. The competition closes 5 minutes before kick-off which is 20.00 GMT (12.00 PST @metzli lol )
The Small Print
In the first goalscorer competition, own goals do not count. In the correct score competition, it's the score after 90mins. Extra time and penalties do not count and the pot for each competition will roll-over if there is no winner. If more than one person chooses the same first goalscorer or correct score, the prize is shared and everyone gets a little upvote! It seems I also need to add, one entry per person. Don't forget the new rule that only people with a rep of 45 or above are eligible to enter unless they have been approved. The bonus will be added to any winnings ONLY if Leeds United win and/or Man U lose and all payouts will never exceed 50% of post payout. Other bonuses paid out at my discretion.
And the winners were...
Step up to the podium @cabinet24 who takes home 5000+500 for correctly predicting a 1-0 win and to @lebey1, @p15 and Captain @Metzli who take home 1700+500 each for getting the first goalscorer which was Richarlison. You guys do however lose 1 token each for your terrible spelling!
Appearance fees go out to @pusen, @hykss.sports, @monsterbuster, @jfang003, @friendlymoose, @ralph75, @evegrace, @amr008, @chrisparis and @jersteemit.sport 500 each are winging their way to you guys.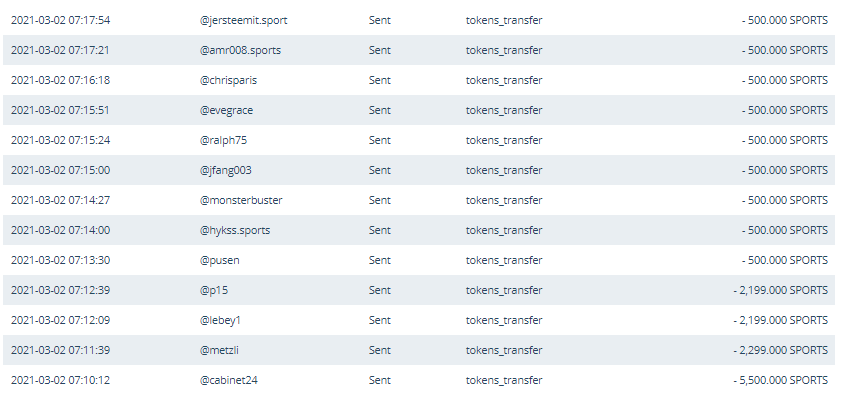 And you thought I was joking about knocking you one token off lol
That's it for today and good luck and thanks to everyone for taking part!
Marching On Together
---
---