A rather mundane and common or garden 2-1 home win for Leicester last night brought home the bacon for a number of players but the interesting thing was it was neither Vardy nor Iheanacho who got the first goal, it was in fact, Palaces' Zaha and some clever players hit the nail on the head. Full details at the end.
On to today, it's the European Super League semi-final 1st leg and there can be no losers...

This will be a little bit cagey but the big news is that Hazard is available for Real after a long on-off period of injuries. Chelsea have no worries on the injury front.
Both teams are very defensively minded and I'm not sure where the goals are going to come from. WIll be intriguing to watch, Ok, boring then!
Prediction: Real Madrid 1 : 0 Chelsea - First Goalscorer: Hazard
Simply write the name of the FIRST GOALSCORER and the CORRECT SCORE as a comment. The competition closes 5 minutes before kick-off which is 20.00 BST
The Small Print
In the first goalscorer competition, own goals do not count. In the correct score competition, it's the score after 90mins. Extra time and penalties do not count and the pot for each competition will roll over if there is no winner. If more than one person chooses the same first goalscorer or correct score, the prize is shared and everyone gets a little upvote! It seems I also need to add, one entry per person. Don't forget the new rule that only people with a rep of 45 or above are eligible to enter unless they have been approved. The bonus will be added to any winnings ONLY if Leeds United win and/or Man U lose and all payouts will never exceed 50% of post payout. Other bonuses paid out at my discretion.
The Winners were...
Lets start with all the folks who got the 2-1 scoreline and congrats to @harpreetjanda, @ralph75, @hykss.sports, @evegrace and @corporateay who all share the 6K pot and take 1250+500 each.
@friendlymoose and @cabinet24 both got Zaha as first goalscorer and so take 2500+500 each! Well done to all.
Appearance fees go to @yeckingo1, @jersteemit, @pusen and @chrisparis. @jfang003 and @monsterbuster were a bit late but they can have their appearance fee anyway :-)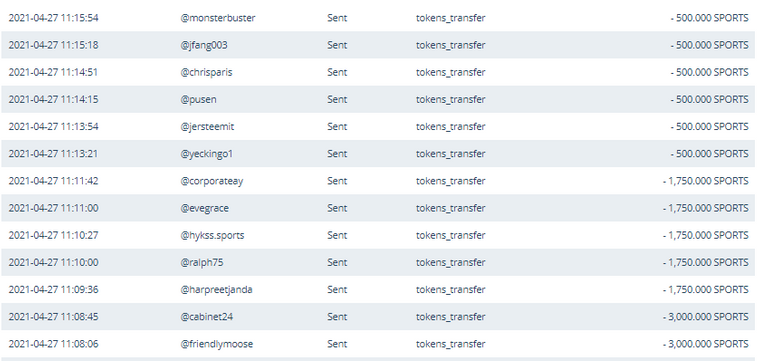 That's it for today, check your winnings carefully please and I'll see you all back here tomorrow. Thanks for playing along guys :-)
Marching On Together