500 FREE SPS TOKENS JUST FOR ENTERING! First Goalscorer + Correct Score Comp. No 288: Champions League - Man City v PSG : 4 May 2021 - 5000 + 5000 SPS Token
Couldn't have been a worse result for me last night! Chris Woods scored first and West Ham took one step closer to Champions League football with a 2-1 away win!
Of course, many of you guys are laughing all the way to the bank but full details at the end.
Today we're back to Champions League action as Man City have home advantage and a slender 2-1 lead as we go into the second round!

You couldn't expect PSG to pull it back from here when City have the motivation with one foot in the final but it could all depend on Mbappe being available again after injury. 37 goals from 43 games in all competitions is an ability to win games!
After resting a number of star players against Palace at the weekend, they will have a strong and fresh team to put out there. It would take a brave man to back against them tonight!
Prediction: Man City 3 : 1 PSG - First Goalscorer: Kevin de Bruyne
Simply write the name of the FIRST GOALSCORER and the CORRECT SCORE as a comment. The competition closes 5 minutes before kick-off which is 20.00 BST
The Small Print
In the first goalscorer competition, own goals do not count. In the correct score competition, it's the score after 90mins. Extra time and penalties do not count and the pot for each competition will roll over if there is no winner. If more than one person chooses the same first goalscorer or correct score, the prize is shared and everyone gets a little upvote! It seems I also need to add, one entry per person. Don't forget the new rule that only people with a rep of 45 or above are eligible to enter unless they have been approved. The bonus will be added to any winnings ONLY if Leeds United win and/or Man U lose and all payouts will never exceed 50% of post payout. Other bonuses paid out at my discretion.
The Winners were...
A huge shout out to @savagetobi who got a 100% prediction and by reckoning is due 1900+1100+500 tokens. Well done mate!
OK, first goalscorer first which was Woods and so we have @jfang003, @tokutaro22, and they take 1900 + 500 each ....
The correct score of 1-2, we had @harpreetjanda, @jersteemit, @ralph75 and @hykss.sports so they take 1100 +500 each.
Appearance fees go out to; @friendlymoose, @numpypython, @chrisparis, @corporateay, @yeckingo1, @sportsbuddy, @cabinet24 and @marvinix.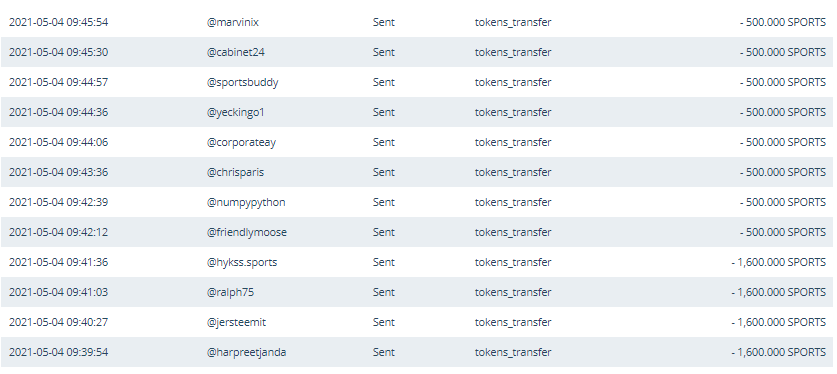 OK. Phew! There you go, everything paid I think but please check carefully guys! Have a great game tonight and I'll see you all again tomorrow :-)
Marching On Together
---
---