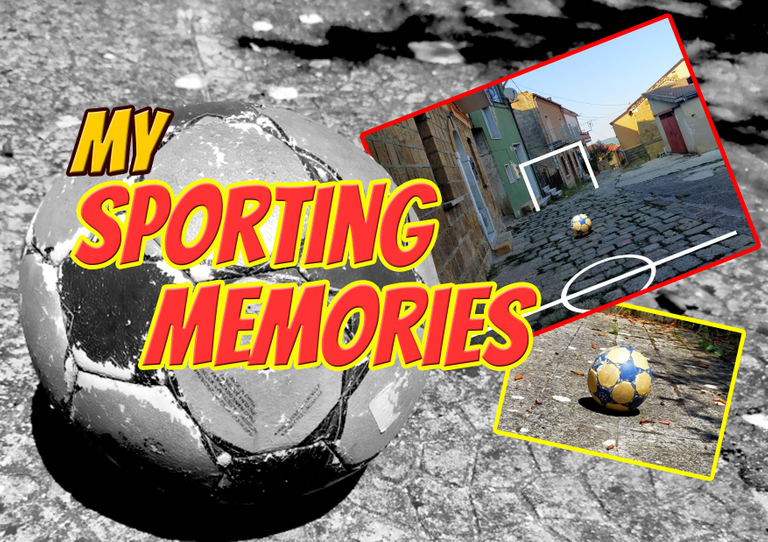 Photo owned by @libertycrypto27 - Font used is Open Source
---
Hello Hivers,
when I was a child my favorite sport was soccer.
I still remember today, as if it were still alive, the emotion I felt when I played a game of soccer with my friends.
My most beautiful memories are framed by a place in particular: a very small village in my region called Torretta.
I have always lived in the city but when I was 6-7 years old I used to spend the summer in Torretta, a village with few houses and few inhabitants but that doubled its population in summer.
At that time there were few cars and we children created soccer fields everywhere especially on the street.
Four stones and a ball were enough to start exciting and fun games.
In the following picture there is a street in Torretta, now it is just a stone road, but it was once used as a soccer field.
---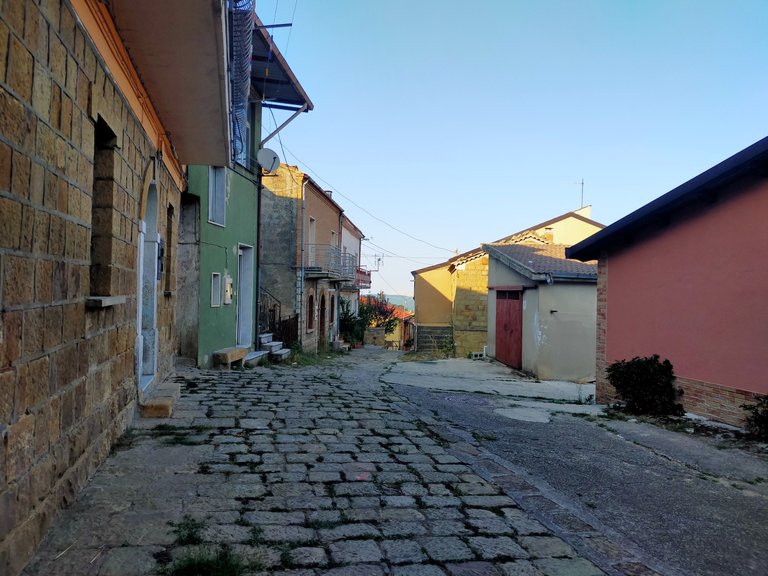 Photo owned by @libertycrypto27
---
When I look at this road the child who is inside me and who struggles every day to get out, awakens my memories and I see a totally different image from the real one :)
---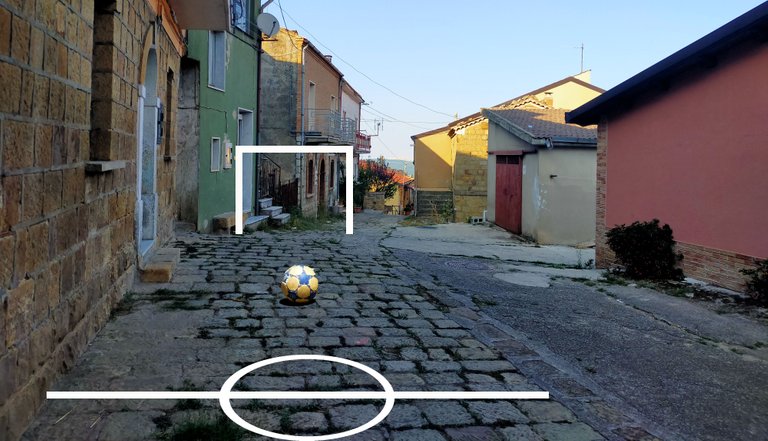 Photo owned by @libertycrypto27
---
The goal didn't have the net because it consisted only of the two poles (the two stones) and after a goal or after a strong and wrong shot it was necessary to recover the ball and often the game was interrupted for 2-3 minutes :)
---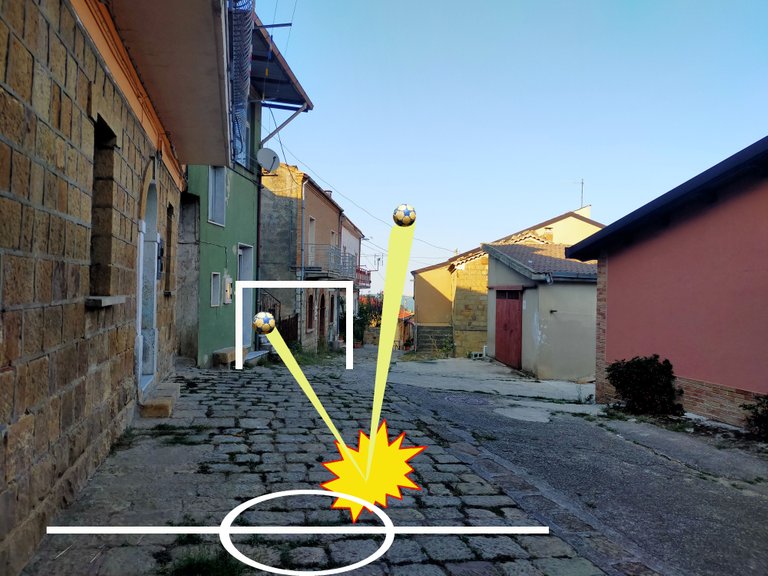 Photo owned by @libertycrypto27
---
The ball has been an inseparable friend during childhood and adolescence.
In the courtyard of the house in Torretta, I spent hours playing football even when I was alone.
It was the wall of the courtyard that sent the ball back to me.
---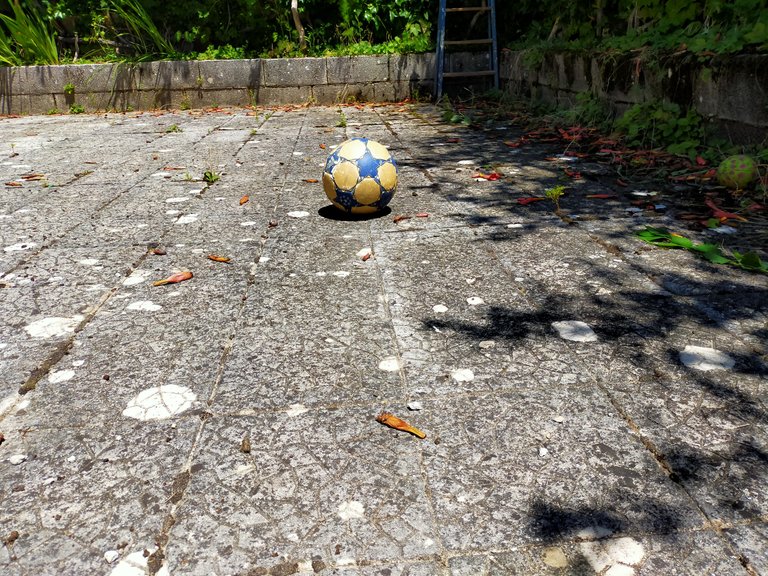 Photo owned by @libertycrypto27
---
Soccer was a great passion and what could be one of my favorite cartoons?
Obviously Holly and Benji: episodic cartoon from the manga Captain Tsubasa.
---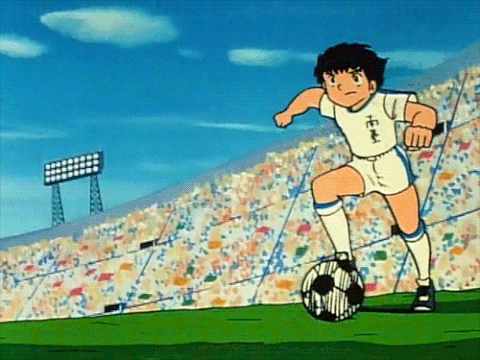 Source: https://giphy.com/gifs/80s-anime-uRs0QpJLmNc0o
It was a fixed and pleasant afternoon appointment.
---
In my adolescence I also practiced other sports such as swimming and volleyball but I have always practiced sports on an amateur level.
I particularly loved team sports because they require a collective rather than individual effort and encourage socialization and knowledge of other people.
When I was in high school I took part in several local tournaments.
How much emotion and anxiety before a game. The fear of not playing well and making a bad impression in front of friends and the few people who watched the games was always so much especially before the game started.
The anxiety and fear immediately disappeared as soon as the game started and gave way to fun.
Today I am 41 years old, I love sports but, unfortunately, work almost completely absorbs my free time.
Even if I don't play soccer anymore I still continue to play sports even if the sports activities that I do currently are not very famous...
I am the father of a 7 years old girl called Chiara and my physical activity is mainly done in her company.
---
My current sports activities
---
I run following my daughter in the park
(my favorite sport since I became a daddy)
---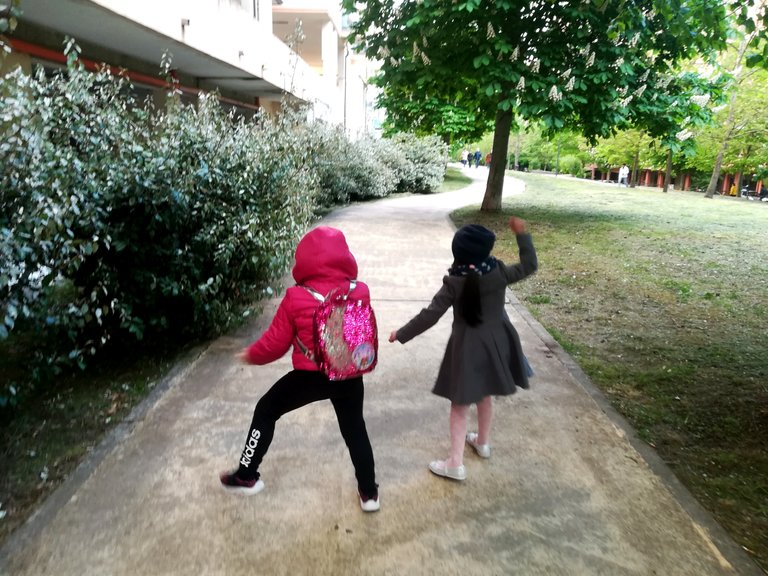 Photo owned by @libertycrypto27
---
In the picture above there is my daughter (on the right) together with a friend of hers.
When I spend time with my daughter I am really happy and when I have the greenery of nature around me the happiness is amplified.
---
"Volleyballoon"
---
Don't tell me you don't know this very famous sport? :)
It is a variant of the most famous volleyball with the difference that the field is the living room, the net is formed by three chairs and instead of the classic ball there is a colored balloon.
This is the sport that I practiced the most during the lockdown.
---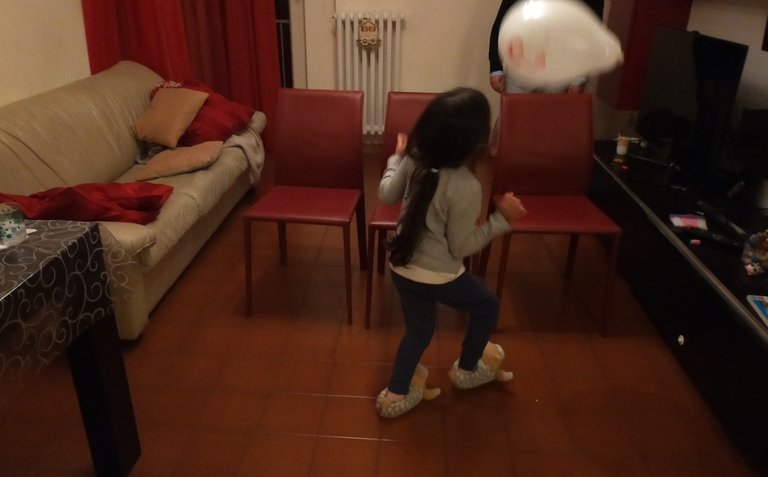 Photo owned by @libertycrypto27
---
Ping pong
---
The table in the living room occasionally becomes a Ping Pong table.
---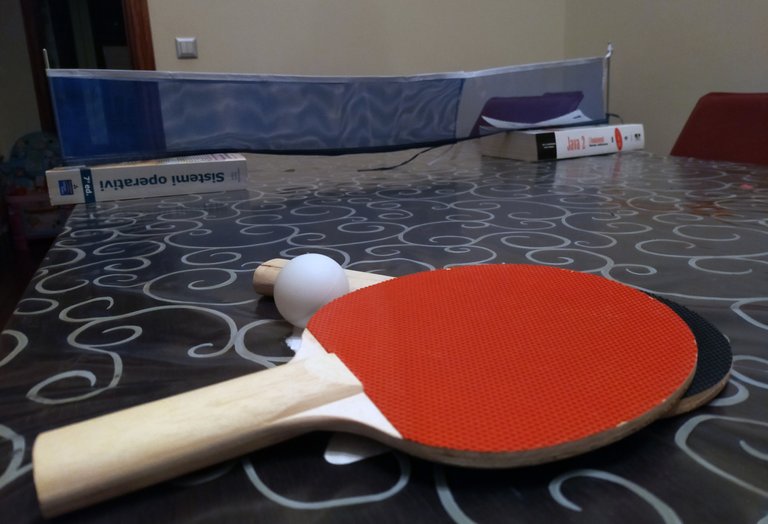 Photo owned by @libertycrypto27
---
I know it's not a regulation Ping Pong table and the net is not tense.
The edges of the table are too thick and I use two computer manuals to fix the net.
Here is a concrete demonstration of the importance of computer science :)
The fun is guaranteed even within the home and, what should not be underestimated, at home there are only three of us (me, my wife and my daughter) and therefore the podium is always guaranteed. :)
---
I train in dart shooting
---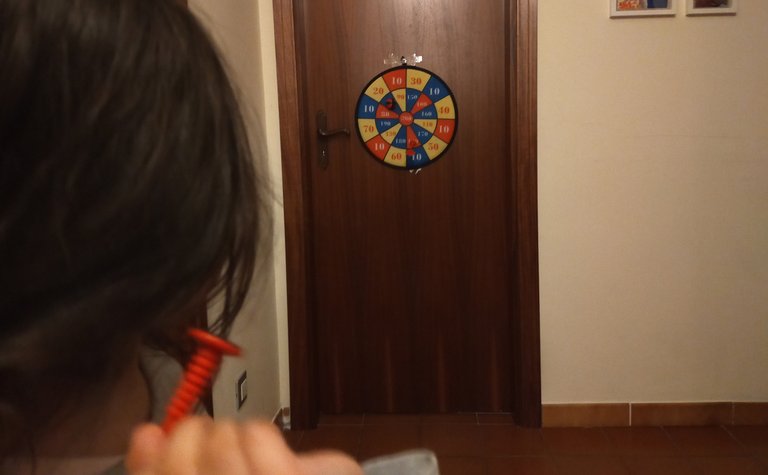 Photo owned by @libertycrypto27
---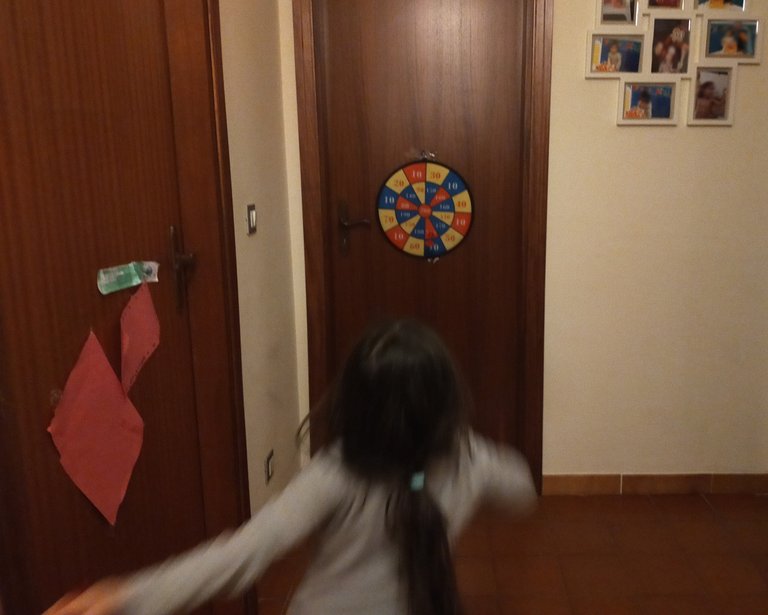 Photo owned by @libertycrypto27
---
Sport is important because it helps you live better and stay healthy.
Practicing sport means first of all to perform body movement and the body movement produces many beneficial effects on our health and not only from a physical point of view but also and above all from a mental point of view.
Thank you for reading this post of mine of sports memories and I hope you enjoyed my post.
---
HIVE ON and SPORT ON
---

---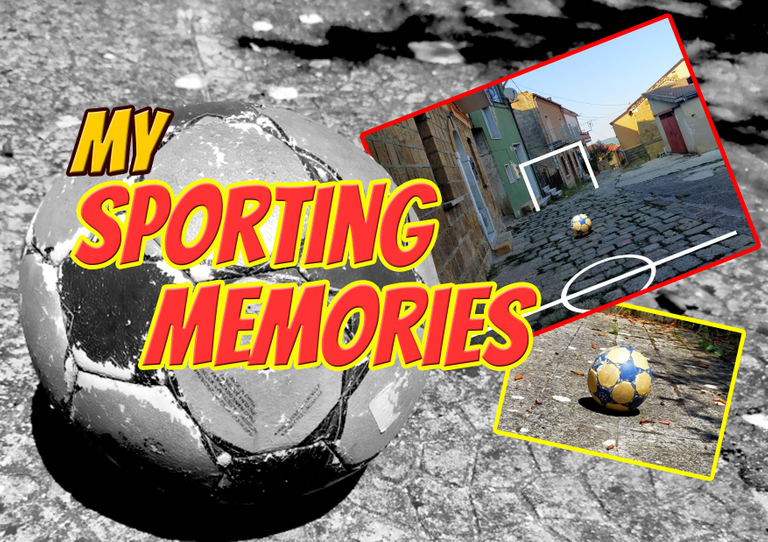 Photo owned by @libertycrypto27
---
Ciao Hivers,
quando ero un bambino il mio sport preferito era il calcio.
Ricordo ancora oggi e viva l'emozione che provavo quando giocavo una partita con i miei amici.
I miei ricordi più belli hanno come cornice un piccolissimo borgo della mia regione che si chiama Torretta.
Ho sempre vissuto in città ma quando avevo 6-7 anni l'estate la trascorrevo a Torretta, un borgo di poche case e pochi abitanti ma che d'estate raddoppiava la sua popolazione.
In quel tempo c'erano poche macchine e noi bambini creavamo i campi di calcio ovunque soprattutto sulla strada.
Bastavano quattro pietre e un pallone per iniziare partite avvincenti e divertenti.
Nella foto seguente c'è una strada di Torretta, adesso è solo una strada in pietra, ma un tempo era usata anche come un campo di calcio.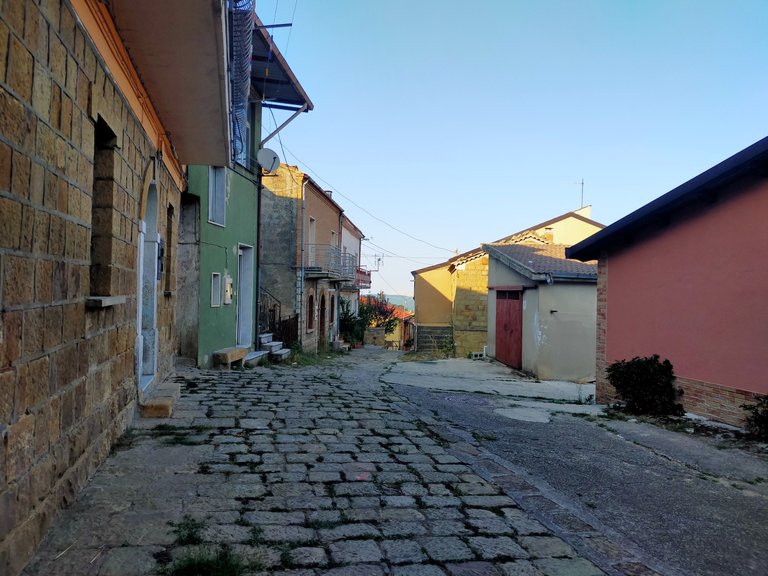 Quando io guardo questa strada il bambino che è dentro di me e che lotta ogni giorno per uscire, sveglia i miei ricordi e io vedo un'immagine totalmente diversa da quella reale :)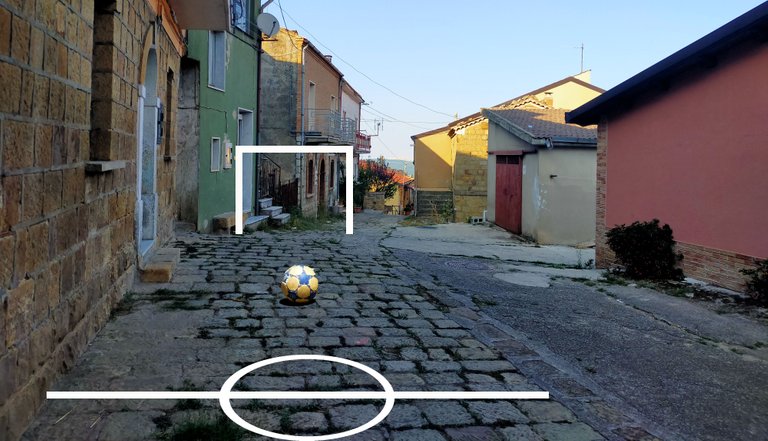 La porta non aveva la rete perchè era costituita solo dai due pali (le due pietre) e dopo un gol o dopo un tiro forte e sbagliato era necessario recuperare il pallone e spesso la partita veniva interrotta per 2-3 minuti :)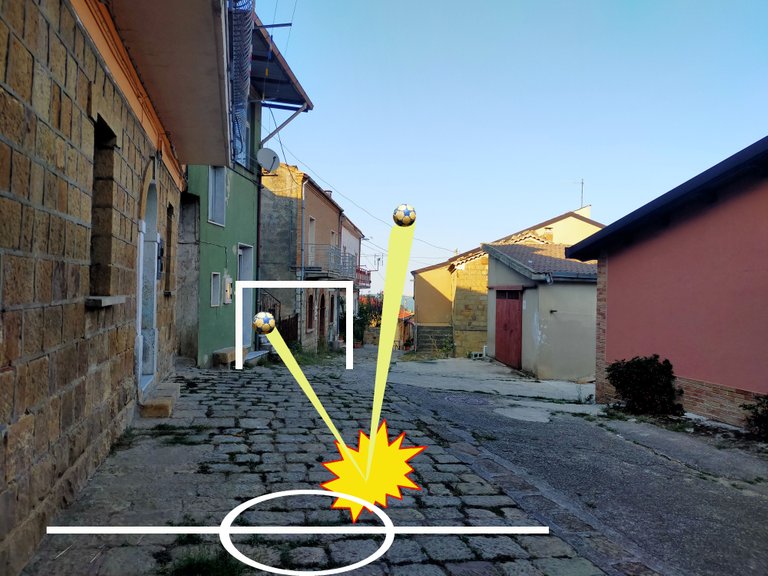 Il pallone è stato un inseparabile amico durante l'infanzia e durante l'adolescenza.
Nel cortile della casa di Torretta passavo ore a giocare a pallone anche quando ero solo.
Era il muretto del cortile a rimandarmi indietro il pallone.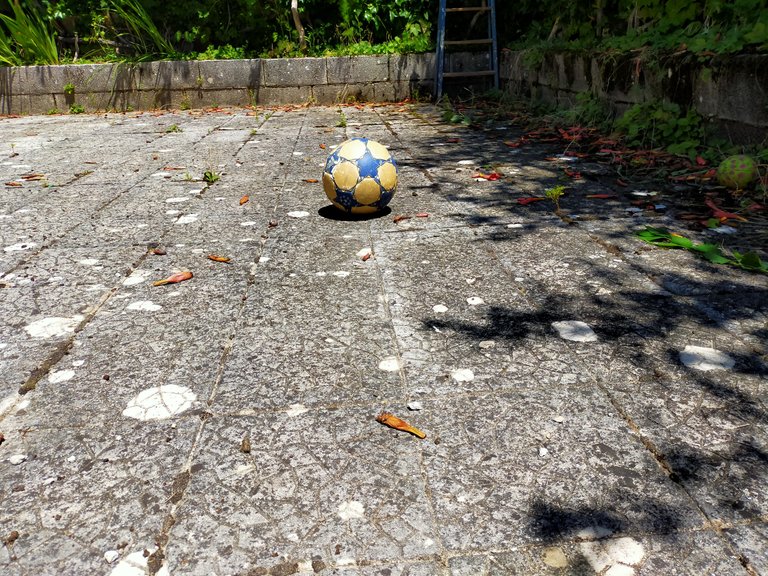 Il calcio è stato una grande passione e quale poteva essere uno dei miei cartoni preferiti?
Ovviamente Holly e Benji: cartone animato a puntate tratto dal manga Capitan Tsubasa.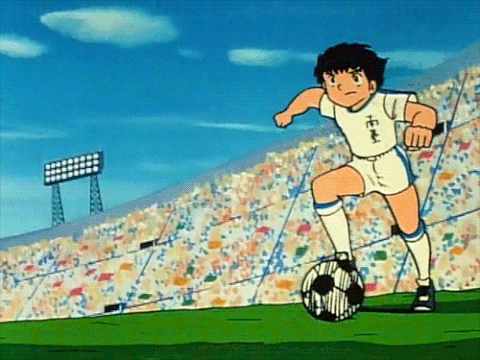 Era un appuntamento pomeridiano fisso e piacevole.
Nella mia adolescenza ho praticato anche altri sport come il nuoto e la pallavvolo ma nessuno sport l'ho praticato a livello agonistico e solo amatorialmente.
Ho amato in particolare gli sport di squadra perchè richiedono un impegno collettivo piuttosto che individuale e favoriscono la socializzazione e la conoscenza di altre persone.
Quando frequentavo la scuola superiore ho partecipato a diversi tornei rionali.
Quanta emozione e quanta ansia prima di una partita. La paura di non giocare bene e di fare figuracce davanti agli amici e alle poche persone che guardavano le partite era sempre tanta soprattutto prima dell'inizio della partita.
L'ansia e la paura sparivano immediatamente appena la partita iniziava e lasciava lo spazio al divertimento.
Oggi ho 41 anni, amo gli sport ma, purtroppo, il lavoro assorbe quasi completamente il mio tempo libero.
Anche se non gioco più a calcio comunque continuo a fare sport anche se le attività sportive che svolgo attualmente sono poco famose e alcune, decisamente alternative.
Sono il papà di una bimba di 7 anni che si chiama Chiara e la mia attività fisica la svolgo prevalentemente in sua compagnia.
---
Le mie attività sportive attuali
---
Corro dietro a mia figlia nel parco
(lo sport che preferisco da quando sono diventato papà)
---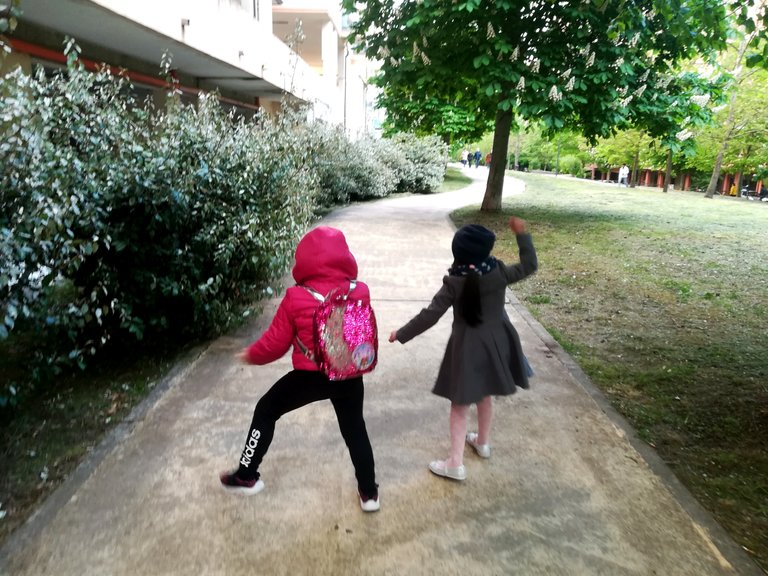 Nella foto in alto c'è mia figlia (sulla destra) insieme ad una sua amica.
Quando passo del tempo con mia figlia sono davvero felice e quando ho intorno a me anche il verde della natura la felicità è amplificata.
---
Gioco a Palloncinovolo.
---
Non mi dire che non conosci questo sport famosissimo? :)
E' una variante della più conosciuta pallavolo con la differenza che il campo è il salotto, la rete è formata da tre sedie e al posto della classica palla c'è un palloncino colorato.
Questo è lo sport che ho praticato di più durante il lockdown.
---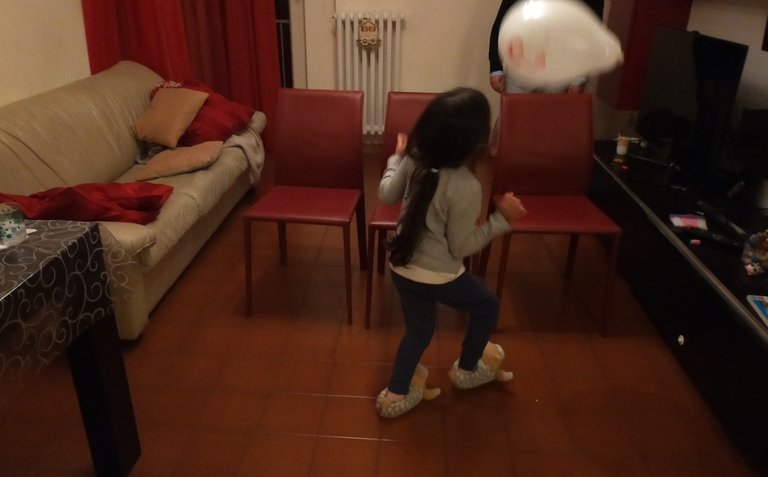 Photo owned by @libertycrypto27
---
Gioco a ping pong
---
Il tavolo del salotto ogni tanto diventa un tavolo da Ping Pong.
---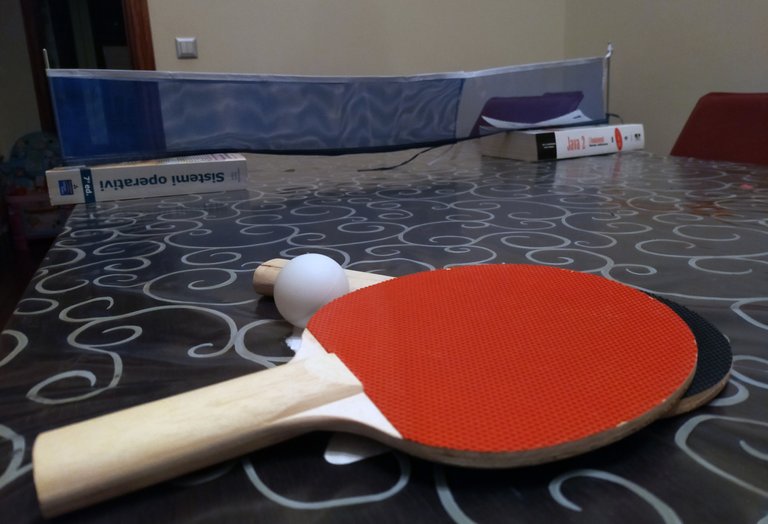 Photo owned by @libertycrypto27
---
Lo so non è un tavolo regolamentare da ping pong e la rete non è tesa.
I bordi del tavolo sono troppo spessi e per fissare la rete uso due manuali di informatica.
Ecco una concreta dimostrazione dell'importanza dell'informatica :)
Il divertimento è assicurato anche tra le mura domestiche e, cosa da non sottovalutare, in casa siamo solo in tre (io, mia moglie e mia figlia) e quindi il podio è sempre garantito. :)
---
Mi alleno al tiro con le freccette
---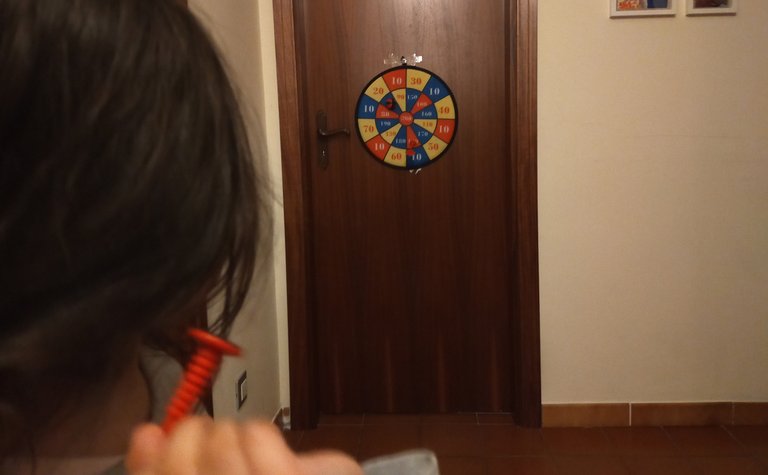 Photo owned by @libertycrypto27
---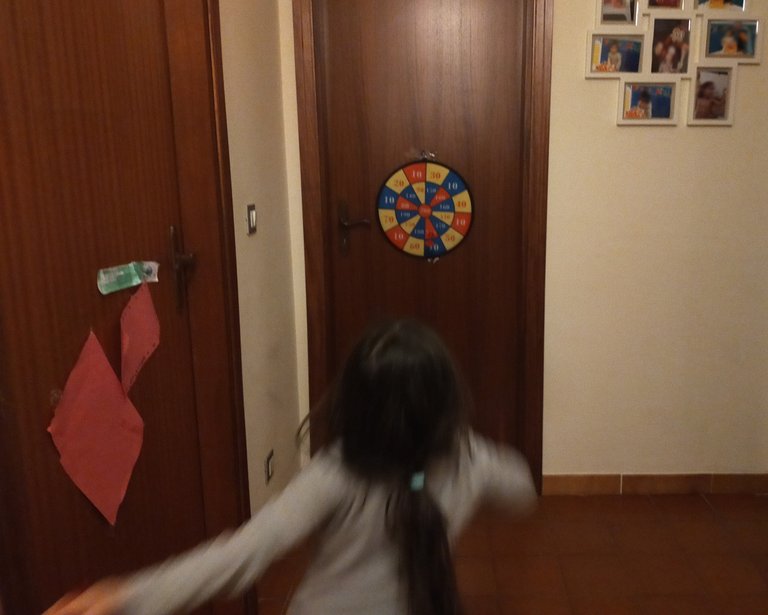 Photo owned by @libertycrypto27
---
Lo sport è importante perchè aiuta a vivere meglio e a rimanere in buona salute.
Praticare sport significa innanzitutto svolgere movimento corporeo e il movimento corporeo produce tanti effetti benefici sulla nostra salute e non solo dal punto di vista fisico ma anche e soprattutto dal punto di vista mentale.
Ti ringrazio per aver letto questo mio post di ricordi sportivi e spero che il mio post ti sia piaciuto.
---
HIVE ON and SPORT ON
---
---