What's good Hive!?
First things first, i don't judge people by their color,
i judge people by what they do/create & by how they treat
other people/environment/animals.
I probably have more black than white friends worldwide,
but BLM is a racist, marxist propaganda movement sponsored
by the same billionaires who use every "Divide & Conquer"
they can find right now, to keep humanity from uniting.
Please check the documentary from the truth cat, that i post below.
Good News: Japan Bans BLM Propaganda from Olympics because of rule 50:
Rule 50:
https://olympics.com/athlete365/rule-50-resources/
What is Rule 50?
Rule 50 of the Olympic Charter provides a framework to protect the neutrality of sport and the Olympic Games. In addition to prohibiting commercial installations and advertising signs, it states that: "No kind of demonstration or political, religious or racial propaganda is permitted in any Olympic sites, venues or other areas".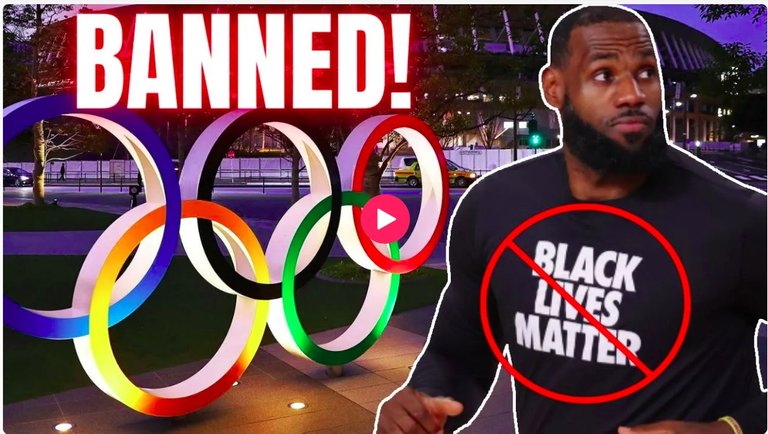 Odysee Destroys "Le China James" & Co.
Especially https://odysee.com/@SportsWars:6 and also
https://odysee.com/@blackandwhitesports:9 won't miss
an opportunity to "air out" fake "Le China James", who
is pushing this wanna be-woke racial,socialist propaganda.
In the meantime the NBA has the worst ratings in history,
because sports fans are totally "pissed off" by this
attempt to "muscle" their thinking & behavior.
"Taking a knee" is as wrong as the slogan: "Black Lives Matter" itself.
First of all, wasn't it the murderer who "took that knee"!?
And "All Life Matters" is wrong, but lamestream media pushed
"Divide & Conquer" propaganda BLM is ok!!??
(Unsupported https://odysee.com/$/embed/black-lives-matter-banned-at-tokyo/4c520e7c1299284bc4c0f5c0e4adca711929aeb7?r=C9VZcEYziiJdiik2wAY4ux6DULN7aDXw)
(Unsupported https://odysee.com/$/embed/blm-gets-banned-from-2021-olympics!!/689741db77b695e39d7d3a3beb3a7e83a3c6fb02?r=C9VZcEYziiJdiik2wAY4ux6DULN7aDXw)
---
(Unsupported https://odysee.com/$/embed/must-see-police-officer-ruthlessly-mocks/87f98ac93fc5eb303825565a65b48368f93d7b3d?r=C9VZcEYziiJdiik2wAY4ux6DULN7aDXw)
(Unsupported https://odysee.com/$/embed/suspended-police-officer-returns-refuses/2a4b420420dd84197e6b2066614dfb2507eae955?r=C9VZcEYziiJdiik2wAY4ux6DULN7aDXw)
---
---