Remembering one of the magical nights in the history of soccer. Quarter-finals of the UEFA Champions League 2002/03 Real Madrid - Manchester United.
The Santiago Bernabéu stadium was dressed to the nines to welcome a capacity crowd of 75,000 spectators for the first leg of the UEFA Champions League Quarter-Final on April 8, 2003, when Manchester United took on England's Manchester United in the first leg of their UEFA Champions League quarter-final. The merengue team won in a match of spectacular plays against the red devils of manchester, who had world-class players.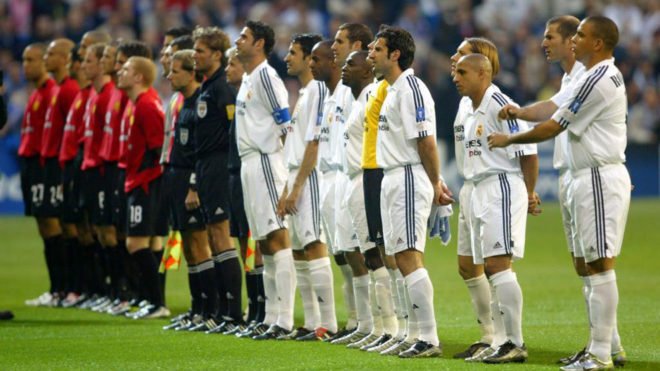 Never before had so many star players been seen on the same field, it was something truly magical to see how both teams had the best players in the world and could face each other in one of the most fascinating and remembered playoffs for the entire world of soccer.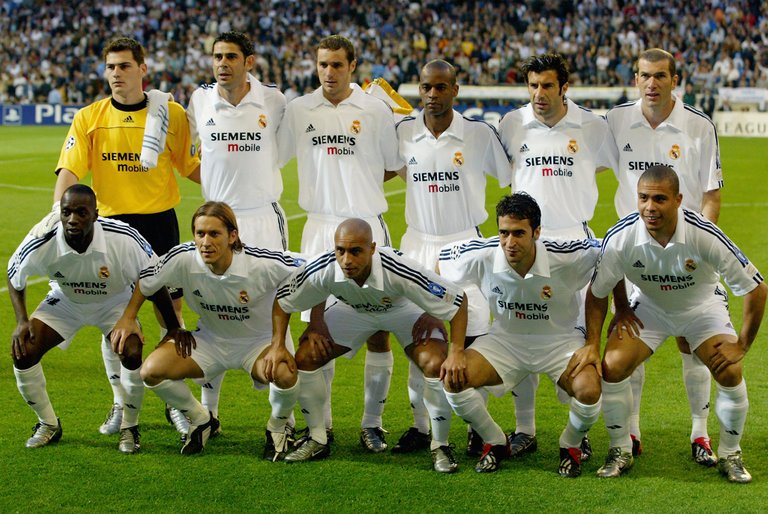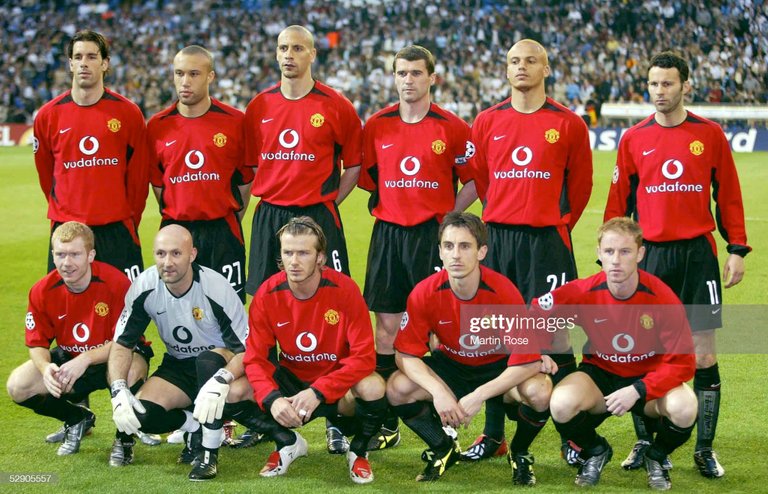 Both teams had their best players on the pitch, Madrid started pressing hard from the beginning of the match, imposing superiority over the English. The Portuguese Luis Figo opened the scoring for the home team with one of the best goals of his career, a brilliant goal where the ball made a video game parabola into the corner of the net after 12 minutes of play.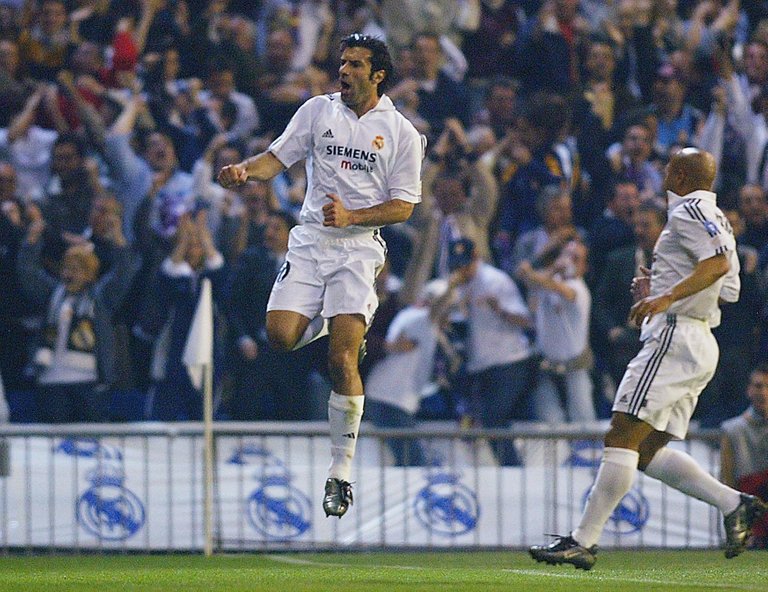 Raúl González, the star of the match, added to his tally at 28' and 49', one of the best nights of his Madrid career.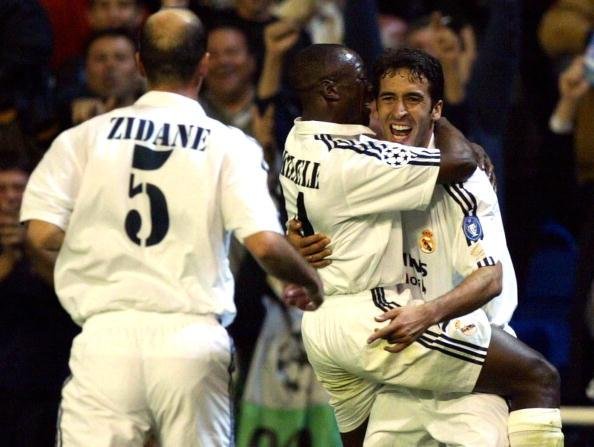 The English were outplayed for most of the game and were unable to control the midfield, players like Zidane, Figo and Raul found space to penetrate the English defense.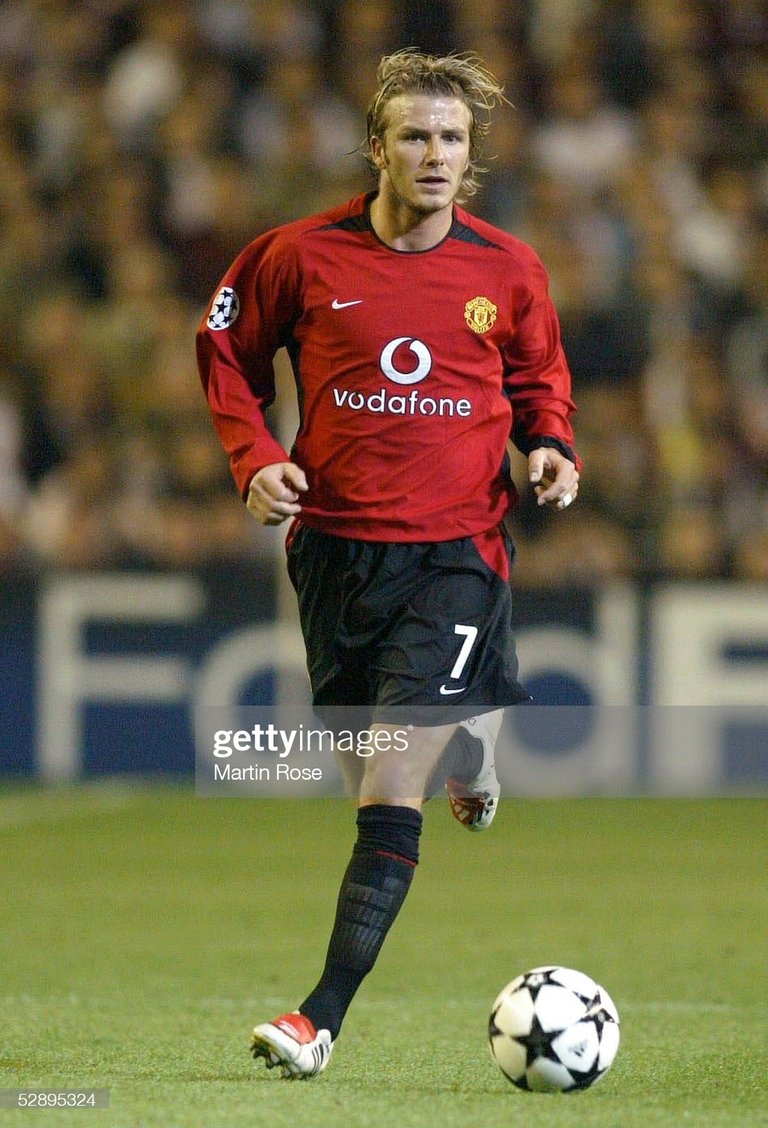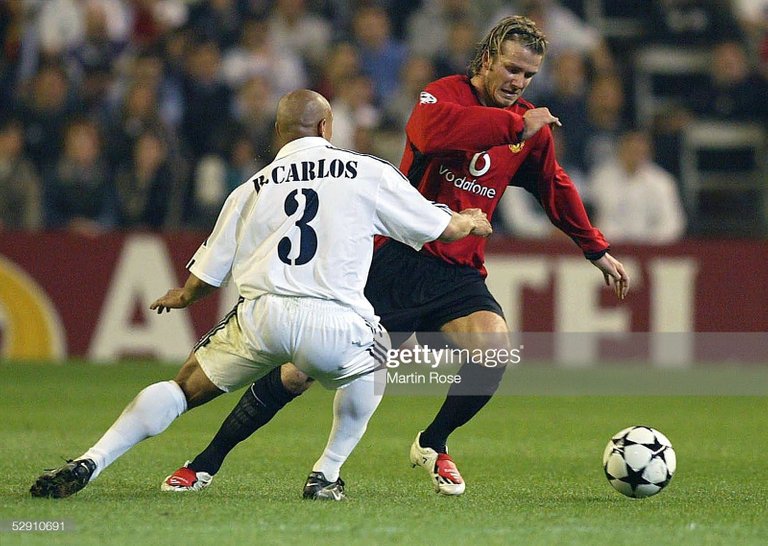 A goal by Dutch striker Ruud van Nistelrooy in the 52nd minute pulled one back for England to make it 3-1, giving the Manchester side some hope for the return leg.
Undoubtedly, this match is part of the memory of all of us who love soccer, the most beautiful sport in the world, that two teams with the best players in the world face each other at their best moment, will remain for history as one of the most impressive things in the world of sports.
Another time I will talk about the second leg and one of the most brilliant performances in Ronaldo Nazario's career.
ESPAÑOL
Recordando una de las noches mágicas en la historia del fútbol. Cuartos de final de la UEFA Champions League 2002/03 Real Madrid - Manchester United.
El estadio Santiago Bernabéu se vistió de gala para recibir a casa llena con 75.000 espectadores al conjunto inglés del Manchester United en el partido de ida por los Cuartos de Final de la UEFA Champions League el 8 de abril del 2003. El equipo merengue se impuso en un partido de jugadas espectaculares a los 'diablos' rojos de manchester que contaban con figuras de nivel mundial.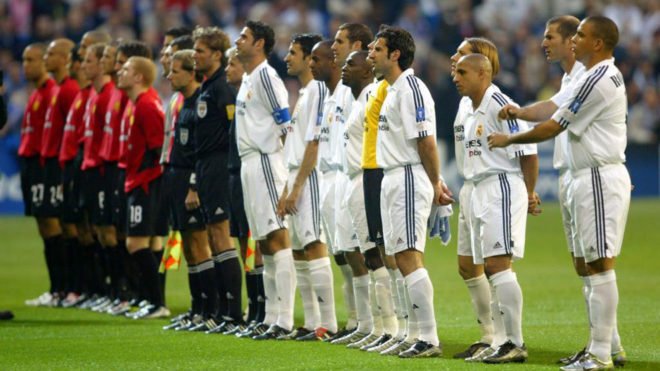 Nunca antes se vió sobre en el mismo campo tantos jugadores estrellas, fué algo realmente mágico ver como ambos equipos contaban con los mejores jugadores del mundo a nivel mundial y podían enfrentarse entre ellos en una de las eliminatorias más fascinantes y recordadas por todo el mundo del fútbol.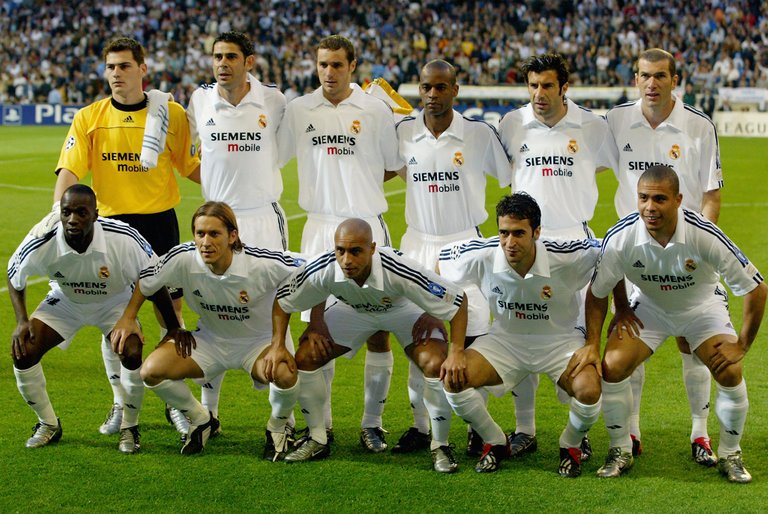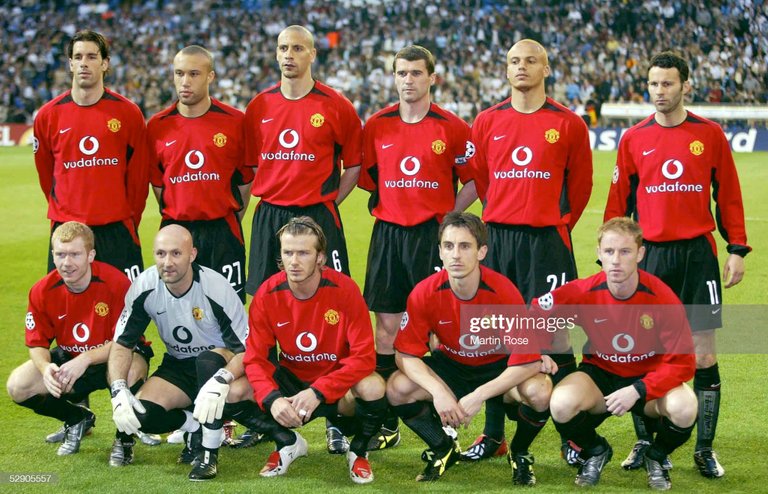 Los dos equipos tenían sobre el césped a sus mejores hombres, el Madrid comenzó apretando fuerte desde el comienzo del partido imponiendo superioridad ante los ingleses. El portugués Luis Figo abrió el marcador para los locales con uno de los mejores goles de su carrera, un gol brillante donde el balón hizo una parábola de videojuego entrando por la escuadra a los 12 minutos de partido.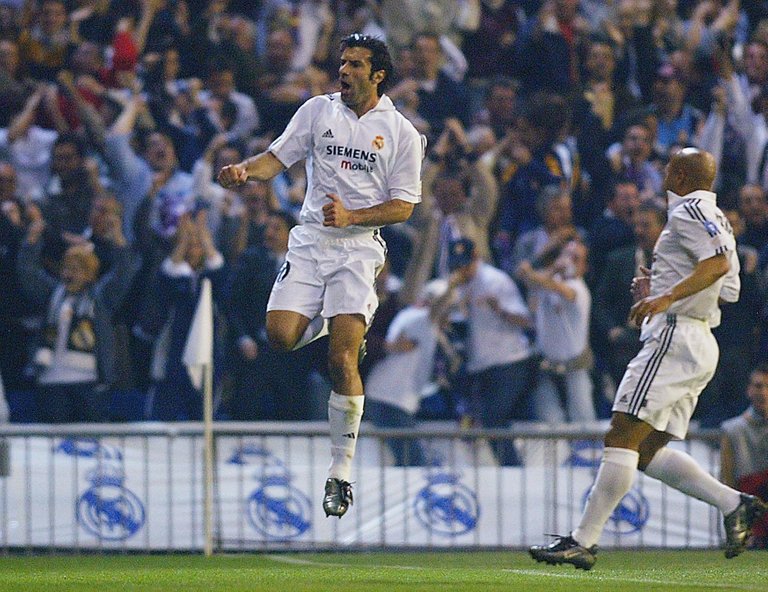 Raúl González, la gran figura del partido, aumentó a los 28' y 49' siendo una de sus mejores noches de su carrera en el Madrid.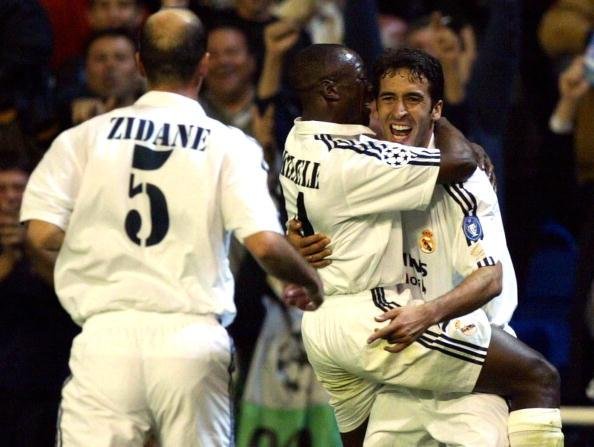 Los ingleses se vieron superados durante la mayor parte del partido sin poder tener el control en el medio campo, jugadores como Zidane, Figo y Raúl encontraron espacios donde penetrar la defensa inglesa.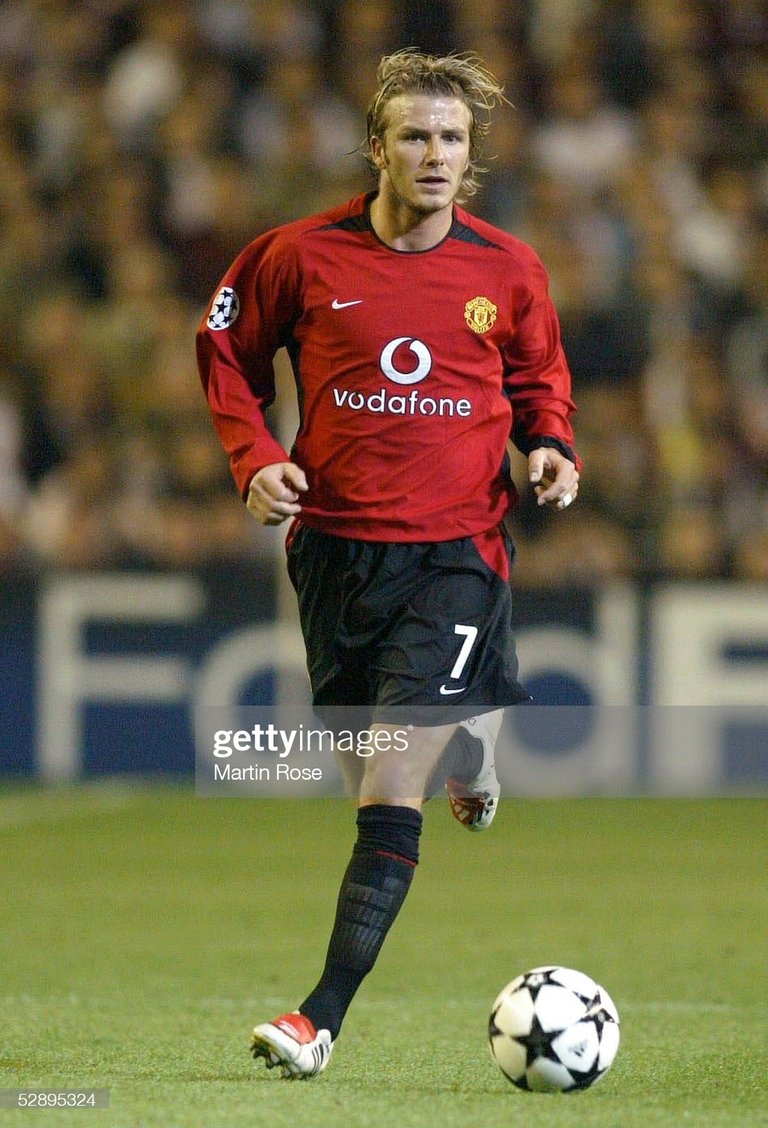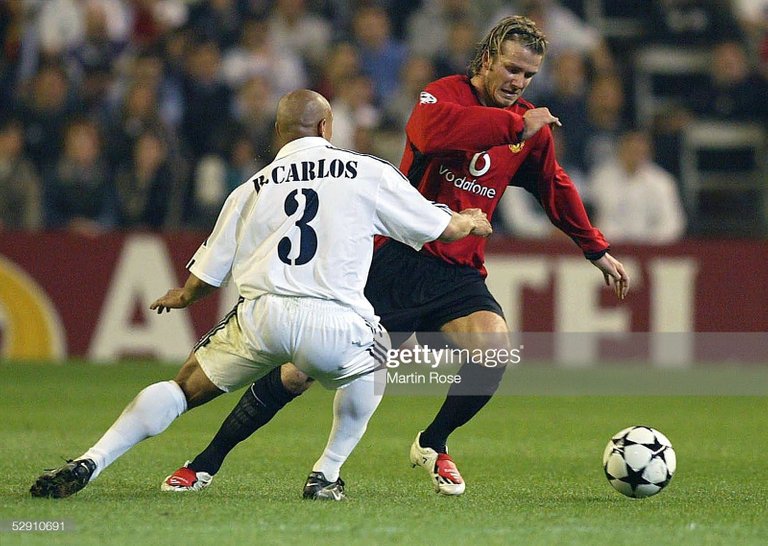 Un gol del delantero holandés Ruud van Nistelrooy en el minuto 52' descontó para el conjunto inglés para ponerle fin en el marcador 3-1, dándole alguna esperanza para el partido de vuelta al equipo de Manchester.
Sin lugar a dudas este partido forma parte de la memoria de todos los que nos gusta el fútbol, el deporte más lindo del mundo, que dos equipos con los mejores jugadores del mundo se enfrenten en su mejor momento, quedará para la historia como una de las cosas más impresionantes en el mundo del deporte.
En otra ocasión hablaré del partido de vuelta y de una de las actuaciones más brillante en la carrera de Ronaldo Nazario.